VMware's Desktop Virtualization product line as of 2009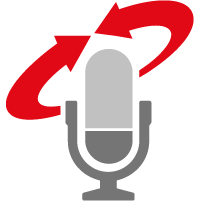 Listen to this podcast
Today's vendor in our rundown of the Big 5's product lines is VMware. Previously I've written about Citrix, Symantec, and Quest, which leaves just Microsoft after today.
Today's vendor in our rundown of the Big 5's product lines is VMware. Previously I've written about Citrix, Symantec, and Quest, which leaves just Microsoft after today. First, we'll take a look at VMware's products that fit into the desktop virtualization space, and then we'll have a look at the chart showing the lineage of each of those products. Writing about VMware's products is a slippery slope, because if you're not careful, you can find yourself writing about vCloud and a lot of other, smaller products. They have products that range from the entire data center to the end user, and that makes writing about a specific initiative a little more difficult. For the purposes of this article, we're going to try to stick to desktop virtualization and related products, but if you feel something belongs in this rundown, let me know and I'll add it.
Products and Product Groups
Externally, VMware shows three different groups that we're interested in: Datacenter Platform, Desktop Products, and Mac Products. They also have a Management Products group which contains products that contains a few other products that work in all aspects of virtualization, like vCenter Server. Let's take a look at each of the groups and products within them to get a high level understanding of what's out there.
Datacenter Platform Group
The DataCenter Platform group consists of VMware vSphere 4, VMware Server, and VMware ESXi/ESX. While, generally speaking, we care more about connecting the user to the desktops than where the desktops are, this group is important enough to at least take a look at.
VMware vSphere - This is what was the full VMware ESX Server, evolved into what VMware now calls a "Cloud OS". The idea is that you can use this platform to virtualize your entire datacenter, then move that datacenter around for the sake of redundancy, availability, or computing power. This is VMware's bread-and-butter product. (Thanks to Shawn Bass for helping clear this one up!)

VMware Server - This is what used to be called GSX, and I think I still hear that name more than "VMware Server." It's a free Type-2 hypervisor that runs on top of Linux or Windows. While there were large differences between this and VMware's other Type-2 hypervisors when VMware Server was released, I would imagine that VMware Workstation and Fusion (the other two Type-2 hypervisors in their lineup) are pretty close, if not more capable, when you look at the actual hypervisor. VMware Server does have better management and more options for controlling the virtual machines, however. The important thing to realize is that it's free, and it runs on both the server and workstation versions of Windows.
VMware ESXi - ESXi is essentially vSphere without the extra stuff, just a hypervisor. In addition, it lacks the service console that is included with ESX, which means that you must rely on remote management tools to adequately manage/monitor ESXi servers. Without the service console (it still has some built-in web-based management tools) it's overall footprint is much smaller, and thus more desirable by some admins. In addition, ESXi is available for free (but you still have to pay for the management utilities).

Desktop Products Group
The Desktop Products group consists of VMware View 4, VMware ThinApp, VMware ACE, VMware Workstation, and VMware Player. While each of those is clearly a form of desktop virtualization, when we think about VDI, we're really only thinking about VMware View 4 and VMware ThinApp. There are, however, some uses for the other products, like layering or VM portability (offline VDI), so we'll take a look at them all.
VMware View - VMware's flagship VDI product (formerly called VMware VDM - Virtual Desktop Manager) that comes in two editions, Premier and Enterprise. Enterprise lacks VMware View Composer, VMware ThinApp, and Offline Desktop capabilities (although at this point, you could argue that Permier also lacks Offline Desktop functionality). This is the evolution of a product created by Propero, which VMware acquired in 2007.

VMware ThinApp - VMware acquired ThinApp when it bought a company/product named Thinstall back in 2008. ThinApp is VMware's implementation of Application Virtualization, which allows basic desktops to be provisioned with the appropriate applications after they boot, rather than built into the image.
VMware ACE - ACE provides a method of securing an endpoint by delivering a virtual machine "packages" to the end user. A package contains the OS, applications, and any host machine lockdowns that might be needed to conform with corporate IT policy. It's not earth-shattering, but if you haven't already done it one your own, it's an option.

VMware Workstation - The very first product that VMware released is still around today, and it just celebrated it's 10th birthday. VMware Workstation is a Type-2 hypervisor made to run on workstation versions of Windows and Linux. While more of a lab and niche solution, and not typically considered a VDI solution, VMware Workstation can be used with layering to provide a super-manageable, single HAL desktop environment.
VMware Player - This is a simplified version of VMware Workstation. It gives users a free, simplified way of running virtual machines on their workstation. VMware Player can be used to run ACE packages as well.

Mac Products
There's only one Mac product, and I'm mentioning it more because I'm a Mac guy than anything else - VMware Fusion. Like VMware Workstation, it's a Type-2 hypervisor, but it runs on Mac OS X. The most useful feature is Unity, which allows you to run your Windows apps seamlessly in your Mac desktop, hiding the Windows desktop altogether.
The Chart
This chart was pretty easy to make. With a couple of acquisitions and a lot of in house development, VMware has become an important player in desktop virtualization. Without much explaining to do, here's the chart: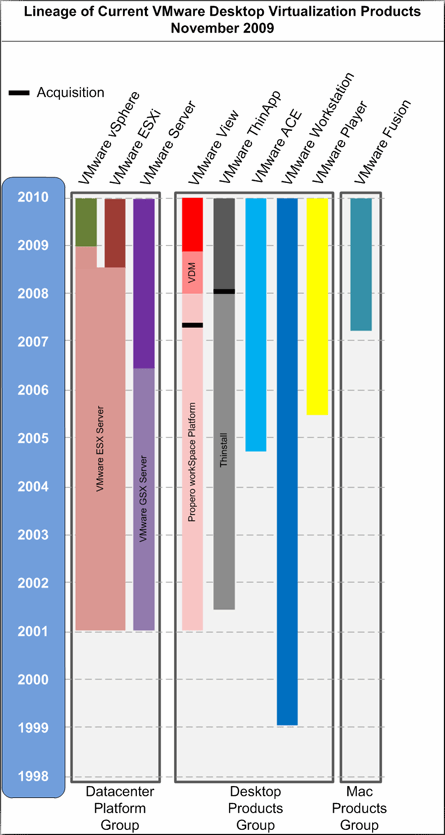 As usual, please let me know if I've missed something. We'll round out the Big 5 product lines next week (hopefully) with Microsoft.