Quest's desktop virtualization product line as of 2009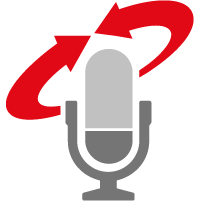 Listen to this podcast
Next up in our series of product lines from the Big 5 (Citrix, Symantec, Quest, VMware, and Microsoft, in no particular order) is Quest Software's Desktop Virtualization Group.
Next up in our series of product lines from the Big 5 (Citrix, Symantec, Quest, VMware, and Microsoft, in no particular order) is Quest Software's Desktop Virtualization Group. There will be a chart at the end, but it will probably be one of the simpler charts so far, since Quest's entire Desktop Virtualization product line comes from their acquisition of Provision Networks in 2007. I should mention that, like Symantec, Quest does just about everything. This article and the chart will focus solely on the Desktop Virtualization Group, because going any deeper would require new keyboard batteries.
Products in the Desktop Virtualization Group
The flagship product here is Quest vWorkspace, not to be confused with Symantec's "Workspace..." line of products. Currently in version 6, vWorkspace is the next evolution of Provision Network's Virtual Access Suite. It was one of the first, if not the first, solutions to focus on any desktop, be it SBC-based, hosted virtual, or physical boxes. vWorkspace is available in two editions: Enterprise and Desktop.
vWorkspace Enterprise - contains all features of vWorkspace (including all of the features of the Power Tools below)

vWorkspace Desktop - Desktop edition is more VDI-oriented, so it is missing some of the Terminal Server-based features. Otherwise, it contains many of the same features as Enterprise.
In addition to the platform-level products, Quest also offers what it calls "vWorkspace Power Tools." The features of each of these Power Tools are built in to vWorkspace, but are also available separately on a per-server licensing basis to enhance your Citrix or TS-based SBC environment. Quest considers the "-IT" names legacy, and is likely to be dropping them sometime in the near future (which I think is a great idea), but for now I'll leave them the way they are on the Quest's website.
Print-IT - Universal print driver that supports EMF or PDF based printing. Similar to many other UPD solutions, but nice to have built-in

MetaProfiles-IT - Layer's user information and data on top of a mandatory profile for easier profile management.
USB-IT - Utilizes a virtual channel within ICA or RDP to fully redirect USB, enabling synchronization of BlackBerry's and and PocketPC devices.

Max-IT - Memory and CPU optimization

VIP-IT - Give you the ability to assign each TS session it's own IP address for applications that require unique IP's per user.

Redirect-IT - Registry and File System redirection

Block-IT - Allows you to restrict users to certain applications or network resources

Manage-IT - Session configuration and security lockdown automation.

Timezones-IT - (TS Only) Enables TS sessions to use the time zone of the client, as opposed to the server.
Last up is Quest's Experience Optimized Protocol (EOP). Quest has taken the RDP protocol and expanded it, adding multimedia redirection, bidirectional audio, image acceleration, USB redirection, and enhanced latency tolerance. As of November 1, 2009, EOP is included at no extra charge with both the Enterprise and Desktop versions of vWorkspace. (Edited after publishing. The real story is that, while EOP doesn't have a SKU anymore since it is rolled into vWorkspace, the price of vWorkspace went up accordingly).
The Chart

I should've gone back and changed the first paragraph, because I couldn't have been more wrong when I said this chart would be simple! I forgot that back in 2004, Provision Networks was spun out from Emergent OnLine, an East Coast reseller/integrator. EOL created various tools to help streamline Citrix and Microsoft Terminal Server deployments, and gradually began creating their own tools to enhance those environments. Ultimately, EOL created what they called their THINssentials product, which was a suite containing all of their add-on utilities. Eventually, EOL ended up with a divided house (not in a bad way, but it's hard to sell Citrix solutions and you're own competitive solution at the same time), and spun off the home grown software assets to Provision Networks.
That, of course, leads to a bit more complex chart. The best part about a chart like this is that you can very easily tell that, while the vWorkspace name is relatively new, the technology has been packaged and around for quite some time, going all the way back to the first release of THINssentials in 2000.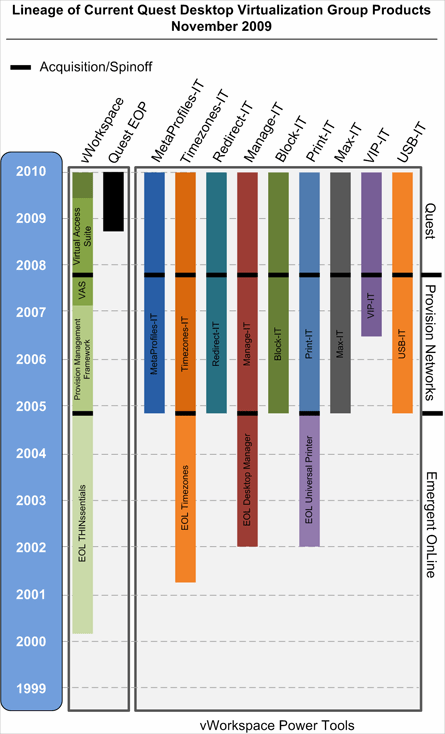 I think we're out of the really crazy stuff now, so it's time to move on to Microsoft and VMware. Next week we'll have a look at one of them. As usual, if you have any changes or comments, leave them below.