Microsoft's Desktop Virtualization product line as of 2009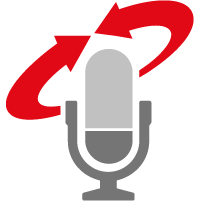 Listen to this podcast
Last up in our rundown of the Big 5's desktop virtualization product lines is Microsoft. This is probably the most ambiguous vendor, because so many of their products intertwine to make up their solution.
Last up in our rundown of the Big 5's desktop virtualization product lines is Microsoft. This is probably the most ambiguous vendor, because so many of their products intertwine to make up their solution. Many of those products have been around for a very long time, and in other capacities, so it's not easy to pick which products to focus on. To make it easier, this article will only cover the products listed on Microsoft's Virtualization Products and Technologies website. (http://www.microsoft.com/virtualization/en/us/products-server.aspx)
Products
Microsoft has broken up their virtualization technologies into six groups, four of which we care about for the purposes of this rundown: Server, Desktop, Application, and Management. The other two, Security and Solution Accelerators, are more service and/or process-oriented, so we'll leave those out.
Server
The server group is where the hypervisors exist, and even though there are three products listed, we really only have two products that receive any real credibility as platform hypervisors.
Windows Hyper-V Server 2008 R2 - The latest version of Hyper-V, Microsoft's flagship platform hypervisor. New features include support for more logical processors, live migration, hot add/remove storage, and VHD enhancements.
Windows Server 2008 Hyper-V - The prior version of Hyper-V, still supported and widely used. This was Microsoft's first foray into a "real" platform hypervisor.
Microsoft Virtual Server 2005 R2 SP1 - This is the one that doesn't really count, since it's not used as much since the release of Windows Server 2008 (and Hyper-V). I don't know of a single desktop virtualization deployment that uses it. It's a Type-2 hypervisor that doesn't scale or perform to the levels required by desktop virtualization.
Desktop
On the desktop side, we've got some new additions along side the traditional offerings from Microsoft.
Microsoft VDI Suite - Released in the middle of 2009, the Microsoft VDI Suite is Microsoft's entrance into the VDI space, and represents their endorsement of VDI as a legitimate technology. There are two versions or "bundles" of the VDI Suite: Standard and Premium. Each is priced per device/year.

Standard:

Includes Hyper-V 2008 R2
System Center Virtual Machine Manager
System Center Operations Manager 2007 R2
System Center Configuration Manager 2007 R2
Microsoft Desktop Optimization Pack (MDOP), including App-V, Med-V, and a whole bunch of other things
A restricted version of all the Remote Desktop components, including Web Access, Session Broker, and so on. The restriction is that you can only use them to deliver VDI, and not full-on, traditional server-based desktops.


Premium:

Includes everything from Standard, plus:
The ability to use all of the Remote Desktop components without restrictions
TS CAL

Microsoft Virtual PC - Workstation-class Type-2 hypervisor. In our case, the most important use-case is with MED-V:
Microsoft Enterprise Desktop Virtualization (MED-V) - Enterprise solution for running legacy (pre-Vista) applications on computers running Vista or Windows 7. Applications run in a virtual machine, managed centrally (as opposed to simply using Virtual PC, which would be decentralized managment)
Remote Desktop Services - What was once called Terminal Services has been rebranded as Remote Desktop Services, in part because of the trend towards VDI. RDS is at the core of Microsoft's VDI plans as the transport between virtual desktop and the end user.
Application
Microsoft Application Virtualization (APP-V) - Formerly Microsoft SoftGrid, Softricity SoftGrid, and SoftwareWOW, this is Microsoft's application virtualization and streaming solution. This technology is included in the Microsoft VDI Suite bundles.
Management
This is a large section with many products, all of which fall under the System Center umbrella within Microsoft. There are other System Center products besides these, but the ones listed here are specifically related to desktop virtualization.
System Center Virtual Machine Manager - Used to manage virtual servers running either a version of Hyper-V or Virtual Server, including converting physical machines into virtual machines and live migrations of virtual machines. This software is included in the Microsoft VDI Suite bundles.
System Center Data Protection Manager -SCDPM, formerly Data Protection Server, is a backup solution tailored to virtualized environments, but is not included in either Microsoft VDI Suite bundle.
System Center Operations Manager - Formerly Microsoft Operations Manager (and three things before that), SCOM is a monitoring solution that plugs into your organizations physical and virtual infrastructure. SCOM can be used in combination with SCVMM to automatically resolve issues as the arise. SCOM is included in the Microsoft VDI Suite bundles.
System Center Configuration Manager - SCCM is what was formerly SMS. It's used to automate system and application installations, updates, and patching, as well as general task automation, on physical and virtual computers. SCCM is included in the Microsoft VDI Suite bundles.
System Center Service Manager - This product, still in public beta, is due to be released in 2010. SCSM is a workflow automation product that will plug into your System Center environment and can be used to automate tasks between System Center products. No information is available yet on whether or not this will be included with an VDI Suite bundle, but my guess is that it will not.
Product Lineage (a.k.a. The Chart)
This chart took a lot longer to make than I thought, but digging through the origins of MOM and finding the release dates of all the different versions of these things proved a bit difficult. If any of it is wrong, blame Archive.org and Wikipedia, or any one of the random press releases I found out on the interweb.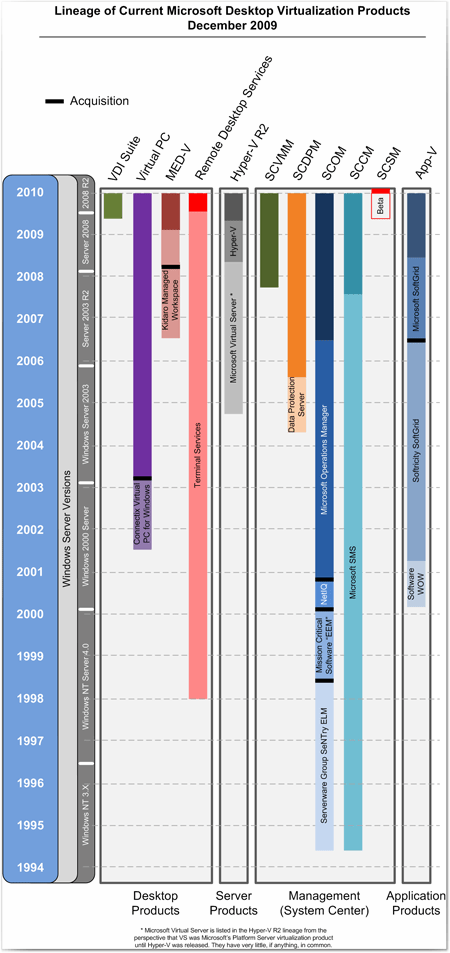 That does it for the product roundup series of articles. I think I'll put together one big chart with all of the products on it side-by-side, so keep an eye out for that. Unless there are any big shakeups, I expect these to hold their water for the next 12-18 months, but who knows. When it becomes necessary, I'll re-visit them and get them updated.
As usual, if I've missed something or gotten something wrong, let me know in the comments and I'll get it taken care of.