Wow. Just Wow. Why do hardware vendors keep trying these laptop/phone docking systems?
It's been three and a half years since we last talked about the "Nirvana" phone concept. (This is the idea that users somehow want a phone + laptop/tablet docking station combo so they only have to carry "one" device.)
It's been three and a half years since we last talked about the "Nirvana" phone concept. (This is the idea that users somehow want a phone + laptop/tablet docking station combo so they only have to carry "one" device.) I thought this concept had been debunked and long dead, but in the past week or so news on two new nirvana phone concepts came out, so I guess we have to revisit this topic.
The first is the Asus Padfone X which is standard 5" Android phone you slide into a 9" tablet shell, meaning you can use the thing in either tablet or phone form factor. The shell is nothing more than a touch screen and a battery, so it is literally just like making your phone into a tablet. Asus talks about advantages like how your phone and your tablet can share the same data plan—something clearly not possible with a tablet today paired with a phone acting as a hot spot—as well has cool features like being able to charge your phone from your tablet! ("Double the battery life of your phone!", Asus claims. They just leave off the part about halving the battery life of your tablet.)
The best thing about the Padfone X is that it costs $199 with a 2-year contract from AT&T, though honestly it's like you're buying a mediocre phone and then they've giving you a mediocre tablet for free. (Funny how Asus talks about how it's a "tablet and a phone." That's not entirely right—it's more like a tablet or a phone.)
Still at least no one is claiming this thing will replace your laptop.
But wait, it gets crazier
The really crazy thing from Asus (and what actually inspired me to write this article) is the upcoming Asus Transformer Book V. At first glance this thing looks like a normal Windows 8 laptop with detachable keyboard. So it's "two devices in one"—a Windows laptop and a Windows tablet: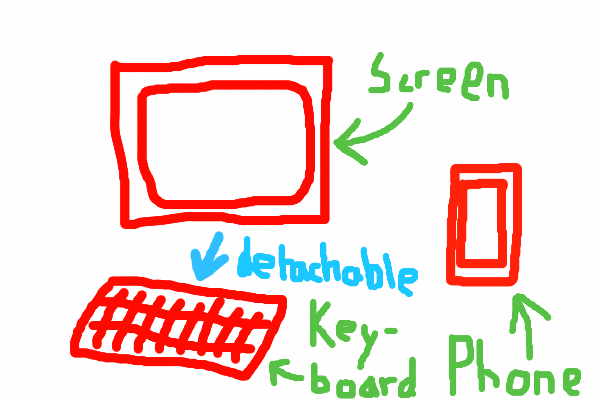 Ok, so far so good. But to truly understand this thing, you need to know that "V" stands for "five," as the Asus Transformer Book V is, according to the company, "five devices in one."
You get access to the three additional three devices by plugging your Asus mobile phone into the docking port on the back of the screen part. (Remember, Asus makes mobile phones now too.)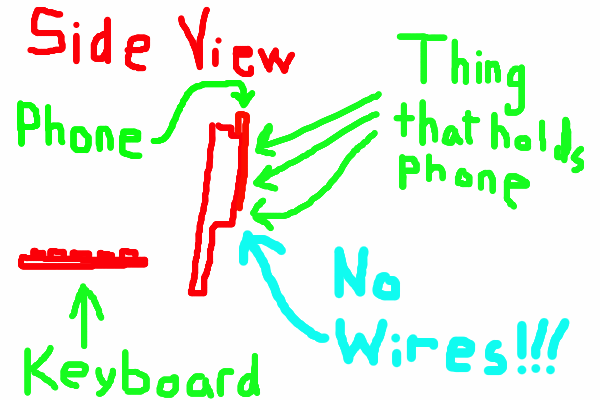 You slide the phone in the dock and the Anrdoid phone appears on the Windows 8 screen in a window. (So that's "Android apps on your laptop" for mode #3 for this thing.) Press a hardware button, and boom, the Android window goes to full screen, so now you have an "Android laptop" (Mode 4). Detach the keyboard and now you have an "Android tablet." (Aaaand mode 5.)
But wait! There's more! Not only is this 5 devices in one (well, 5 devices in 'three' since you still have three things to carry around), Asus also advertises that you can have access to all your files from your phone on your laptop without needing a cable! That's right folks. NO CABLE! Gone are the days when you had to remember to bring your cable with you. Now instead it's always built in! (Never mind that the bulge on the back of your laptop for the dock is actually bigger than a rolled up cable.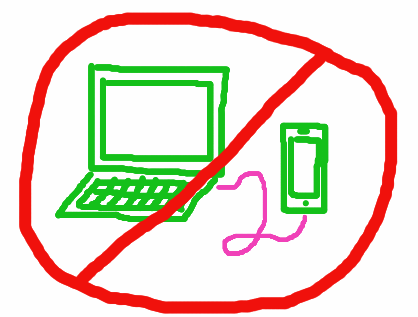 Seriously, if forgetting your cable is that big of a problem and you don't mind a huge bulge on the back of your screen, then why don't you just hot glue one of those retractable USB cables to the back of your MacBook Air?)
Or, better yet, how about just using Bluetooth or WiFi?
<Long Sigh>
Here's the thing I never understood about these concepts: If there was really a demand for people to access their Android apps from laptops, then we'd see Android remoting that allows a desktop to remote control the mobile device that's in your pocket. (Oh wait. Those exist. Of course you've never heard of them because you don't need to do this. Ever.)
Again I can't emphasize enough that when you buy these devices that are meant to pair, you get a second-rate phone and a second-rate laptop. They're both way less than 100% awesome. And when you combine them together, remember that when multiplying fractions less than 1, the result is lower. A 50% laptop and 50% mobile phone combined together only yield a 25% happiness overall happiness factor.
Case in point: The Transformer Book V tablet has a 1366x768 resolution for a 13.3-inch screen. Seriously. (By comparison, the Samsung Galaxy S 5 has a 1920x1080 resolution for a 5-inch screen. Yikes.)
These things always remind me of those flying cars. You end up with a shitty car and a shitty plane for about double the price of buying a nicer, higher-performance version of each.