With Google Chrome OS and remoted Windows apps, who needs Windows on the desktop?
Most everyone knows that Google hosted an event in San Francisco yesterday where they officially unveiled their own operating system known as "Google Chrome OS." In their own words, this OS is "essentially the Google Chrome browser running on bare metal.
Most everyone knows that Google hosted an event in San Francisco yesterday where they officially unveiled their own operating system known as "Google Chrome OS." In their own words, this OS is "essentially the Google Chrome browser running on bare metal." Their reason for creating the Chrome OS is that (paraphrasing) "most of the code, complexity, maintenance, and security problems of a computer are related to the OS, not the browser, and most (all?) of today's OSes were designed before the web! Contrast that to the Chrome OS which was designed for the web -- in fact it's nothing but web!"
A standalone browser running on bare metal is one thing, but to really make this practical, you need apps. (Like, real apps!) Of course the web apps of today are really starting to approach the "real apps" stage. Long gone are the days of web apps just being simple forms-based things like online travel planners, expense reports, and email. Today's web apps (and those around the corner) can leverage a client's GPU & local storage and have the look, feel, interactivity, and richness of platform-native apps. (Google has a great demo site which shows web apps that leverage emerging technologies like HTML5 and WebGL.)
Just having a world of web apps is one thing, but users like to put shortcuts to apps on their desktop and to keep track of which apps are "theirs." To that end, Google also launched the Google Chrome web store, an app store where users can download free and paid-for apps which then appear on their "desktop." (The "desktop," in this case, being just another web page which is viewed in a browser.) The look and feel of the Google Chrome web store is almost identical to the iTunes App Store for iOS devices and the upcoming Mac App Store. (And presumably the Windows or Zune or Live or whatever-Microsoft-is-doing-now store.)
What's interesting about the Chrome web store is that developers don't have to write or compile an app specifically for Chrome. Instead any website can become an installable web app just by creating a text-based manifest file that bundles together the URL, an icon, and a few other basic parameters. (So in fact the Chrome web store doesn't inherently provide offline capabilities or awesome GPU-leveraged graphics or anything -- that too is all based on standard web app technologies.)
For example, the NY Times web app can be "installed" from the Chrome Web Store, but all that really does is pop an icon into your app list. Clicking on that icon launches a browser tab to http://www.nytimes.com/chrome/. Alternately you can just click that link and view the "app" in any browser. (Well, any browser that supports whatever web standards that site was written for.)
The Google Chrome web store will ultimate have all of the "expected" apps: NY Times, Amazon Kindle, photo editors, etc. which at first glance seem startlingly similar to their iOS (iPad, etc.) variants. (Actually I wonder if standards-based web apps with rich interfaces are enough to worry Apple? Like why would developers write native iOS apps when web apps might have the same features but run on all platforms? And teasing that out a bit further, does this officially mean the iPad is just a bitchin tablet PC with a ten-hour battery?)
What about Windows?
The Google Chrome OS (and the Chrome web store) are intrinsically not about Microsoft Windows apps. And it looks like we're not too far away from the point where any new business app can be written in these web technologies instead of as native Windows apps. So this begs the question: Why would a developer write a new app that runs on just a single platform that users have to pay for (i.e. Windows) when they could write an app that will run on any platform (including free ones)? And of course any web app will run on Windows via a standards-compliant browser anyway, so why not? (Ok, so it's not quite so simple, and Microsoft will fight the religious battle against Google/Oracle/VMware(Spring)/everyone, but that's an argument best left to real developers.)
More importantly is that fact that even if we hit the tipping point of new apps in the next few years (the "tipping point" where more new apps are developed as these cool web apps instead of old Windows apps), in the corporate world it's not like all of our old Windows apps will disappear overnight. So we corporate IT folks will have to support dual web/Windows environments (much like we're starting to see now) for years (if not decades) to come. Where's that leave us?
Well we could continue to do what we do now, namely, deliver a Microsoft Windows-based desktop (native, VDI, TS, OS streaming, client VM, whatever) which runs all the user's traditional Windows apps (native, streamed, isolated, virtualized, layered, whatever). Then on top of support the native Windows OS, we can also support a standards-compliant browser which will access all the new web apps. That's basically what we do today.
OR we could flip that model, instead moving to a Chrome OS-like environment where the browser is the native element running on the client device and we access the old school Windows apps as our "afterthought."
To this end, some Citrix execs actually got on stage with Google yesterday and announced that in 2011 they'll release a Citrix Receiver (their ICA/HDX client) for Chrome, allowing Chrome browser and Chrome OS users to access native Microsoft Windows apps (and desktops) running on XenApp or XenDesktop. From a technical standpoint, since Chrome apps are just web apps, the Citrix Receiver for Chrome is just an HTML5-based web app version of their Receiver (and probably loosely based on their existing Java client).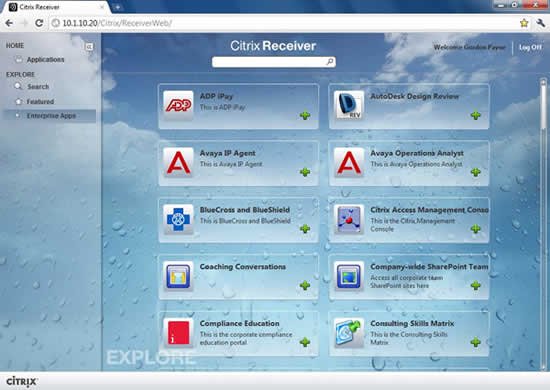 Is the Chrome OS device the ultimate thin client?
If you're HP or Wyse, do you continue to develop your own thin client OS now that Chrome OS is out? I mean fundamentally Chrome OS is a stateless thin client OS. And I'm sure Chrome OS will have the most advanced capabilities built-in to it for running web apps locally, which sure beats running web apps in a crippled local browser or wasting precious datacenter resources to run a "real" browser in a Windows instance remotely. I wonder if the thin client vendors can wrap their own management stacks around it. Or whether they even need to?
There's also an opportunity for Chrome OS to hook into corporate environments. In the demo Google showed today, one of the first steps to using Chrome OS was to login with your Google account (which contained all the settings and links to your web store apps). But I imagine it would be easy enough to make that primary login hook into a corporate directory? Imagine a Citrix OpenCloud Access or VMware Horizon login?
Bottom line: I'm super excited about the Chrome OS, mainly because I like the concept of breaking Microsoft's monopoly on corporate apps and their "F You" attitude towards desktop virtualization. Chrome and web apps are going to be huge for us, and I can't wait for the day that Windows is forced to the back burner. What do you think? Is this the future?