Why we chose Nutanix, Teradici, and Virtual Computer for the "Best of VMworld 2011" winners
Obviously you all know that VMworld 2011 took place last week in Las Vegas. TechTarget was the official media sponsor, which means that we're responsible for the "Best of VMworld" awards.
Obviously you all know that VMworld 2011 took place last week in Las Vegas. TechTarget was the official media sponsor, which means that we're responsible for the "Best of VMworld" awards. (It also means that our various properties' logos were listed in the conference guide as media sponsors--in other words, there was a Brian Madden logo in the conference guide as one of the official media sponsors of VMworld which was pretty cool.
There were about eight total categories for the awards, and Gabe and I were the judges for the Desktop Virtualization category. I'm not 100% sure what the requirements are, though I know that each entrant has to fill out a fairly in-depth application form, complete with info about the product, customer references, etc. This year we had about 30 entrants in the desktop category, and the award organizers sent us a PDF packet with all their info and applications about two weeks before the show. (And that packet was well over 100 pages!)
The good news is that since Gabe and I cover the space so closely, we were pretty familiar with some of the entrants (Stratodesk NoTouch desktop who sponsored the BriForum thin client lab, Citrix XenDesktop 5.5. which we obviously knew about, etc.).
The goal with the judging is to pick one overall winner for our category, and then if we want, one or more runners up. We spent the night before the show going through the list in our hotel room: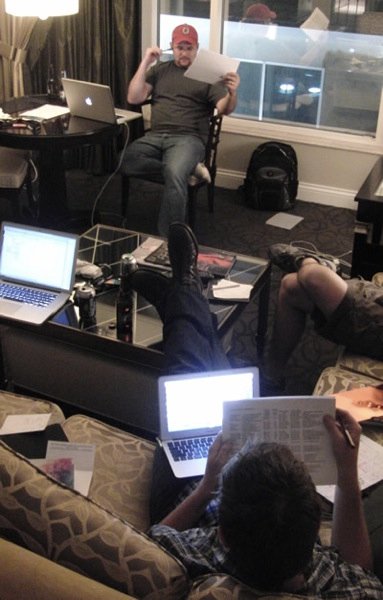 Our list was in alphabetical order, so we briefly considered just giving the award to 2X and then
going out drinking, but we thought they might not invite us back next year if we did that.
We knew almost every product on the list, although there were definitely some vendors that we wanted to visit to make sure we knew as much as we needed to know about their latest stuff.
While the judging process is somewhat involved (we have to justify our choices to the entire committee of judges from the other areas), it definitely wasn't too difficult to find companies that stood out. And to be clear to the vendors whose products didn't win. It's not that we don't think you have great products. But when it came time to picking the best out of a pack of 30, these three stood out to us:
Winner: Nutanix Complete Cluster
I first met and wrote about Nutanix last month. Those who remember the article recall that I said Nutanix was my current crush, so it shouldn't be a surprise that they won our overall Best of VMworld 2011 award for the desktop category.
If you're not familiar with Nutanix, rather than trying to explain it here, read the article I wrote last month, or check out the video demo that they gave to Gabe Knuth at VMworld last week.
Runner up: Teradici APEX 2800 PCoIP Server Offload Card
We've been talking about the Teradici PCoIP server offload card for the better part of a year. I recorded a video demo way back in January when I visited Teradici's offices in Vancouver, and Teradici finally announced the details (PDF data sheet) of the final card a few weeks ago.
We love this card because it just works. You plug it in, and you're done. We like that it can dynamically allocate resources to whichever screen happens to need them most at any given moment, so it's not like you have to say "User 1 gets good graphics, and if User 2 wants to visit YouTube, that's too bad." We also like that the card only takes 20 watts, which is orders of magnitude lower than the GPU-based solutions. In fact one of the Teradici employees in the booth said, "The only reason the card has a heat sink is because we needed somewhere to inscribe our logo."
The final great thing was that the card has a list price of $1950, again making it very cost effective compared to GPU-based solutions.
If you haven't seen the final version of this thing, we shot a video demo at VMworld last week.
Runner up: Virtual Computer NxTop 4.0
I can tell you exactly why we chose Virtual Computer NxTop 4.0 as one of our winners.
We had Simon Crosby as a guest on Brian & Gabe LIVE a few weeks ago. One of the topics that came up was client hypervisors. While talking about Citrix's efforts around XenClient, Simon described how hard it is to get right and how complex working with desktop-specific stuff (like the GPU) is.
Then on our show we did live at VMworld, we had VMware's Brian Gammage as a guest, and he was saying that users don't want client hypervisors because they're too confusing and too complex.
So we have Simon & Brian on one hand, and then we have Virtual Computer on the other hand who's actually out there doing what's supposedly so complex! I mean hot damn, you know?? And their v4 looks really, really good. It's definitely something that my mom could use. The VM / hypervisor nature is hidden from the user, and in fact you can have single sign-on from the main screen all the way into your VM if you want.
Also new in v4 is that they have a normal-looking Windows tray interface for things like WiFi. So no more of that weird-ass Ctrl+F7+3+Shift+finger contortion to pull up some shitty Linux non-ClearType window to adjust system settings. Now it looks like the normal / natural Windows interface, which is great.
Oh, and then on top of all that, Virtual Computer also announced an iSCSI-based disk image streaming option. This is kind of like Citrix Provisioning Server except you're streaming to NxTop desktops instead of bare metal, which means that you can use the exact same disk images for your streamed desktops and locally-stored offline-capable laptops.
Here's a video demo from VMworld on Virtual Computer NxTop 4.0.
Wrapping up
So that's it for VMworld 2011. Thanks for the opportunity to look through all these products and to pick a few that really stood out. And thanks to all who entered! Hopefully they'll invite us back to judge the Best of VMworld 2012 awards!
--Brian & Gabe