Who is "the next Citrix?" (or VMware, for that matter)
Last week, I asked Brian who he thought "the next Citrix" would be. What I meant by that is more complex than "Who is going to be the next big player in desktop delivery?
Last week, I asked Brian who he thought "the next Citrix" would be. What I meant by that is more complex than "Who is going to be the next big player in desktop delivery?" Instead, the question is more about what the next come-from-nowhere technology to change the way IT works will be. Both Citrix and VMware have carved out their own niches in the IT world, and those two niches have filled in with other companies and combined into the VDI that we have today.
We've all probably heard the story of how Citrix came to be (multi-user OS/2), and how they built what would become Terminal Services into Microsoft OS's, eventually working with Microsoft to release Windows NT Terminal Server Edition and the start of the MetaFrame product line. Citrix started because a group of ex-IBM-ers led by Ed Iacobucci couldn't get a multi-user OS sanctioned while they were at IBM. I can't imagine they knew their product would change the way IT works in such a profound way, and they certainly didn't envision VDI while they were trying to create MultiUser (link goes to a product review from 1991).
The same can be said for VMware. Although you could argue that VMware is less revolution and more evolution (virtualization has been around since IBM's CP/CMS in the 60's), the technology is so radically different today than it was 40 years ago (or even 20...or 15) that the virtualization we see today can be considered revolutionary (at least in the x86 world, where it didn't exist at all before 1999). VMware took the fundamental capabilities of a virtualized mainframe and made them possible on x86-based systems, creating their own niche and securing a place for x86 virtualization in the annals of IT history.
So who (or what) is next? BriForum attendees from the 2006 show at the National Press Club in Washington, D.C. might remember a gentleman ("That Guy" or TG) who talked to everyone he could about a technology he had the would change the world. He never gave any real details, not even his real name (in an effort to keep his identity secret, he went so far as to give us a fake name for his badge…even though he still used a real credit card :). It was supposedly that amazing.
Word spread quickly amongst the attendees of the strange conversations being had with TG, and one of the interviewees invented a fake initiative called Project Stonesac (he even registered stonesac.com, which is gone now), which always did the exact same thing as TG's product, no matter what he said it did. Soon, TG was asking everyone about the fake project, which most people knew about from all the rumblings about what TG was up to. Maybe TG really had the next great technology that he canceled because Project Stonesac was "already" doing it?
While nothing ever came of TG's product, is there something out there right now that will do the same to IT as Citrix and VMware have done? A technology that will create its own niche in the IT world? So many companies and organizations have followed in the footsteps of Citrix and VMware--do any of them have the next revolutionary idea that will change IT? I guess it doesn't really matter who it is (unless it's you!). What matters is what they do.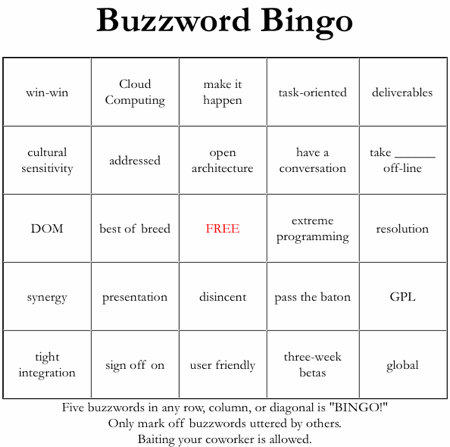 Could it be cloud- or grid-oriented? Even I, as one who thinks that "cloud" should be in the top row on a buzzword bingo card, think that's a viable option. I don't think it will be rebranded web apps or anything that we have now. It might have something to do with cloud-based desktops, but again, not like we have them today.
Maybe it's on the server side and not the desktop side, like what VMware is doing it now with vCloud, but that seems like more of an evolutionary thing. If it's cloud- or grid-oriented, I think it'll be something that most of the world will not see coming. It will use the technology we have in new ways to accomplish something we don't yet know we need to accomplish.
If you're one to believe that history repeats itself, we ought to be going back to a fully distributed computing model in another ten years (hooray job security!). Better get your hands on GhostCast 2020 Edition and a bootable Holographic Versatile Disc, just in case.
I'm not much of a prognosticator, so I don't really have an answer to this question. I'm just curious about what everything thinks, so please share your thoughts below. Maybe the next big thing will be born right here!