What is Microsoft 365?
Still not sure you understand Microsoft's mega bundle? We'll learn together.
At Inspire 2017, Microsoft announced Microsoft 365, a new subscription bundle featuring a name perhaps too close sounding to another's. The SaaS bundle's name is similar to Office 365, and a Google search brings up more results for the more well-known product. That will change in time as more people search for Microsoft 365, but for now it is confusing if you're not really sure what it is yet.
Due to this lack of clarity, Jack suggested I write a book report for him and for you about what exactly Microsoft 365 is and what you get for your business's hard-earned cash. Buckle up.
So, what is Microsoft 365?
At its most basic level, Microsoft 365 is a subscription service aimed at providing improved integration and security between Microsoft products. It comes bundled as Office 365, Windows 10 Pro, and Enterprise Mobility + Security (EMS). Microsoft says they saw a need for this service offering because clients complained about complexity and security frustrations. So, with Microsoft 365, customers get cloud services that can scale, as well as integrated device management and security.
First, let's take a quick look at the major bundle options (because doing a full feature-compare matrix would require a huge chart and Microsoft already has some prepared) and then what makes this special, beyond just bundling together a bunch of products.
There are three primary bundles currently available: Microsoft 365 Business, Microsoft 365 Enterprise, and Microsoft 365 Education.
Microsoft 365 Business
Microsoft designed Microsoft 365 Business for small and medium-sized business with no more than 300 employees and not much of an IT presence to speak of. Well, you can have more than 300 employees, but you're only allowed a maximum of 300 users for 365 Business (just don't give it to co-workers you don't like, I suppose). Pricing for Microsoft 365 Business is fairly straightforward: $20/user/month (Office 365 is $12.50/user/month).
With Microsoft 365 Business, companies not only get Office 365, but also basic security and MDM features. Security comes in the form of threat detection, Information Protection policies, and continuous data backup. Admins can manage devices across multiple platforms, including Windows, Android, macOS, and iOS. To help speed up device setup, Microsoft provides Windows AutoPilot.
Microsoft 365 Enterprise
For larger organizations that need additional features, there's Microsoft 365 Enterprise, which offers increased data security and mobility management. Enterprise comes in three different flavors: E3, E5, and F1. E3 provides a basic package: You get all the Office 365 apps you know and love, as well as some threat protection solutions like Microsoft Advanced Threat Analytics and Windows Defender Antivirus, and MDM capabilities through Intune, Windows Analytics Device Health, and AutoPilot.
If your enterprise requires more threat protection, IAM, compliance, and analytics solutions, then you'll want E5, which includes everything and the kitchen sink. You get every Office app, every threat protection tool like Windows Defender Advanced Threat Protection (ATP), Advanced eDiscovery for compliance, and analytics tools like MyAnalytics and Power BI Pro.
Microsoft 365 Enterprise F1 is aimed at first-line workers (i.e., customer service and support staff). First-line employees get standard Office apps like Word, Excel, Outlook, Skype for Business (which is now being phased out for Microsoft Teams), and more, but not OneNote or Access. M365 Enterprise Firstline also comes with threat protection tools like Device Guard, Windows Defender Antivirus, but not ATP, and no advanced compliance tools like Customer Lockbox or analytics tools like MyAnalytics or Delve.
Microsoft 365 Education
Lastly, Microsoft offers Microsoft 365 Education for schools and other places of learning. As with the enterprise subscription, there are three plans: A1, A3, and A5. A1 is a base offering purchased as a one-time, per device license, but it is quite limiting. Educators receive Office Online, Skype for Business, Intune for Education, School Data Sync, Office 365 Rights Management, and classroom tools like Microsoft Teams and OneNote Class Notebook. You miss out on Minecraft, MDM, and security tools like Enterprise Mobility Suite and Windows Defender Antivirus, and server benefits like Client Access Licenses (CAL) and System Center Configuration Manager CML.
A3 provides enough M365 apps for most schools, including everything A1 comes with, but also Office client apps like Word and Outlook, as well as Minecraft, Delve, Enterprise Mobility Suite, and Windows Server CALs, System Center Endpoint Protection, and System Center Configuration Manager CML.
A5 gets you everything (except the A1 exclusive Windows 10 Education A1 management) the other two bundles come with, plus: PSTN integration, Advanced eDiscovery, Customer Lockbox, MyAnalytics, Office 365 A5 ATP, Threat Intelligence, and Windows Defender ATP.
What's the deal with Microsoft 365?
We've been familiar with most of the components of Microsoft 365 for a while now. So why do we have this whole new bundle?
For smaller businesses, it's an opportunity to get a Windows 10 Pro licenses and EMS capabilities for not much more than the current Office 365 subscription cost.
But for all businesses, aside from just buying all of these products together, the key is that now they all integrate together for modern management tasks. For example, AutoPilot requires integration between Intune, Windows 10, and Azure AD; and conditional access requires integration between Azure AD and Intune.
Going forward, much of this integration—and the interface to manage it all—will be exposed in the Microsoft 365 Admin Center.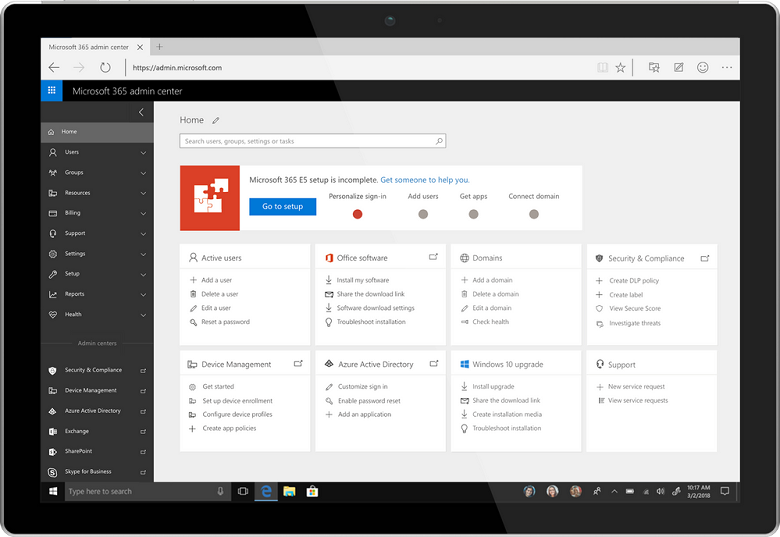 Admin Center builds upon the previous admin consoles already included as part of Microsoft 365 through Azure—they're just bring components together. From one console, administrators will be able to handle everything from setting up policies to advanced threat detection and device management.
There you have it. Now you have an overview of Microsoft 365, and should hopefully have a better idea whether it's worth your time or not. That said, if you're not sold yet, Microsoft indicated that they plan to offer a Microsoft 365 Business trial at some point in the future.