Welcome to Part 2
After running ConsumerizeIT.com for a year, we decided to merge the "Consumerization" topic back into BrianMadden.
[Update January 2013: After running ConsumerizeIT.com for a year, we decided to merge the "Consumerization" topic back into BrianMadden.com. More info on that here, and check out the "Consumerization" topic on BrianMadden.com here.]
Welcome to ConsumerizeIT.com! This website is the living "Part 2" of an article I wrote six months ago on BrianMadden.com called "The Consumerization of IT: Why most vendors get it wrong, and why it's a real challenge today." That article was an introduction to the Consumerization of IT movement and the problems it poses for today's IT pros.
Unfortunately that article didn't cover any solutions or answers to how you can solve the Consumerization of IT challenges. I had originally intended on writing a Part 2 on BrianMadden.com that would cover this, but it quickly became apparent that (1) I didn't know what the answers were, and (2) what little I did know would require much more than a single article.
So the concept of "Part 2" evolved into this new website that you're reading right now: ConsumerizeIT.com.
Welcome to ConsumerizeIT.com
On ConsumerizeIT.com, we're going to focus on how we can all deal with this consumerization problem. While the consumerization of IT is one of the hottest trends in IT today, it's also a big source of confusion because no one knows exactly what it meas. Is it BYOC/BYOD? Is it Dropbox & Gmail? Is it about mobile phones and tablets?
We've also found that a lot of people are thinking, "We have this covered! Our employees can choose Macs if they want, and we set up our CEO with email on his iPad!" But unfortunately, the issues surrounding the consumerization of IT are not nearly that simple. Employees have grown accustomed to great user experiences on their personal computers and devices, and they know how to get around IT when their work experience doesn't measure up. As a result, corporate Exchange mailbox restrictions drive employees to use personal Gmail accounts, invasive client-side VPN scans cause employees to use Dropbox instead of corporate file shares, and restrictive proxy servers mean that users will get online via uncontrollable 3G cards.
Any IT executive who thinks "We have policies, this isn't allowed," is in denial. Every year, more "young kids" come into the company as older employees retire. And every year, more new and powerful apps are available as web/SaaS/Internet apps, diminishing the need for the user to continue to rely on the tightly controlled "corporate" desktop. Let's face it: even if all your users are not smart enough (or sinister enough?) to skirt your rules, it only takes a few renegades to "show and tell" the unenlightened users how to access Outlook without the VPN.
Does all this new technology mean that IT is screwed? Not necessarily. But it does mean that we have to change the way we approach certain things. We have to change the way we think about security and identity. We have to change the way we address user devices and user control. There are a lot of technologies and techniques we need to assemble to comprehensively address this change.
So on this site, we're going to look at how companies are using BYOC and BYOD programs. We'll look at how companies are using security controls, data loss prevention, desktop virtualization, and auditing to protect corporate data. And we'll talk about how companies are "giving up" on certain control and security issues while digging their heels in around other areas. Finally, we'll also look at how the cloud and Software-as-a-Service (SaaS) apps are both helping and hurting us.
Extending the BrianMadden.com community to ConsumerizeIT.com
Our idea with ConsumerizeIT.com is to replicate the success of the community on BrianMadden.com. To that end, you can probably see that the two websites look similar. They're essentially identical in terms of the platform. Another bonus is that you can use your BrianMadden.com login to comment on ConsumerizeIT.com. (Though it's technically a separate account, just using BrianMadden.com for authentication. So you'll need to setup your avatar & bio again.)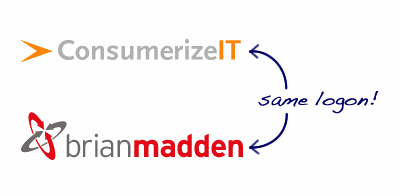 In keeping with the BrianMadden.com-to-SearchVirtualDesktop.com relationship, TechTarget has also launched a more traditional consumerization site called SearchConsumerization.com. That site will be like the other TechTarget Search sites and will focus on news and more traditional writing, and ConsumerizeIT.com will focus on blogging and the community.
The Consumerization of IT live events
We'll be conducting a series of live events around the consumerization of IT also. Our schedule looks something like this:
Washington DC, December 15, 2011 (register now)
San Francisco,

February 23, 2012
Toronto,

May 3, 2012
Boston,

June 21, 2012
New York City, July 26, 2012
Philadelphia,

February 16, 2012
Atlanta

,

November 15, 2012
And of course BriForum will continue to have a big focus on Consumerization. (We'll announce the dates for 2012 soon, but we're still looking at London in May and Chicago in July.
Discussion Forums
We also created some discussion forums on ConsumerizeIT.com to talk about how this stuff is impacting the enterprise and how you're dealing with it. I've been speaking to customers about their approaches to consumerization for about six months, and one thing I know for sure is that there is a lot to talk about!
So welcome, and let's see what happens!