Vendor Bender: Using Lakeside Software's Systrack VP to plan your VDI environment
The last (and first) Vendor Bender wasn't published for more than a few hours when I got an invite from former BrianMadden.com contributor Michael Keen to get the rundown on what he's up to with his new position at Lakeside Software.
The last (and first) Vendor Bender wasn't published for more than a few hours when I got an invite from former BrianMadden.com contributor Michael Keen to get the rundown on what he's up to with his new position at Lakeside Software. Since I hadn't talked to anyone at Lakeside in-depth about their products in a while, I took him up on it. Bottom line: Damn, these guys are hard core.
Now I'm not the kind of person that gets excited about monitoring products. In fact I spent the first part of our conversation bored because at first it seemed that that's all we were talking about. It soon became apparent, however, that there was more to Systrack than meets the eye.
First, it's worth breaking down the Systrack Suite. Systrack consists of four components:
Systrack PM - automated PC power management
Systrack VP - Virtualization planning and modeling
Systrack Desktop Suite - Classic Systrack end user monitoring
Systrack DM - Data mining/reporting
Each of the components are based on the same agent and backend architecture, so using them is mostly a matter of turning them on. Generally speaking, the flow of information starts at the endpoint, where a lightweight agent collects information at minuscule intervals. That information is then funneled up through a series of collection points at strategic locations to a master database. How that information is used determines which component(s) you need.
During my call, we spent most of the time talking about Systrack VP. Systrack VP is a product designed and made available for free to integrators as a discovery and planning tool to aid in a migration to a virtual desktop architecture. The idea behind this is that once customers see the power behind the solution, they'll want to keep it by investing in Systrack Desktop Suite.
Systrack VP uses the data collected by the agents to create a comprehensive model of what a virtualization solution should look like using real-world, organization-specific information combined with Lakeside's own models on typical virtualization environments. Those models are customizable to the point where you can tell Systrack that you'll be using X processor and Y memory with Z hypervisor and have it calculate expected loads.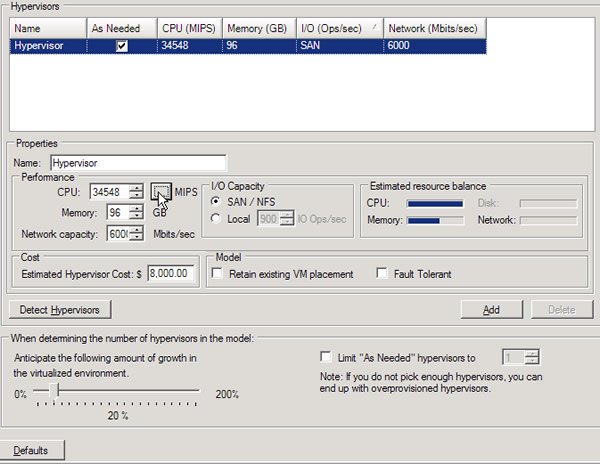 It doesn't stop there, though. Systrack also inventories your software and allows you to see which versions are installed, whether or not the software is free or paid, used or not used, the impact the application has on resources, and much more. Systrack also takes into account the difference in available resources from one machine to another, and scores the final numbers accordingly in order to provide an more accurate, level playing field.
So, we've got lots of information and we've used that to (1) model what hardware/software we'll need to virtualize our desktops, and (2) get a handle on our applications. Systrack VP can also spin the data around again to give you an idea of how many master images you'd need to support your users. It takes the applications, usage patterns, and virtualization information and calculates what your images should consist of moving forward.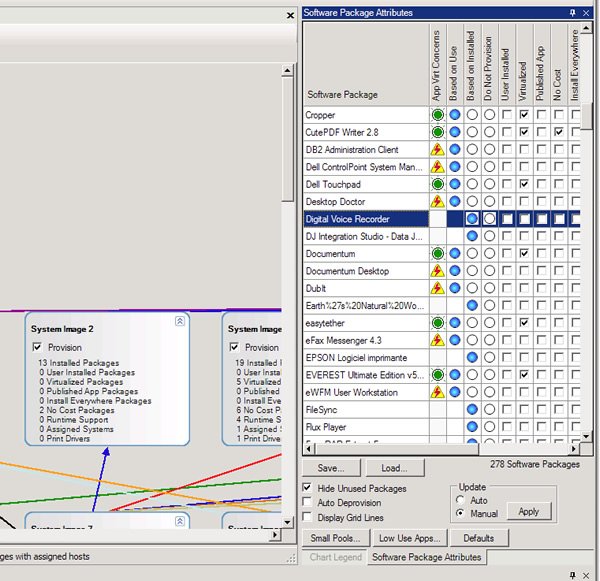 After seeing all of this application-specific information, I asked if they had any technology similar to AppDNA that could tell whether or not the apps themselves were candidates for virtualization. I learned that Lakeside actually has a relationship with AppDNA, and you can export the list of apps to AppDNA for that type of analysis.
There were a couple more interesting topics that we covered that are worth getting into here. First, there's an Enterprise Visualizer feature that provides a dashboard view into all of this data. There's even recommendations on the screen for whether or not a machine should be virtualized (RCTV - Recommend to Virtualize - in the screen shot) or be brought back to physical (RCTP in the screen shot).
Last is an ROI calculator that's built into the solution. I laughed when I saw it and said something to the effect of, "Seriously, another ROI calculator? At least yours isn't coming from a VDI vendor," to which they replied, "Right, and ours uses real data."
Duh.
If they can model it, they can price it. And since it's using real data from the actual environment, it's got a decent chance of being more accurate than your standard, vendor-provided, 50,000ft (15,240m) cost model.
Don't get me wrong, I'm highly skeptical that it can actually represent the real costs of a desktop virtualization solution. There's so much that Systrack doesn't measure that must either be assumed or thrown out that it's almost impossible for it to build a complete ROI calculation (see Brian's "How to lie with cost models" from Dec of 2009). Still, if you're looking for, say, a hardware cost estimation, I'd put way more stock in what Systrack tells you over what Random Vendor's cost model says.
So, I must say that I'm very impressed with the staggering amount of data that is collected, and how Lakeside has managed to manipulate it into such a far-reaching solution. I can't speak to how accurate the modeling is, but I'd love to hear about people's experience with it. Also, keep in mind that all of this is only from the Systrack VP product that VARs and integrators use. The Systrack Desktop Suite product builds on this to add realtime monitoring, alerting, and workflow, plus a slew of other things that we had to save for another time.