 BACKGROUND IMAGE: iSTOCK/GETTY IMAGES
VMworld 2018 Live Blog
We're at VMware VMworld 2018. Follow along for the last end user computing announcements, along with our commentary.
Welcome to VMworld 2018! As usual, BrianMadden.com will be presenting a live blog. For the latest, follow us on Twitter, at @JackMadden and @KyleJohnsonTTGT!
Monday morning keynote
9:00: We're starting right off with Pat Gelsinger. It's his sixth year of being CEO. Time flies! It's also the 20th anniversary of VMware, so they're rolling a video celebrating it. Pat is showing off a VMworld tattoo, and it sure looks real.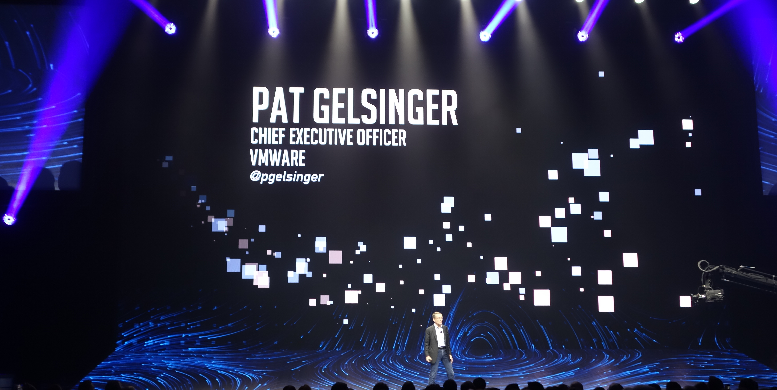 In all seriousness, Pat is going over VMware milestones, like the early days of server virtualization, and how it changed the server wars. Next, BYOD and mobility are getting a call out. (Yeah!) The third act is NSX (though the Nicira acquisition was long before the AirWatch buy). Last part is bridging public and private cloud, and next is the "multi-cloud era." As an EUC person, though, it still feels to me like one of these is not like the other—I guess I still wish that EUC had its own conference.
9:18: Pat is launching into the first segment, on the cloud. As a side note, Pat says that VMware sees the telco industry as a big opportunity for virtualization and cloud. The telco industry is only 10% virtualized, plus we're on the verge of the big 5G build out.
But the big topic for right now is hybrid cloud, where VMware Cloud Foundation plays. The easiest route to hybrid, Pat says, is HCI.
9:26: Now on to public cloud and the AWS partnership—Andy Jassy is coming on stage. The number of customers for the VMware/AWS partnership is doubling every quarter. Use cases they're highlighting are migration and DR. Today, all geographic locations are covered in some way.
News today: Amazon Relational Database Service (RDS) on VMware. Big cheers from the audience. It's cool to see this partnership flowing back towards the on-premises side, as well.
9:38: The next step in VMware Cloud Foundation is flowing the infrastructure to the edge. But first, Pat is talking about something called Project Dimension. It's Cloud Foundation on HCI (Dell end Lenovo for now), plus a hybrid control plane, and VMware operates it. It's in tech preview today.
Now, back the edge. The edge includes Workspace One for human-oriented devices, and Pulse for IoT devices. (Remember that 2-tier versus 3-tier stuff that we wrote about last year?) Pulse 2.0 is out today, with way more scale.
9:43: VMware is acquiring CloudHealth Technologies, which does multi cloud management and optimization.
9:45: VMware Cloud Automation Services is now GA. All these are pieces of their evolving multi-cloud story.
Now, let's turn to networking. This is not really our area, but Pat is saying NSX momentum is pretty good. (I'll have a slide photo in a second.) This is still pretty advanced stuff, though. My networking editor colleague tells me that most companies are still hesitant to go messing with their network (not a big surprise, of course).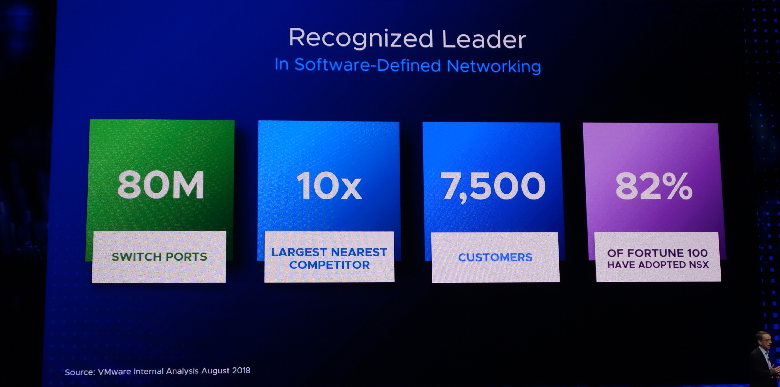 Ray O'Farrell is coming up for demos now. They're just videos for now, showing on-prem to AWS migrations, as well as RDS on premises and Project Dimension, which might be my favorite thing that I learned about today.
You heard of SDDC—now it's self-driving data center. Project Magna is all about bringing machine learning to optimize it.
10:01: Now we're moving onto apps; talking about how big Kubernetes is getting for cloud-native apps. "The best way to run a container is on a VM." Google GKE On-Prem (just announced in July) runs on VMware. VMware's product in this space is PKS.
Wendy Cartee (senior director of cloud-native marketing) is coming on stage, along with Ray again, for another round of demos. They're showing how PKS works with NSX, as well as other features.
10:11: Now up, the NVIDIA partnership (still Ray showing demos). It's not just about graphics for VDI—machine learning workloads are big, too. Office workers use them during the day for their desktops, then ML apps can use them at night. (So, if you're trying to sell your org on GPUs for VDI, now you can hitch your project to the hottest trend, too!)
VMware is announcing a blockchain infrastructure implementation, called Project Concord.
10:16: Pat is coming back for an endpoint segment. (We'll get more on this later today in the EUC super session.) He's highlighting Dell Provisioning for Workspace One. Basically, the Dell factory will install your apps, and everything will be smoothly enrolled and managed.
10:21: Renu Upadhyay is coming up to show demos with Ray. The demo is all about managing updates for Windows 10, which is a huge pain that everybody hates right now. Workspace One can surface app compatibility information. I want to dig into where they pull the data from—they went over it pretty fast, and moved onto Jira integration in the console. The automatic update capabilities can take compatibility information into account, and hold the updates until apps are ready.
Now, what about IoT? This is where some of the edge stuff comes into account. For now, they're showing vSphere managing VMs in edge data centers. Pat walks onstage: "What's the big deal, we've been doing this for years?" Answer: This was all done on 64-bit ARM. Cool! So this is new ESX for ARM.
10:31: The final segment is about security. Last year they announced AppDefense, which we thought was interesting. Today's announcements: vSphere Platinum has AppDefense built in. Second announcement: Adaptive Micro-Segmentation. NSX, AppDefense, and vSphere all work together.
Demo time with Vijay Ganti. AppDefense learns the good behavior of an app, then they you can lock it in place, including the network. It can adapt, too: You can look at app behavior changes, and then you can update policies. Workspace One Intelligence can come into play here.
10:41: Pat is wrapping up. He's really good at giving keynotes—the energy was high all along.
Monday afternoon end user computing keynote
We're in a slightly bigger room than last year.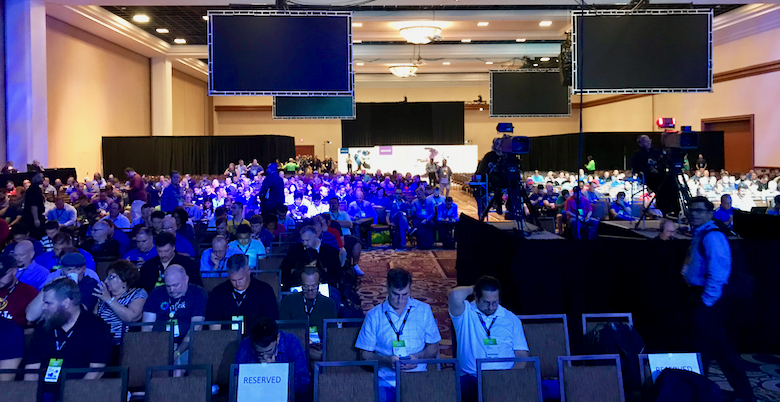 4:34: We're beginning with a video about how poor EUC experiences waste time. It's a bit funny and cinematic, and got some laughs.)
Now Noah Wasmer and Shankar Iyer are on stage, to cheers. (Their titles are Co-SVP & GM for EUC. Noah is speaking, and he's super pumped. He's talking about all the EUC things that save time. (Even DeX in first-responder vehicles. I'll have to see if they have a public reference for that :)
More color from Noah: Workspace One has a gotten a lot of traction, but Windows 10 patching and servicing are still a pain. We also have to deal with device choice, students that are used to Chromebooks, businesses that want to offer cool devices to attract talent, other security incidents, etc. In other words, there's a lot going on, and Noah was channeling Shawn Bass's speaking style.
Shankar: What is Workspace One? It unifies a bunch of silos, and modernizes them. Today's presentation will cover modern management, app and desktop virtualization, and "transformational employee experiences."
They're also giving out a new award, called the "Employees First" award, and the winner is Adobe.
4:47: Shawn Bass comes up to dig in a bit more. What is modern management? It's a single tool from the cloud, devices that are up to date, quick provisioning, analytics, etc. But there's more, Shawn says.
4:50: Brett Hansen from Dell is up. As mentioned this morning, today they're announcing updates to Dell Provisioning Experience, building off of work started last year.
(It would be nice if they went over how zero-touch provisioning can work with other OEMs, too. There are plenty of options.)
Jason Roszak is going to talk new Windows management features.
As of last year, they enabled the first zero touch program with Dell. The problem is that apps take a long time to download, so now, they're pre-installing the apps at the Dell factory. Workspace One can also now block untrusted apps from running, and force users to get their apps from the Workspace One catalogue. (This is powered by Device Guard.) Lastly, they have a new option where IT can reset the laptop, and all of the apps re-installed.

Another announcement: Industry Baselines for Windows 10. There are a few benchmarks that you can choose from, and it pre-populates a policy template. (You can modify it directly from the template, too.)

What about Group Policy? People have the impression that Modern Management means you can't do everything you used to be able to, but VMware is now emphasizing that they can cover all Group Policies.

Next, they're talking about application compatibility, and automated policies (like they showed this morning). They use application launch and crash telemetry from devices to surface the compatibility information.

They can also pull in CVE feeds now.
Don't forget iOS, macOS, Android, Chrome OS, and rugged and iOS devices, but they're not going over these, so overall, the presentation feels pretty desktop-oriented.
Next, we're on to the security segment with Sachin Sharma. He's talking about the "zero trust" security concept (i.e. BeyondCorp; Conditional Access; contextual access, ID-defined security, etc.). This is super important, and should be the thing that we're all most interested in. To demo this, they're showing off their recent integration with Okta. (The demos went by pretty fast.)
Another part of this zero trust stuff is the Workspace One Trust Network. This allows Workspace One to pull data in from the partners, and this can all be pulled into policies, and automated.
Now we're on the desktop and app virtualization segment with Shikha Mittal and Angela Ge. The idea here is to blend on-premises and cloud desktop management, and to allow virtual desktops to be managed the same way as physical. Makes sense.
How do we get there? There's a new cloud connector that connects Horizon 7 to the cloud control plane. They're showing more use cases than were mentioned my briefing earlier today, so we'll have to take a closer look on what all is available.
5:24: They did a quick demo of a GPU enabled desktop, and multiple people can use it at once.
During one of the earlier demos, they installed the Workspace One agent in some virtual desktops. Now, you can mix virtual and physical in Workspace One. You can have the same policies, same visibility, etc., all across everything. Again, these seems logical, but I'm sure there was some work behind the scenes to make it happen.
5:27: The last segment is going to be all the employee-oriented apps, with Marshall Anne Busbee.
Today, the AirWatch agent and Workspace One app are finally being merged. You can transition just by upgrading the AirWatch agent, and this updated Workspace One agent is now called the "Hub."
Workspace One Hub It has a home screen with an embedded web view, a unified app catalogue (with ServiceNow integration), a directory, and a feed of actionable notifications (this is basically Mobile Flows). (There's a much deeper story around Mobile Flows, so we'll be looking to find out what the latest capabilities are.)
5:35: Shawn is wrapping up, plugging the EUC Beta program.
Dig Deeper on VMware Desktop Virtualization and Mobility