VDI pros are all in on Enterprise Mobility Management (VDI Like a Pro survey results)
What I learned about enterprise mobility from the community VDI Like a Pro survey: Over 91% of respondents have EMM in place, too.
Gabe recently wrote about VDI Like a Pro's State of VDI and SBC Survey, a community project lead by Ruben Spruijt and Mark Plettenberg. I had a look at the results, and it turns out there are a few morsels for the enterprise mobility side, too.
Over 91% of respondents are or will be using an enterprise mobility management solution in 2017, up from 79.8% back in 2015. (The overall survey had more than 580 complete responses.)
Of course this is a VDI/SBC-centric survey, so these aren't numbers for the general enterprise population; and it makes sense that VDI/SBC deployments would correspond to EMM deployments, as they both have security components. However, even given these preconditions, these are still huge EMM numbers that speak to the maturity and spread of EMM.
Here's more of the market share data: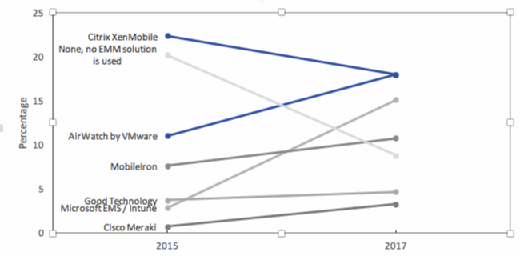 We can see that VMware AirWatch is big at around 18% in 2017, and that Microsoft EMS / Intune is growing the fastest, from 2.8% in 2015 to over 15.1% in 2017.
Citrix XenMobile's share declined from 22.3% in 2015 to just under 18% in 2017. The decline is even sharper when you take into account the increase in overall EMM usage. Also, since this is a VDI/SBC-centric survey, XenMobile is likely to be over-represented compared to a general enterprise population. Remember, this is market share, not absolute size, though.
Moving on other data, the survey also asked: "What is the ratio of devices being used to access VDI/SBC?" Laptops, desktops, thin clients, and Chromebooks make up about 93.7% of the responses, with mobile devices clocking in at just 6.3%.
This tells me that respondents think of mobile devices as... well... mobile devices, not as thin clients. This is how we always said it should be (years ago we wrote many articles about how you can't rely exclusively on VDI/SBC as a mobility strategy), but it's nice to see it reflected in the data, too.
Stay tuned for more analysis from Gabe, and to see the survey report on your own, head over to https://vdilikeapro.com/.