The realities of the new admin interface in Citrix Presentation Server 4.5
Citrix Presentation 4.5 (codenamed "Ohio") will be out soon.
Citrix Presentation 4.5 (codenamed "Ohio") will be out soon. While it has some cool new features (server health monitoring and recovery, a brand new Application Isolation Environment engine, and integration with Citrix's "Tarpon" Streaming Server), the most noticeable change you'll find is with the tools that are used to administer and configure your environment.
Here's the deal: When Citrix released MetaFrame XP in 2001, they introduced a new, centralized, Java-based management console they called the "Citrix Management Console," (or CMC). What did people think of the CMC? Well, let's just say that MetaFrame XP was popular in spite of the CMC. The problem was that the CMC just didn't "feel" like a normal Windows application. It required a certain version of Java, and it felt out of place as the rest of the industry standardized on MMC-based management consoles. (Historical note: Why did Citrix even build a Java-based management console instead of just making an MMC snap-in? Because they wanted to use that one single console to manage both MetaFrame for Windows and MetaFrame for UNIX.)
In the Windows world, the CMC limped forward through the various versions of MetaFrame XP. When Citrix released MetaFrame Presentation Server 3.0 in 2004, they also introduced an MMC-based admin console. (Hurray!) However, that console's use was limited to monitoring your farm and user sessions. (Boo!) All configuration changes still had to be done via the Java-based CMC console. (It had a new name by that point, but that didn't mask the fact that it was still weird.)
A year later, Presentation Server 4.0 was released. The MMC console had a few new features added to it, but the Java-based CMC was still used to do all Presentation Server configuration! A good rule of thumb was that tasks that did not require writing to the data store (viewing sessions, shadowing, viewing usage statistics, etc.) could be done in the MMC. But for things that wrote new configurations to the data store (publishing applications, managing drivers, configuring farm and zone options, setting policies, enabling AIE), you had to use the old Java-based CMC.
This brings us up to Presentation Server 4.5. In 4.5, Citrix is still slowly plodding down the path to move functionality out of the Java CMC and into the MMC. This is a good thing. Unfortunately, Citrix didn't quite get everything migrated to the MMC in time for the 4.5 release. This means that for 4.5, we admins get to enjoy using both tools simultaneously! On top of that, there is no rhyme or reason as to what functionality is configured via which tool.
For instance, here is a very, very rough outline of what's configured where:
| | |
| --- | --- |
| New MMC | Old Java Console |
| Farm Properties | Resource Manager |
| App. Publishing | Installation Manager |
| Reports | AIE |
| Alerts | Policies |
| Administrators | Zones |
| Server properties | Printing |
Like I said, there's no real rhyme or reason as to what's where. For instance, you use the Java console to create your load evaluators and add rules. But once you create a load evaluator, you need to switch over to the MMC to actually assign it to a server. (Of course there is no Load Evaluator item in the tree in the MMC. Right-clicking on a server and selecting "properties" also doesn't mention anything about load evaluators. In fact, looking through all the options on the context menu that pops up when you right-click on a server in the MMC doesn't mention anything about load evaluators.)
To assign a load evaluator to a server, you need to right-click on the server in the MMC and then choose the "all tasks" flyout menu from the popup context menu. This "all tasks" flyout has a bunch more random options for the server, one of which is "assign load evaluator."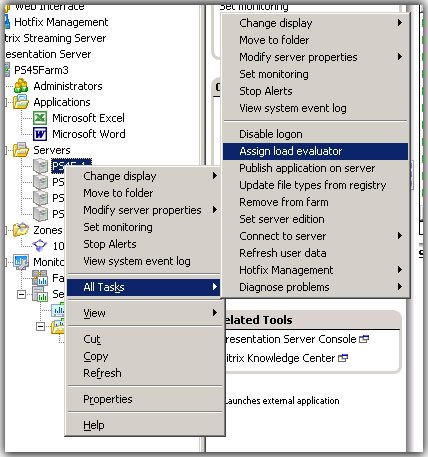 You'll repeat this fun exercise again and again in 4.5! (Think of it as "configuration menu spelunking.")
Now in the grand scheme of things, this doesn't really matter, right? I mean the load evaluators still work the same. But superficially, it's weird, and it's going to take you a while to figure out the two consoles and what you need to do where.
I guess at the end of the day, I liken this to a road construction project. Just as you have to endure lane closures, uneven pavement, and detours when a highway is being expanded from two lanes to four lanes, so too will you have ensure posted detours and construction dust as you administer Presentation Server 4.5. farms.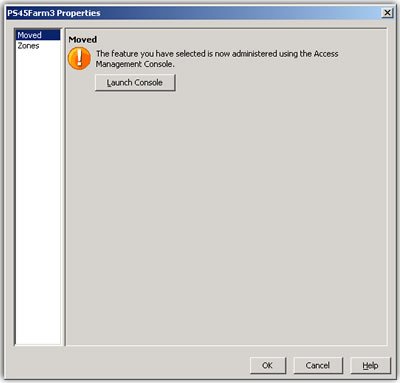 Maybe the next version of Presentation Server (codenamed "Delaware") will finally see the death of the Java console?