Thanks to companies like Cocoafish, in-house apps are getting easier.
Recently I had a chance to meet with the founders of a mobile application infrastructure startup called Cocoafish.
Recently I had a chance to meet with the founders of a mobile application infrastructure startup called Cocoafish. Cocoafish provides a hosted back-end infrastructure with a set of APIs for common mobile app features. By incorporating these tools, a developer can be free to concentrate on the proprietary parts of in-house apps.
How Cocoafish works
The founders of Cocoafish, Mike Goff and Wei Kong, both came from Sun where they worked on high-availability server clusters. In 2010 they set out to create a mobile app, but found that with their experience in server programming, they could go beyond their individual app to create a platform and infrastructure for other developers.
The Cocoafish product, which is completely hosted on Amazon EC2, consists of a range of APIs that can be called to drive a variety of typical mobile app functions—comments, ratings, user registration, notifications, social media integration, and others, including custom objects. Storage and databases are automatically provisioned and scaled on Amazon S3. Cocoafish has SDKs available for iOS, Android, and a few other platforms (soon to include Windows Phone).
List of APIs from the Cocoafish website: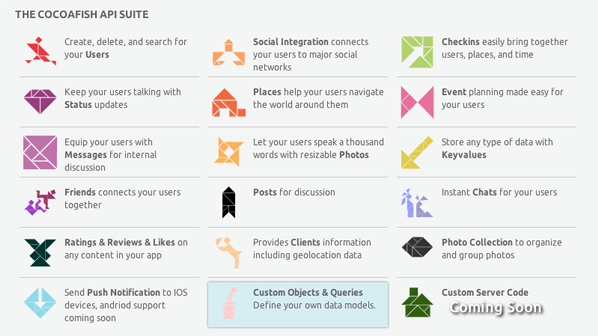 In addition to keeping developers from having to manage their own servers, the standard APIs ensure that users won't have to completely re-invent features that are common to many apps. Cocoafish provides an interface for managing apps deployed with the platform, as well as reporting and logging features.
Right now, Cocoafish is in private beta, with mostly individual consumers using the product. They did show me one of their larger customer's projects: a photo-sharing app called Linea. Linea is available already in the Apple app store, and is built and hosted entirely on the Cocoafish platform. The public beta is expected in April, with current efforts going to ensure stability and scalability.
How this could be useful for organizations
Many organizations, after initial skepticism, are acknowledging the utility of device-native mobile apps. The problem is that these mobile apps have to come from somewhere, and often when accessing sensitive internal data, off-the-shelf apps just don't cut it. A product like Cocoafish could be a strong tool for organizations seeking to develop apps in-house by taking care of the low hanging fruit—the typical "app-y" features mentioned previously.
Because mobile apps can be developed in a "pick and choose" way, in-house developers can concentrate on features that pertain to their own organizations. Custom API calls and sensitive database queries can be entirely on-premise, while the Cocoafish infrastructure carries the load for the easier commodity functionality required for home-grown apps. There would be no need for an organization to add any additional servers or databases to run their custom app, the only infrastructure work necessary would be to ensure that internal databases and resources could handle the increased amounts of traffic resulting from new mobile apps.
The end result is that these home-grown apps could keep sensitive data in-house without the overhead of the app infrastructure, while users would be afforded a device-native experience. (For more about the need for a device-native experience, check out this article.) Naturally, before any organizations base their mobile app development plans on Cocoafish, the company will have to first prove that it can scale successfully and provide business-quality SLAs. While it seems far-fetched that many enterprise-level organizations would build apps on the platform, for SMBs and green-field companies, Cocoafish could be a vital tool for hosting a mobile app infrastructure.