System Center Configuration Manager is here to stay and ready for the future.
Microsoft MVP and BriForum speaker Peter Daalmans takes us on a tour of Configuration Manager Current Branch.
For years, people have asked me if Microsoft was going to abandon System Center Configuration Manager and force customers to use Microsoft Intune. My reply was always that I had the feeling that Microsoft was not going to risk the market share of Configuration Manager for a cloud-only story.
With the release of Configuration Manager Current Branch a little over a year ago, the proof is here. Microsoft is still investing—and still planning to invest in the future—in Configuration Manager. In November 2015, Microsoft released Configuration Manager Current Branch, and since then 3 major versions and monthly technical previews have been released.
Configuration Manage as a Service
Configuration Manager is a very complex product from the engineering perspective, so in the last few years Microsoft has invested to transform this beast into a product that can be serviced more easily from the cloud. The ultimate goal is to get rid of huge upgrade projects and to be able to add new features more quickly.
To do this, the release cycle of Configuration Manager has been drastically changed. Instead of releasing a new version every 3 to 4 years, a production version is now released roughly every 4 months, and a technical preview version every month. With this new cadence, Configuration Manager is ready to fully support the fast-changing enterprise mobility world, and of course the new Windows 10 update cadence, also known as Windows as a Service.
So what is Configuration Manager as a Service? With the new model, Microsoft can supply updates and new releases via the servicing channel. Using the Servicing Connection Point site role, updates are downloaded automatically.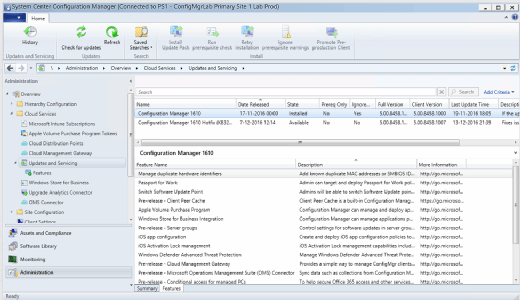 From the Configuration Manager administrator console, you can install the available updates, which can be hotfixes or releases with new features. After installing the update, the clients can be upgraded automatically. (Another option is to create a collection of clients that get pre-production updates, and use them to confirm that updates are successful before updating the rest of your clients)
Configuration Manager Current Branch
As I mentioned, roughly every four months a new version of Configuration Manager is released. This version is called Current Branch and is supported by Microsoft for only one year, so it will not receive any updates beyond that year. Within that time you need to update to a later build of Configuration Manager to be supported again.
The Servicing Connection Point site role can be configured in online or offline mode. By default, the site role is configured in online mode, which means that the updates flow down automatically and that the Configuration Manager server needs to have access to the Internet. For more secure environments, where the Configuration Manager server does not have access to the Internet, the Servicing Connection Point site role can be configured in offline mode. In offline mode, Configuration Manager still needs to be updated at least once every year to stay supported. This update process is a manual process via the Service Connection Tool.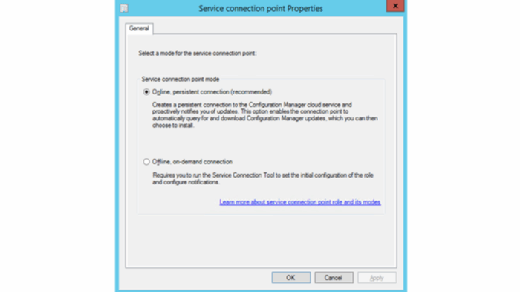 Manager Technical Previews
Every month, Microsoft releases a new Technical Preview of Configuration Manager, which allows you to test new features that may be shipping in the next Current Branch release. A Technical Preview however is for testing only, so each one is time bombed for 90 days, and only 10 users are supported. As a Configuration Manager admin, you can test scenarios for Microsoft, and then based on telemetry data and feedback, Microsoft is able to see if a new feature is working as designed or if it needs some more shaping.
To keep your Technical Preview lab alive, you need to update it to the latest version at least once every 90 days. This is also done via the servicing channel, from the Configuration Manager console.
Configuration Manager Long Term Service Branch
In July of 2016 Microsoft released another branch of the Configuration Manager family, the Long Term Service Branch (LTSB). The LTSB has a bunch of technical limitations, like that it does not receive new updates, it cannot service mobile devices via the Microsoft Intune Subscription, it does not support Windows 10 servicing, it does not support "modern management" for Windows 10, it does not support asset intelligence, and it does not support any cloud management. The LTSB version also has some licensing restrictions; for instance, you need a Software Assurance agreement to be able to use it, so be sure to read more about licensing here.
Telemetry in Configuration Manager
Microsoft is gathering anonymized information about how Configuration Manager is used. As a customer, you can configure the amount of data you share with Microsoft. Three levels are defined: Basic, Enhanced, and Full; you can learn more here. Based on this information Microsoft is, for instance, able to learn how Configuration Manager is used and what versions are still being used.
One example is that Microsoft was planning to deprecate Windows Server 2008 R2 support for all site system servers, but based on the telemetry data Microsoft learned that most of the distribution points were still based on this operating system. So support for Windows Server 2008 R2 for distribution points was extended.
[Editor's note: Check out this blog post from Brad Anderson for another example of Microsoft insights from the telemetry.]
How to get to Current Branch?
The upgrade path to Configuration Manager Current Branch is easy if you are using at a minimum Configuration Manager 2012 Service Pack 1, Configuration Manager 2012 Service Pack 2, Configuration Manager 2012 R2, or later. Upgrading is an in-place upgrade, like we were used to while installing a service pack. While upgrading the site servers, Configuration Manager is not available, so planning the upgrade in a less critical timeframe is advisable.
Conclusion
The majority of customers should use the Current Branch approach, so that they can adopt new trends in the enterprise mobility and enterprise client management world. You should be creating three environments: one with the Technical Previews where you can test and learn about new features that are coming in the new versions; a pre-production environment where you can test the upgrade process to the next Current Branch; and of course, the production environment.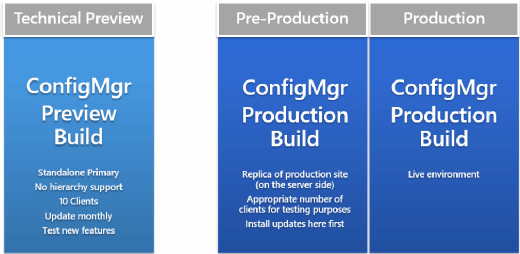 With those three environments, you are ready for the future and ready to adjust to the quickly evolving and changing worlds of enterprise mobility and enterprise client management.