Should Citrix hire Scott McNealy?
Should Citrix should hire Scott McNealy? My odd thought for the day.
Should Citrix should hire Scott McNealy? My odd thought for the day. I try not to share them too often.

Assuming the EU doesn't hold things up forever, once the Oracle/Sun merger completes it is widely assumed that Sun Microsystems co-founder and chairman, and former CEO, Scott McNealy will be out of a job. I think Citrix should consider hiring him. I'm not thinking hire him to run the company. Mr. T shows no signs of being ready to retire. But there certainly is a role for him to play.
First, I think that having McNealy on-board can only help to attract the talent that Citrix needs. It is going to be a bruising battle out there and right now is the time to ramp up for it. Citrix is moving into enemy territory, and it needs to take the market from VMware. And let's not forget that the cozy relationship with Microsoft might last only as long as Microsoft sees VMware as a threat! Citrix has a California campus to pick up talent out west, and one suspects that McNealy might be a draw for a few "interesting" people.
Second, I think that McNealy a different voice and set of experiences that must be heard inside the executive suite at Citrix. Citrix has made great strides in integrating the Xen atmosphere into the company, but experience at the pitfalls of open source are needed too. In addition, just look at the litany of innovations at Sun over the years. For example, does Citrix need to worry about efficient remote storage systems? You betcha!
Third, while his image might need a little polishing, Mr. M. might provide cache'. Citrix is moving from a back room play to something sounding more consumer-ish. The Citrix Receiver is great marketing, but when delivered by a guy who could probably stand-in for "PC" in the Mac commercials it loses something.
Finally, when I look up Scot McNealy on the web, I get this: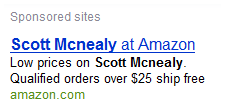 So come-on Citrix, order today. Shipping is free!