Testing out the Samsung DeX experience with the Samsung Note10+
I still struggle to see Samsung DeX being optimal for office workers versus more frontline employees, but that doesn't mean it doesn't have its uses.
We've been curious about the progression of Samsung DeX for a while, checking on how it's progressed since it released alongside the Samsung S8 in 2017. A few months ago, Jack even spoke with a DeX pilot customer, the Chula Vista PD, for a case study.
One aspect we've focused on is Samsung DeX for frontline customers (Samsung recently announced a pilot with the Chicago PD), so we're not going to rehash that particular conversation. Rather, I'm going to look at the current experience from the point of view of office workers. While the majority of use cases Samsung cites are for frontline employees, plenty of DeX still focuses around the office.
Samsung sent me a Note10+ just ahead of VMworld, which seemed like a perfect time to give both DeX and the phone a test drive. I wanted to see what the DeX experience is like now for corporate laptop users who are curious about it.
Samsung DeX experience on Mac vs Windows
One of the features of the Samsung Note10 is that it comes with DeX pre-installed; normally it requires a deck or a dongle, but now DeX requires just a USB cable to connect the smartphone to desktop. The application is also available from Samsung directly and in major app stores.
Windows experience
Installation on Windows is crisp and easy. Though the Samsung DeX desktop client is already on the Note10+, it obviously needs admin approval before installation begins; users don't have to worry about someone adding DeX to their computer suddenly without express admin approval.
To start, simply download DeX in your preferred manner (from device, website, app store), trust the device, and you're ready to go. You don't actually need DeX if you want to simply share files, in which case you just treat the phone like an external HD. I'd probably do that if all I want to do is copy over photos or files, since DeX is a little less user friendly in figuring out how to copy from DeX to computer desktop (drag and drop works, but frustratingly).
macOS experience
Here is where we experienced a hiccup. You will find yourself needing to work through several approval notifications before Samsung DeX even installs and then some additional ones afterward to enable the features. Additionally, macOS users also get a notification to download/install the Samsung Switch app (and uninstall Android Link, should they have that). You can get DeX to work without installing Switch, but you'll get a notification about it every time you connect the smartphone to your computer. I didn't notice any loss of functionality when I uninstalled Switch to see how well DeX worked without it.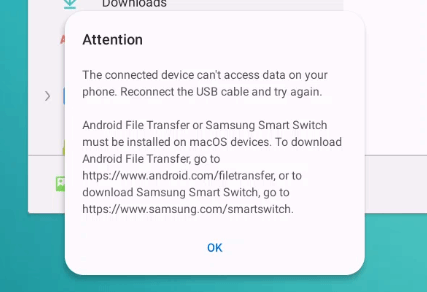 Once you've installed both apps and navigated through permission requests, DeX works just as well on macOS.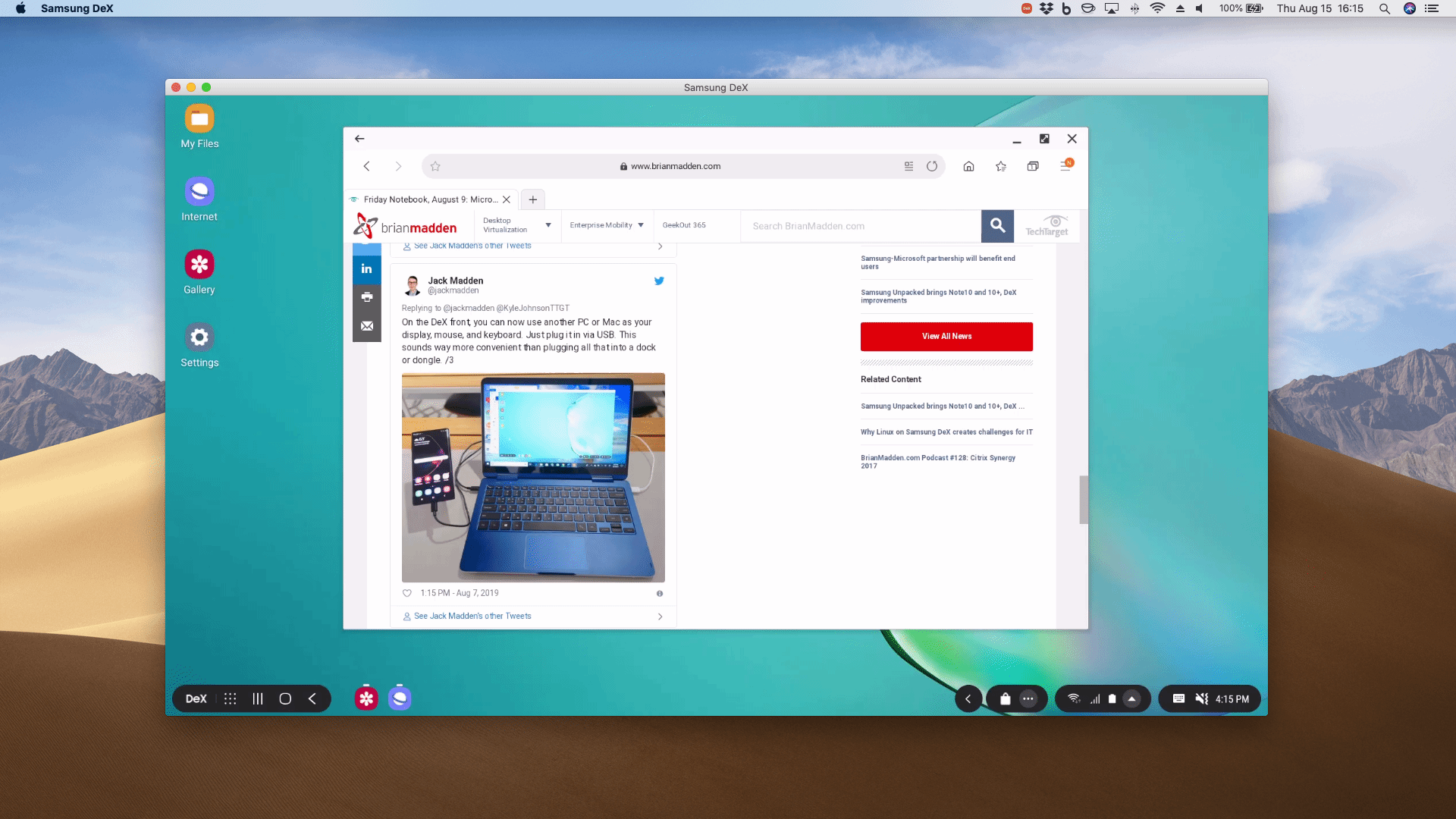 I reached out to Samsung to get a better understanding of the macOS issues and why DeX recommends installing Samsung Switch, too, but unfortunately didn't hear back before publication time. I will update this article when I hear back.
At the end of the day, the Samsung DeX app requires more low-level device access than a typical app. It doesn't help that both Windows and macOS have been tightening up said access for years, with the latter remaining the more closed off. This results in an experience where users have to go through more permissions request than they might normally.
So, once you're ready to go, what's the experience like? Works pretty much as advertised. You can access all your files on the Note10+ and use the apps on it. Samsung DeX is a little laggy (on both OSes), but it's not something most people will probably notice. I used DeX through my macOS to write part of this article and didn't notice the latency much then. I also tried the Note10+ connected to an original DeX Dock we have in the office, which provided a snappier experience.
So, Samsung DeX works fine. My only continuing issue is that I'd get a notification every time I connected the Note10+ to my MacBook Air that I needed to install Samsung Switch for DeX to work. If I just hit OK, DeX would boot up fine and work as expected.
Where is the DeX feature practical?
So, we know the experience; now, it's time to look at where it might be practical. Corporate desktops might be locked down, preventing you from installing the app at all, which would require either special permission or IT making DeX an option on all managed desktops? If IT installs DeX on conference room workstations, then you could just put presentations on your Samsung device and connect with DeX, reducing the times you'll have to drag around your laptop. You're not likely to be able to use DeX at hotel or airport business center workstations (for the remaining few that still exist) as they'll also be locked down. If you need to handle some work emergency when at a friend's place, they might let you install DeX, but also maybe not—I can see this being more viable that the other two use cases.
This is why we feel DeX works best for frontline workers, who don't have to worry as much about the above.
General thoughts about the Note10+
Naturally, the Samsung Note10+ is more than just a smartphone with DeX included, it's just that's where our focus tends to be.
Following the last few iPhone iterations, the Note10 does what the Galaxy S10 did not: do away with the 3.5mm stereo plug-in. This move will definitely alienate some fans, but personally I'm all for it. The Note10 also features USB-C connector, which Apple needs to finally commit to themselves.
Samsung reduced the screen real estate the hole punch camera takes and moved it to the center of the screen (the S10 moved it to the corner of the screen). Despite the effort to make it smaller, the camera still eats up as much space as overall as the iPhone notch since apps tend to cut off that area of the screen anyway. Much like the notch and the S10 hole punch, this camera doesn't bother me much. It's like the stereo plug-in, everyone will have different opinions and you're not going to please everyone here.
Overall, I like the Note10+, but find it really similar to the S10+. What I feel is the biggest differentiator is that you get a stylus with the former, which is definitely useful for taking notes—provided you're not a slow writer like me. With the Note10, they've added gestures when taking photos. Right now, it feels more like a gimmick feature—but I better see some developer make like a Harry Potter-type game using the gestures or I'll be sorely disappointed.
Closing thoughts
Samsung DeX keeps improving and Samsung keeps experimenting and working to gain more and more traction with frontline workers—which is where their real focus with DeX lies. But, it's still a bit of a struggle to really see office workers embracing it—at least right now. Maybe if we get to the future Citrix showed off at Synergy, where there's no assigned desks, but until then, it might fit frontline workers best. That said, maybe you need to do some last-minute work but are at a friend's house and don't want to access work files directly on it, then Samsung DeX might shine.
As for the Samsung Note10+, it is a beautiful phone with such an eye-catching screen that encompasses one side of the device with minimal bezels. The Infinity Screen still does bug me a little when typing, but somehow less than it did on the Galaxy S10+. Interestingly, the Note10+ isn't that much more than the S10+, so I don't know why you'd buy the latter.