Results of our Citrix XenDesktop 4 Licensing Survey. The community has spoken!
The results from our XenDesktop 4 Licensing Survey are in with over 280 participants. As expected they were largely in favor of Per User licensing.
The results from our XenDesktop 4 Licensing Survey are in with over 280 participants. As expected they were largely in favor of Per User licensing.
Haha...little blogger humor.
In fact, the results were overwhelmingly against per user licensing, even more than I thought they would be. There were are few people that said the licensing model works better for them, but it was dwarfed by the number of users that said it would not work at all.
Let's take a look at some of the questions. If you'd like to see the entire survey, download the attached PDF which contains the results and text responses to questions 4 and 9 (they're at the bottom).
Question 3: What is the best description of the use case for which you first deployed (or plan to first deploy) virtual desktops?

This echoes what we saw in the comments for Question 4 as well, except that training and disaster recovery also appear to be high on the list of use cases. Not much telling here, other than confirming the use cases that we all suspected.
Question 5: Do your virtual desktop users share the same endpoint devices (ie for lab use or shift-work)?

Here's where we start to see why people are resisting the Per-User license so much. 63% of organizations have users that share endpoints. Now, I'm sure not all of these are shift-based, in fact there's probably a good many of them whose users sit down at whatever endpoint is available. That means the results here might not totally indicate the people would like to see a CCU model, but they might also be warm to a per-device model.
Question 6: If you are using or plan to use VM-based virtual desktops, how do you intend to deliver most of your VM desktops?

Now we can start to see what all the hubbub is about. Most XenDesktop users expect to employ non-persistent/pooled desktops in the organization, rather than persistent. What this boils down to is that they expect to use XenDesktop in much the same way they use XenApp, while taking advantage of the XenDesktop feature-set.
Question 7: How would you view licensing a desktop virtualization solution on a PER-USER basis? That is, a license is required for every user that accesses a virtual desktop but that user can use any endpoint in any location.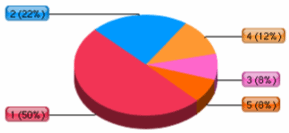 This chart needs some clarification before we go into it. Participants rated their view of Per-User licensing on a scale from from Very Unfavorably (1) to Very Favorably (5). As you can see, a full 50% (140 participants) rated their view of Per User licensing as Very Unfavorable, while only 8% (22 participants) said it was Very Favorable. In all, 72% of respondents were not in favor of Per-User licensing, while 20% were. The other 8% are Swiss.
Question 8: How would you view licensing a desktop virtualization solution on a PER-DEVICE basis? That is, a license is required for every physical device that accesses a virtual desktop but any user can use that licensed device.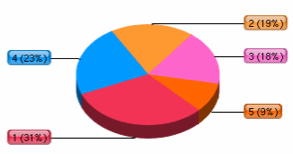 The same clarification applies here. Participants rated their view of Per-User licensing on a scale from from Very Unfavorably (1) to Very Favorably (5). While a Per-Device method is more agreeable than a Per-User method, the numbers still suggest that people don't like it, either. 50% of respondents (140 people) responded either Very Unfavorably or Unfavorably, while 32% (90 people) said that a Per-Device model would be Favorable or Very Favorable. 18% said they were Somewhat Favorable, which means they're also somewhat unfavorable in this unscientific survey.
Essay Questions
The essay questions provided four or five pages of entertaining reading, with a few colorful remarks about Citrix and the products, but there was quite a bit of useful information in there on use cases and how the change to Per-User licensing affects people's current and future XenDesktop deployments. Not wanting to take an unnecessarily negative tone, let's look at the positive responses first (I think these are the only 6, and we had 96 responses to question 9):
"It's actually fine for us because for budgeting purposes it's easier for us to account for a license per user than it is for some large arbitrary pool of licenses that will 'cover us'. It helps to know exactly how many users we have licensed for auditing purposes."
"For me a per device case makes more sense as XD will be used to REPLACE desktops so their idea for licensing makes sense. It's only a [pain in the neck] if you're buying XD with the main idea being to use XenApp for your applications. If you're did this you're dumb though."
"because 60-70% of all users are logged in concurrently and we'll get a 2:1 trade that allows more flexibility, the move is good for us"
"The per user (named user) licensing model would allow us to assign licenses directly to users when odering our VDI product internally. That's good for us. The price for the licenses will put us off evaluating the product"
"Named user licensing is fine - they should also offer named device licensing as well which would allocate a license to a named connecting device"
"Per user pricing makes the most sense here due to eventual likely deployment to mobile devices (both laptop and smartphone)."
Clearly, for some users, this makes perfect sense. Companies with many users using multiple devices, a high proportion of virtual desktop users vs regular users in their company, or those with big-time budgeting headaches would much prefer a Per-User (or even Per-Device) model over a CCU model.
Now, let's take a look at a small portion of the negative responses:
"Depending on how the licensing shakes out by the product release date, it could have a large impact. Politically we are still fighting the battle of VM View vs. Citrix Xendesktop. This could make the decision sway toward VM View (which I would support even though I find XD technically superior) VDI is already a tough sale; last thing we need right now is have to deal with this."
(this was said over and over - that people will stop and take another look at VMware View or scrap the XD plans and move to View. Some even said they would switch even if the solution they found wasn't as feature-rich as XenDesktop. Have fun with that one, AppDetective.)
"per Concurrent user is better than device, Named user doesn't fit our current use case."
"With Citrix going with PNU licensing on XenDesktop, it doesn't make sense anymore to migrate from traditional desktops to virtual desktops. The savings is not there anymore. It'll cost more to go to VDI, so we'll just have to stick with Traditional Desktops."
"Citrix has repeatedly costs more and more and due to this we are trying to get away from using Citrix. Before we were forced to use it because of it's functionality and the features it had. But now with 2008 Server, we can offer everything Citrix did for us without the added costs. We do loose some features and administrative logging, but for the costs that we save it is well worth it."
"Per User at the current proposed price is overpriced to be adopted widely. Additionally, it falls flat in Citrix's major verticals of Healthcare and Education, where high concurrency is a fact of life. ... And changing the pricing model during the last quarter of the year forces everyone who had XenDesktop in the pipeline for an end-of-year budget dump purchase to rework their cost model - with less than 90 days to go to purchase. As a reseller, we'll spend more time re-educating the customer on what they were already sold on than we will actually closing the deal."
"We want to provide a remote access VDI solution to 3500 users, but we only ever have approximately 100 users online concurrently. Instead of buying 150 CCU licenses, I now need to buy 3500. In this current economic climate, the licensing change would blow my budget to the point where the project will be scrapped."

"My company deals with time zones, and the concurrency license aids this greatly - As east coast users log off, the bulk of the west coast just ramps up - the per user model will most likely prevent adoption of the technology"
"The only licensing method I would consider is per-concurrent user. Period."
Still, other users were receptive to change, just not as drastic. Some asked for Per-User or Per-Device so they could decide how to best implement it. Other suggested a Per-VM license, which I suspect works out to being very similar to CCU, but does offer up another price model and other options.
So there you have it. For the full report on the survey results, download the attached PDF file. We have the ability to scrub these results by the answers to certain questions, but it's a lot of work to do it for all of them. If anyone cares to see, for instance, how many respondents in the Education industry said that they favor Per User licensing, let us know in the comments and we'll try to make that happen.