RES Software announces on-premise Dropbox-like "follow me data" solution called RES HyperDrive
I just learned that RES Hyperdrive is a white label OEM of Nomadesk, so really this article should be about them instead of RES.
[UPDATE April 26, 2012 -- I just learned that RES Hyperdrive is a white label OEM of Nomadesk, so really this article should be about them instead of RES. RES choosing to OEM this product isn't bad, but I wish they would have told me when they briefed me.]
RES Software just announced an upcoming new product called RES "HyperDrive" which is an on-premise virtual appliance-based "follow me data" solution that's similar to DropBox, Box, Citrix ShareFile, or VMware Octopus.
Like many companies, RES believes that the first step to consumerization and BYO is to make the users' data available to them wherever they are. And, like many companies, RES believes that many IT departments are nervous about letting users store data in third-party cloud-based datacenters. So that's where HyperDrive comes in. It's like DropBox, but you run it yourself and you have more control.
I saw a demo of HyperDrive yesterday and it works exactly as you'd expect. If you're on a Mac or Windows desktop, the HyperDrive is literally an additional drive that you mount on your laptop:

If you're on a mobile device (they're planning on supporting iOS, Android, Windows Phone, and Blackberry), then you can download an app to access your data. (And they said the iPad version of the client will actually be able to cache files locally so it will work offline.)
Finally, there's an HTTP interface where users can view and download files.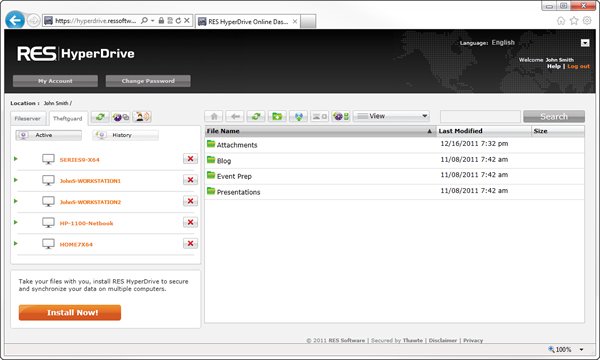 What sets RES HyperDrive apart from other offerings?
First, RES HyperDrive is primarily a file synchronization tool for multiple devices. They don't offer collaboration like Box and (in CTO Bob Janssen's words), they "don't want to compete with SharePoint." RES views this an a solution for ad hoc (i.e. "user created") data, and since it's not tied to a major desktop vendor like Citrix or VMware, you don't have to go 100% with their solutions in order to get the benefits.
Those who know RES Software know that they've been in the user workspace management and desktop automation space for over ten years. So they're really looking at HyperDrive as an extension to that, rather than something that's only useful in some future world without Windows.
With a nod towards enterprise requirements, HyperDrive has encryption of the local cache built-in to the product. They also offer a very simple remote wipe capability that the end user can invoke themselves via the web interface. (Just click on the device you lost, and you're safe.) Actually Bob called this "follow me compliance" instead of "follow me data," which is well said.
Another the cool feature of HyperDrive is something they call "FileLink" which is a simple way to right-click on a file to send a URL via email (which direct SMTP support and Outlook integration) to someone else. The FileLink capability is more robust than DropBox, with RES allowing the user to set options like expiration dates for the link, password protection, maximum number of times the link may be accessed, etc.
They expect implementation to be pretty straightforward. Just install the virtual appliance, point it to your directory server and email server, and start setting up users. MSPs who use other RES products will be able to add HyperDrive to their hosted offerings, and there's nothing stopping and end customer from hosting this in a public cloud infrastructure. Migration is pretty easy too, as users can essentially drag-and-drop whatever they're currently using into the new HyperDrive storage location. (And you can have multiple locations, so one for personal stuff, one for the team, one for the whole company, etc.)
RES expects HyperDrive to enter beta soon and to generally be available in the second quarter. They haven't finalized pricing yet, though they said it would be in the range of "dollars per month." (In other words, in order to fit in with existing pricing models of similar cloud-based services, they'll charge a per-user, per-month fee. But I'm sure you can negotiate whatever you want. :)
Final Thoughts
RES is entering what is fast becoming a crowded space. A lot of companies are talking about eventually offering some kind of on-premise "follow me data," but most of the big name things are just talk now. So it will be interesting to see how RES's offerings stack up against ShareFile and Octopus once those are available on-premise. (And assuming those are still a long ways off, RES could get a decent jump on things here.)
Many of you know that I personally use DropBox. I can say that this is one of the occasions when I wish that we used HyperDrive internally at TechTarget instead. Not only would that allow IT to be more comfortable with what I'm doing, as an end user I love the automatic encryption, the remote wiping, and the advanced options available for securing public links. Oh, and I would love to use my regular Windows user account, and I'm excited about data caching on the iPad.
So overall there's actually a lot that I want to like about HyperDrive. Now I just need to wait until it's released until I can actually put my hands on it.