Our new book, "The VDI Delusion," is now available
You may have noticed that I haven't written much on BrianMadden.com for the past few weeks.
You may have noticed that I haven't written much on BrianMadden.com for the past few weeks. That's because I've been putting the final touches on our new book, The VDI Delusion: Why Desktop Virtualization Failed to Live Up to the Hype, and What the Future Enterprise Desktop will Really Look Like. This book was cowritten by Gabe Knuth, Jack Madden, and me.
Even though I've written a few books in the past, this is the one that I'm the most proud of. It's literally a brain-dump of our 16 years in the industry and I view it as the culmination of my career so far. We open the book by asking this question: If VDI is so great, then why does it only have a 2% market share? Then we dig into all the reasons why and look at the alternatives, including RDSH, client hypervisors, and good old-fashioned well-managed Windows machines. We also look at the future, including HTML5 apps, mobile apps, and how this all hooks together.
At a speech in LA last month, I was accused of being a "VDI hater." What I hope this book will show is that I don't hate VDI per se, rather, I hate when VDI is used in situations where it doesn't make sense. We argue that VDI is not about saving on management or costs, and that in fact it's really hard to put desktops in the datacenter.
We think this book covers everything we'd ever talk about. It's literally been 16 years in the making, and now it is THE definitive book on VDI and desktop virtualization strategy.
The Kindle version of the book is available now ($9.99), and the hardcover will be out in May ($25.99). BTW, you don't need a Kindle device to read the book. You can also use your computer, phone, or HTML5 app at read.amazon.com. (Update March 23: It's now available on the Nook too.)
The book is available for Kindle now and will be out in hardcover in May. (Just in time to pass out some free copies at Synergy and BriForum London.)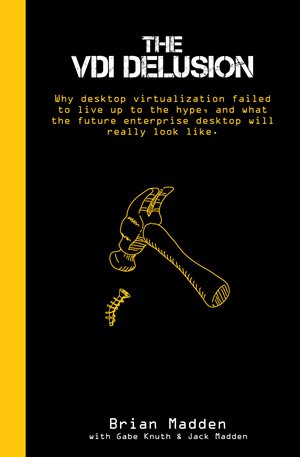 Yeah, that's a picture of a hammer pounding in a screw. (That was Jack's idea—brilliant!)
From the back cover
For many years we've been hearing that the future of the desktop is going to be VDI. Clearly that hasn't happened. Server virtualization has been wildly successful, so why not VDI and desktop virtualization? What went wrong? If VDI is not the future of the desktop, what is? Whether we like it or not, the desktop is evolving. Users are able to download apps, access web services, and buy devices on their own. What can we do? How can we provide users with corporate Windows desktop applications while also enabling SaaS, web, and HTML5 apps?
This book recounts the original promise of VDI and why the reality fell short. It shows how to step back and figure out what problems we're really trying to solve, including when it makes sense to use desktop virtualization and VDI and when to stay with traditional desktops. THE VDI DELUSION closes with a look at the world beyond Windows and what real steps we can take today to create the future enterprise desktop
Table of contents
Why Are We Here?
The Promise of VDI
The Reality of VDI
Why Do VDI Projects Fail?
Desktop Virtualization Is More Than VDI
What Are You Trying to Solve?
Understanding Windows
What Is a Desktop?
How Do We Make Windows Do This?
Moving Beyond Windows Applications
Putting It All Together
The Future of the Desktop
You can also get this book free from Quest Software
As a final bit of fun news, Quest Software has sponsored the distribution of some copies of this book for free. If you go to our Bitpipe.com site, you can login there with your TechTarget account and share your contact info with them to get the free version of the book in either PDF or Kindle version.
The free version will have an extra chapter in the end written by Jon Rolls talking about how Quest's desktop virtualization products fit into the overall picture. So if you don't want to pay for the eBook then this is a great option. (And to be clear, Quest did not sponsor or influence the writing of the book itself—they're just sponsoring this distribution. They also have some hard copies that they'll give away at conferences.)
So there you have it! You can buy the ebook now via one of these local sites, and the hardcover will be available in May.
Amazon.com (Amazon.co.uk, Amazon.de, Amazon.es, Amazon.fr, Amazon.it)