Our DaaS book is now available!
Many of you know that Gabe and I have been researching and writing a DaaS book since late last year, and today we're happy that it's finally available. You can buy it for $9.
Many of you know that Gabe and I have been researching and writing a DaaS book since late last year, and today we're happy that it's finally available. You can buy it for $9.99 for Kindle. (Remember there are Kindle apps for iOS, Android, web, and desktop if you don't have a Kindle device.) There's also paperback edition available for $25. For those outside the US, we have availability in the local Amazon stores, which is especially great for the paperback versions. Here's the Amazon.co.uk paperback and Kindle, and Amazon.de paperback and Kindle.)
As you know there's a lot of hype around DaaS right now (some of it from us), especially now that Amazon has announced WorkSpaces and VMware has bought Desktone. Many DaaS providers make all sorts of sensational claims about the benefits of moving your Windows desktops to the cloud. "Save money!" "Outsource your troubles!" "Simplify your Windows desktop management!" "Solve your BYOD challenges!" We wanted to find out what exactly they mean and whether any of these claims are true.
We envision that this book is for the person working at a company where their boss just cornered them and said, "Hey! What's the deal with this DaaS thing? You're in charge of figuring it out!"
We talked to a bunch of people in the industry during our research for this book, including people who work for DaaS providers, consultants, and end customers. We tried to find both people who love DaaS and people who hate it; people who've moved desktops over and people who tried and failed. Then we asked them for all their war stories and advice. :)
Thanks to Danny Allan, Shawn Bass, Guise Bule, Paul Calvert, Jon Cellini, Mike Chase, Rick Dehlinger, Paul Duffy, Denis Gundarev, Ian Hutchinson, Harry Labana, Jack Madden, Ken Oestreich, Ron Oglesby, David Stafford, and Benny Tritsch for taking the time to share their opinions and thoughts about DaaS with us. (Plus thanks to all the folks who asked that we not share their names.)
This book is not a head-to-head comparison of DaaS providers. Instead, we focus on the key facts you need to know about DaaS. We dig into the various technologies you need to understand by answering questions about how you handle networking, security, server placement, disk image management, application management, user authentication, Windows licensing, and mobile devices. We also examine what exactly you need to consider when evaluating potential DaaS platforms and providers, how you pick a provider to trust, what to look for in an SLA, and how you build a solid plan for migrating to (and exiting from) the most appropriate DaaS provider for you.
We end the book with a massive list of 204 "must answer" questions you need to understand about your own environment and that you need ask your DaaS provider before starting your migration.
So whether you're thinking about DaaS, whether you're trying to avoid it, or whether you're on the fence, this book is for you!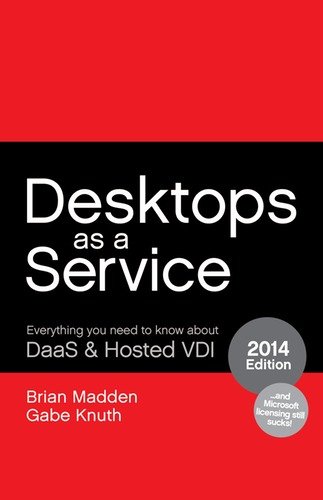 Table of Contents
1. Introduction to DaaS
2. The Promise (and Reality) of VDI
3. How to Succeed with VDI
4. Bringing in DaaS
5. Advantages of DaaS
6. Disadvantages and Challenges of DaaS
7. Use Cases for DaaS
8. Licensing :(
9. The True Cost of DaaS
10. How to Pick a Windows Platform
11. Desktop and Image Management
12. Data Location and the Network
13. Security
14. Client Devices and BYOD
15. How to Pick a DaaS Solution
16. Migrating to DaaS
17. Quitting DaaS
18. Alternatives to DaaS
19. The Future of Windows and DaaS
Appendix. 204 Questions You Need to Answer Before Migrating to DaaS
As a fun side note, about 97% of our VDI Delusion books sold were Kindle. So this time we're going the "print on demand" route for paperbacks instead of preprinting them in a traditional manufacturing facility. As we thought about the benefits—no up front costs, no month-long printing process, no storage costs, no shipping, no dealing with unsold inventory, the ability to print books locally in the buyer's own region—we realized that print on demand-versus-traditional books has all the same benefits of DaaS versus VDI. So this is "Printed Books as a Service!"
Also, if you're still reading this post and you live in the San Francisco Bay Area, we're having a book launch party in March. Email me for details!