Oracle buys Sun. Is there a desktop virtualization angle here?
Or maybe that should be "desktop virtualization angel," in that Oracle will do with the Sunrays what they did with their own NCs a decade ago? Am I joking about that?
Or maybe that should be "desktop virtualization angel," in that Oracle will do with the Sunrays what they did with their own NCs a decade ago?
Am I joking about that? I dunno. I still don't "get" why people like Sun Rays so much. To me they are super complex, super expensive, super proprietary thin clients, but the people who love them really L-O-V-E them, so hey, more power to them.
Let's look at this Oracle and Sun thing. From the desktop and application virtualization perspective, does this affect us? I guess to figure it out, we should first look at what Sun and Oracle each have in the desktop space on their own.
What does Sun have in the desktop virtualization space today?
Sun actually has quite a bit of stuff, although a lot of it is a smattering here and there that's not necessarily all related. Sun's current plays include:
Sun Ray thin client devices and the server software to run them.
A turnkey VDI product (called Sun VDI Software 3) that competes with XenDesktop and VMware View
Sun Secure Global Desktop (the old Tarantella stuff)
x86 server hardware that can run any back-end
Virtual Box, a free and open source hypervisor. (And my new favorite Mac VMM.)
Partnership with Endeavors for their Apps on Demand program.
And let's not forget Java, which is still fighting to be a RIA framework for future application delivery platforms
Wow! If you take everything that Sun is doing and condense it down into a single list... it looks decent!
What does Oracle have in the desktop virtualization space today?
Oracle is huge, doing about $20B a year in sales. But from a desktop virtualization standpoint, I don't think they have anything at all? Searching twitter for [oracle vdi] turns up nothing, and searching Google produces a few links to a promotion Ericom did where they offered their solution for free up to 50 users, and to do this they leveraged the Oracle VM which is a free virtualization platform based on Xen. So really, Oracle's "play" in our space is:
Free Oracle VM server, which is based on Xen (which is weird, because XenServer is also free, and ESXi, and Hyper-V, and...

Oracle also has a special place in my heart (seriously) because they were the company who introduced me to thin client computing. Back in 1996 (yeah, I'm old enough to remember that), Larry Ellison got all excited about the Oracle "Network Computer," or simply "NC." This was a diskless workstation that booted from a central server. It wasn't quite the same thing as a thin client in the sense that we think of thin clients today; rather, it downloaded a disk image at boot time and ran its OS locally. They really focused on running non-Microsoft apps, such as Java-based office suites and browsers and stuff. Citrix even got in on the game by partnering with them to use ICA to have these things act as thin clients connecting to WinFrame servers.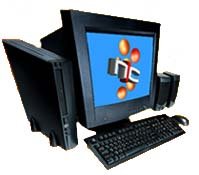 The main selling point of the NC was that it was cheaper than a PC, both to buy and to maintain. Microsoft fought back hard, though, with things like the Zero Administration kit and the compatibility of Windows (and the NetPC.. hah!), and by about 1999 or so the NC was dead. (Here's a fun article from CNet from 1996 talking about the launch of the NC.)
But I do remember using an NC. The first thing I did was fire up Netscape and hit Alta Vista. I couldn't believe how cool this thing was! All these terminals with no locally-installed OS! Little did I know that thirteen years later, I would be doing nothing but this.
Sun + Oracle = ?
So what does this all mean for us? Sun and Oracle are both pretty hard core anti-Microsoft companies, so the two of them getting together to form a single $30B+ company should be a great counterbalance to Microsoft's power.
And it seems that there won't be too much overlap (with regards to desktop virtualization) between the two companies, so I assume that everything Sun's doing in this space will continue.
What else? Do we care about this? Or does the combination of two companies that aren't that relevant just make a bigger company to ignore? (Again, speaking within the context of desktop virtualization.)