Oracle VDI: Just for people who already use other Oracle products?
Oracle does not usually fall within our realm of coverage, but when there's a 45,000-person conference just down the street, we certainly notice. (Plus they do actually have a VDI solution.)
Oracle does not usually fall within our realm of coverage, but when there's a 45,000-person conference just down the street, we certainly notice. (Plus they do actually have a VDI solution. :) Well... they inherited a VDI solution when they bought Sun. And of course VDI wasn't mentioned in Larry Ellison's keynote, but I couldn't pass up the opportunity to see such an interesting person speak. This guy uses a handheld mic, he just says "next slide" instead of using a clicker, and on my way in I passed by a display of the actual America's Cup trophy and a giant carbon fiber sailboat.
Continuing on with stuff that's not related to us (but still really cool): Up on stage they had the newest versions of their big database appliance, Exadata, and their newest middleware machine, Exalogic. They introduced the SPARC SuperCluster, a big, powerfull all-in-one appliance, and Exalytics, their in-memory database analytics machine.
Anyway, back to VDI—why does Oracle do VDI? The short answer is because they can, and users that are already using Oracle and who also happen want VDI might as well put it with the rest of their Oracle stack. (Or so goes the thinking from Oracle.)
I got a better picture of Oracle's virtualization and VDI offerings from a few sessions at OpenWorld. Senior VP of Linux and Virtualization Wim Coekaerts gave a presentation outlining Oracle's complete virtualization offerings. He mostly covered server virtualization (once again, not really in our area, but getting closer) and their full suite of options (lots of Oracle VM templates, live migration, automated provisioning... everything that you'd expect). They do support Windows VMs, but naturally the offerings are richer when you're running Oracle versions of Linux VMs.
Speaking of server virtualization, Oracle takes some jabs at VMware In this department. (You couldn't miss the taxi ads in Las Vegas during VMworld):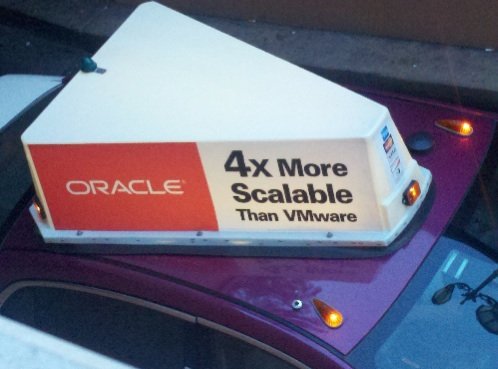 But I wonder -- if you're not doing the Oracle thing, you're probably already using vSphere, so why would you go over to a company that goes on about its full integrated stack and software just for the purpose of server virtualization? (I'll ask this same question in a second regarding Oracle VDI.)
Oracle for VDI?
Oracle's VDI offerings were the subject of a session with Andy Hall, Director of Product Management at Oracle, responsible for VirtualBox and Virtual Desktop Client, and Dirk Grobling, Director of Oracle Virtual Desktop Engineering at Oracle. They're Oracle's main VDI people, and they were at BriForum London this past May. (Check out Oracle's DEMO Lab video from BriForum.)
The OracleWorld VDI session started off with a VirtualBox demo. It's free, it will run anything on anything else, and in addition to being a Type 2 client hypervisor, it also serves as the hypervisor for Oracle's VDI environment. (Yeah you read that right. Oracle uses Virtual Box as the hypervisor for their VDI solution. Maybe it's more geared to run desktop workloads than Oracle VM?)
Oracle VDI has its roots with Sun Ray thin clients—they're popular for high security environments and feature integrated smart card readers—using the Appliance Link Protocol (ALP). The Oracle VDI environments can also be accessed using tablets, mobile devices, and Windows, Mac, or Linux Desktops via Oracle Virtual Desktop Client.
Andy continued by bringing up Oracle's full stack strategy—complete, open, and integrated (in their marketing speak)—for VDI. They do have all the pieces, but once again, I can't imagine anyone who wasn't already using Oracle products going for this. He addressed the question of "why?" by saying that Oracle does VDI because it can, and it's right there for Oracle customers who need it. (And with no offline solution, we know that this is only for certain markets and situations.)
So I'm curious: Has anyone out there gone to Oracle for VDI without already being in their environment? If you're already using a complete Oracle stack, it seems like it would be a good choice if you also need to deliver some desktops. But if your organization is not doing that, are you going to look at Oracle for the first time just because of their VDI?