New Features in Presentation Server "Delaware"
Let's take a look at what Presentation Server Delaware is going to be about.
This article originally appeared on Michel Roth's website - www.thincomputing.net. Please be aware that this article is not an exhaustive or complete list of all new features. Also keep in mind that some of these features might somehow be pulled from Presentation Server Delaware since the release is still more than half a year away. Now that that's out of the way, let's take a look at what Presentation Server Delaware is going to be about.
During the last half year or so, Citrix has been leaking details on the next version of Presentation Server codenamed "Delaware" at their Solution Summits, iForums and Solution Conferences. The information contained in this article is largely based on that (publicly available) information that I can share with you.
Those of you who have ever tried to install the latest Presentation Server version onto the release candidate of Windows Server 2008 know that the first priority of Citrix will be to make sure that Presentation Server Delaware actually works on Windows Server 2008. This sounds easier then it actually is. Until now (Windows Server 2003) Citrix had to "work around" the mechanics in Terminal Server to do their magic. In Windows Server 2008, Microsoft changed a lot in the core architecture of Terminal Services. Although this is certainly a big overall improvement to Terminal Services, this means that Citrix has a decent amount of work on their hands making sure that they can offer the same feature set on Windows Server 2008 as on Windows Server 2003, let alone add new functionality. What is interesting is that Presentation Server Delaware supposedly will only be "installable"on Windows Server 2008. Separate Service Packs (or upgrade packs, feature packs or whatever you want to call them) will be provided to upgrade Presentation Server 4.5 on Windows Server 2003 to the Presentation Server Delaware "level" of functionality.
Actual New Features
Well, if there weren't going to be any new features in Presentation Server Delaware then this would be a short article. So Citrix's main focus for this release of Presentation Server is full Windows Server 2008 support. But don't worry, there are going to be some new features in Delaware as well, outside of Windows Server 2008 support.
Web Interface 5 (Project Caxton)
Citrix Web Interface is going to get a complete makeover in Presentation Server Delaware. I know, I can hear you saying "again"? Yes again, but this time it's a complete overhaul. Although it's still based on the same codebase (WING) it does, at least, look entirely different. I've seen a demo of it at Thomas Koetzing's session at BriForum Europe 2007 and I must say it looks really cool.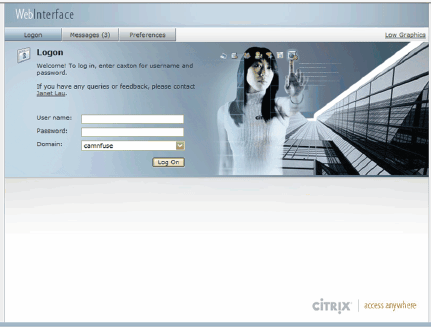 Citrix has realized that the Web Interface is usually the first thing end users see and has acted accordingly in redesigning it. In this age of Vista, iPhones, Zunes, YouTube, Silverlight you cannot present end users with a interface that hasn't really evolved over the last 4 years. Well, you could but they like a cool interface better.
It does not only look cool but also has lots of new functionality as well. Here's a summary:
The client detection and download wizard will be enhanced.
High and Low graphics support: WI 5 will be offer a low graphics mode for low-end devices like PDAs so that they can use the Web Interface as well.
Generic Radius Support
Improved Messaging to User: Remember the message area in the current WI? Well this has been moved to a separate tab and is more versatile now.
Support for Kerberos Authentication
Overall layout improvements: For example,you can now search for applications (handy in case you have a zillion applications), applications will be shown in "explorer style" reorganizing them into folders for easy navigating, easier customization of the Web Interface layout, and the possibility to insert "tips" into the Web Interface that users see on specific actions in the Web Interface.
"Application Streaming Version 2.0"
No it's not going to called exactly "application streaming version 2.0" but this is basically what it is. Just like Presentation Server 4.0 introduced Application Isolation Environments (AIE) and Presentation 4.5 provided a major usability upgrade for this (AIE 2.0), Presentation Server Delaware will improve Application Streaming. The improvements are generally geared towards making streaming to desktops more enterprise ready.
HTTP Support for Streaming
Currently, Citrix's Application Streaming Feature only supports streaming from a file share. This might be OK for streaming inside the same Datacenter or LAN, but becomes problematic when you are trying to stream across a WAN to another location. Delaware introduces support for streaming over HTTP.
Inter-Bubble Communications
Application Streaming in Presentation Server Delaware will introduce the possibility of allowing virtualized applications to interact with one another. This is similar to something Microsoft is going to introduce in Microsoft Application Virtualization (the new name for Softgrid) 4.5 (which is slated for a May/June 2008 release). Interaction between different virtual applications specifically increases the value of Citrix Application Streaming for environments that make heavy use of middleware applications (on their Citrix servers).
Differential updates for offline applications
Presentation Server Delaware introduces the possibility to perform differential updates to offline applications. This means that when a virtual application is updated (which means that the profile on the file share will be updated) no longer will the entire application have to be downloaded to the client. Only the differences (deltas) in the virtual application will be downloaded. Supposedly this also allows a user to keep their personal settings after the upgrade. This is similar to the "Active Upgrade" feature in the current releases of Microsoft Application Virtualization. The upcoming Microsoft Application Virtualization 4.5 improves this functionality even more.
Edgesight 5.0 - Resource Manager
Presentation Server Delaware is the first release that supposedly will integrate some of the performance monitoring capabilities of Edgesight into Resource Manager. It will be interesting to see how this turns out. Although Edgesight is a product with great potential, Citrix has made a questionable move in making it only available for Platinum Customers (non-Platinum customers can also buy Edgesight as a separate product but the associated cost usually is too high).
I do not know how this integration will take place but one hopes that Delaware will expand Resource Manager from just monitoring the performance from a server perspective to monitoring the performance from a user perspective as well.
Preferential Load Balancing
Presentation Server Delaware will also incorporate something called "preferential load balancing". What is preferential load balancing? It's about providing users with a more predictable and consistent user experience by assigning resources to certain applications for users with a higher priority than others.
I know this is a rather vague description. Consider the CPU optimization in PS 4.5, it works in kind of the same way. Each user gets appointed an equal share of the CPU. Any user can still claim 80% of the CPU if the other users are not using their shares but if the other users want their share, this means that the user wanting the 80% CPU cannot claim the CPU for 80% anymore. The only difference in concept with the preferential load balancing is that the CPU sharing is based (by default) on fair sharing and preferential load balancing by its very nature is based on different shares for different users and applications.
I hope that preferential load balancing in Presentation Server Delaware is more than just assigning different CPU shares to different users because this could already be done via the registry. If all preferential load balancing adds in Presentation Server Delaware is a GUI to set CPU shares then it would be a shame.
I suspect preferential load balancing to be a lot more, especially since this feature will be incorporating the technology from the Aurema acquisition.
Availability of Presentation Server Delaware
Presentation Server Delaware is supposed to be available (RTM) within 90 days of the release of Windows Server 2008. So, in other words Presentation Server Delaware should RTM on or before the 27th of May 2008 (I'm betting on the 27th May, not earlier). Of course this RTM will be preluded by several betas, early releases and tech previews. You can sign up for Delaware early release program here.