Motorola attempts to thwart BYOD efforts, claiming it's actually more expensive
While many companies and IT shops are embracing BYOD, Motorola Solutions is looking to derail those BYOD efforts with innovative technologies
Last week Frank Ohlhorst wrote a story for eWeek talking about how Motorola is turning away from BYOD and the Consumerization of IT.
From his story: While many companies and IT shops are embracing BYOD, Motorola Solutions is looking to derail those BYOD efforts with innovative technologies that not only meet the needs of the user but also fit into the IT department's ability to manage and govern equipment and operations. The company is setting the stage for IT departments to take back control of devices, applications and security with an extensive knowledge base of why vertical market solutions are a better fit for most business entities, as opposed to the consumer-level devices that many organizations are trying to shoehorn into their IT environments. … For its customers, Motorola Solutions is trying to demonstrate the hidden costs of consumer-level devices, while highlighting the operational savings of using enterprise-level products, which can be more easily provisioned, customized and managed by IT.
(I should point out that this article is about "Motorola Solutions," which is different than the "Motorola Mobility" that Google bought. Motorola Solutions makes expensive stuff for enterprise and government clients, while Google's Motorola Mobility makes phones and tablets.)
One of the motorola guys quoted in the article talked about how they have ruggedized tablets for warehouses that have longer lifespans than "other" tablets (read: iPads), so I guess that's their angle here. Motorola hears about organizations adopting iPads, and they want them to use Motorola devices instead. (Of course with Motorola Mobility's market share under 3%, I almost feel like Motorola is saying, "Hey, since we can't make things that people actually want to use, we have to get enterprises to force them to use our stuff." :)
The problem is that enterprise solutions (and companies that provide them like Motorola Solutions) are fundamentally conservative. Making devices with extended lives means that they will have new devices less often. So even if they do manage to build something that innovative and cool, six months later something else will come out that the end users will want, while that original "cool" Motorola device will still have to be supported for 6 1/2 more years. The consumer tsunami is the exact opposite of the conservative enterprise devices. Consumers want new device every year and new features every year, each sexier and different than the previous. Enterprises have almost zero chance of providing the devices that users want.
So what is Motorola thinking?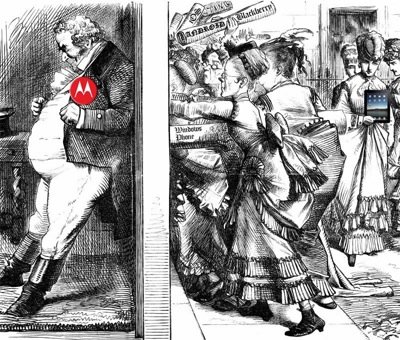 By trying to derail the entire concept of the Consumerization of IT, Motorola Solutions shows that they don't get what Consumerization is.
First, the consumerization of IT is about more than just cost. I agree with Motorola Solutions that users picking their own consumer-quality devices does have a higher TCO than a company-controlled device. But IT isn't just about the lowest TCO. If it were, we wouldn't have Blackberries or desktop virtualization.
Second, the major point of the consumerization of IT movement is that the power is in the hands of the consumer--the end user in this case. The whole problem that we're trying to solve is that users can basically do whatever they want on whatever device they want. This Motorola standing up and saying "Hey! Guys! Pay attention to me!! You're not doing it right!! Guys?? Hey!!!" But the end users don't care. (Do you think any users give a hoot about whether using an iPad is going to be a higher TCO for the company or not?)
Third, Motorola is unfairly blaming the consumerization of IT for their lack of ability to sell enterprise solutions. The article quoted them as talking about specific enterprise line-of-business applications, like warehouses and point of sale. But this is the consumerization audience! I can't imagine a scenario like "Hello new employees of Walmart. Do you have your own Point-of-Sale device or do you want to use a company-issued one?"
The danger here is that Motorola is jumping on the consumerization trend to talk about why their anti-consumerization approach is better, (And obviously it's working, because now there are at least two articles about them.) But I wonder if this attitude does more damage than good? It seems that the "problem" that Motorola Solutions is trying to solve is one about device selection for enterprise IT systems, not a true consumerization of IT problem. My fear is that by hitching their message to the consumerization wagon, Motorola Solutions will spread their naiveté about consumerization their customers, causing customers to think, "Yeah, this consumerization thing is expensive! Screw it!"
And of course that attitude is the whole reason that most companies are being caught off guard in the first place. Expensive or not, consumerization is coming!