VDI Like a Pro data: Most EUC shops are looking at workspace portals
It's not just a buzzword—we have some context! 61% of those surveyed have adopted, are planning to adopt, or are investigating workspace portals.
Workspace portals and aggregators are getting a lot of attention in EUC right now.
We've actually been writing about workspace portals for close to a decade. This is the idea that you have some sort of app or website that users can get on any device, and then subsequently access all of their other business apps, whether they're native, web, or virtual apps. Many portals also have direct integrations for data and document access, helpdesk and ticketing software, and tasks like password resets. On the leading edge, some portals are integrating workflow apps, automation, and digital assistants, and they're being pitched as a key part of a good employee experience.
We've covered the offerings from VMware, Citrix, and Microsoft; and I recently caught up with Awingu and Software2, so watch out for more on this topic.
In fact, there's so much enthusiasm for workspace portals that I recently wrote an article cautioning that we shouldn't over-pivot and forget that there are a lot of different ways for users to work. I viscerally remember all the arguments about containerized versus native mobile app management from my earlier years of blogging, so I like to keep my perspective on workspace portals balanced.
Anyway, with workspace portals on my mind, I took a look back at VDI Like a Pro's 2019 State of EUC survey, which was released in August. This community-based survey had over 582 responses, and mostly focused on desktop virtualization, but still asked about workspace portals.
The survey asked: "Will you use, introduce a unified workspace portal to launch all your business application from a browser, to your VDI/SBC (Remote Apps/DaaS) environment?" Here are the results: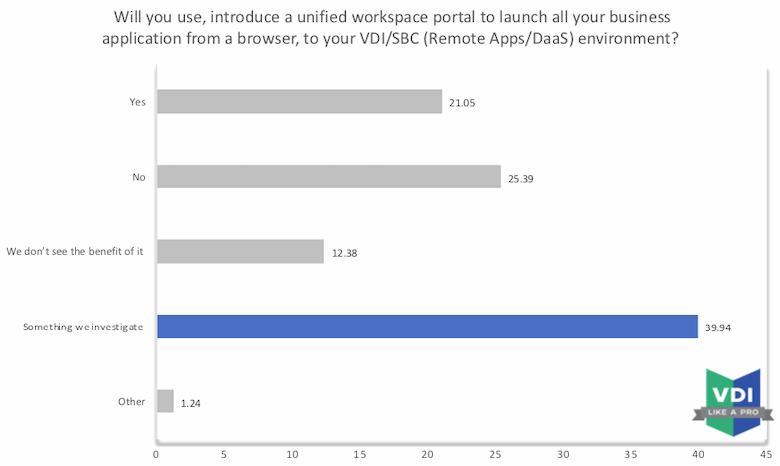 38% of respondents aren't interested: 25% said they had no plans, and 12% said they didn't see the benefit. (Figures are rounded.)
61% are interested in workspace portals: 21% already use or will introduce one, and 40% are investigating them.
To be fair, desktop virtualization and enterprise mobility management vendors have transformed their clients and agents into workspace portals gradually over the years, so many customers have essentially adopted them by default. But that's okay, as these customers are getting additional workspace portal functionality as a bonus.
Either way, it's nice to have more context on this from the State of EUC 2019 survey. To read the whole report, head to the VDI Like a Pro website. Thanks to the team for providing this data.