Microsoft talks consumerization, Windows 8 release @ Worldwide Partner Conf.: Tim Mangan's recap
First WPC this week, along with about 16,000 other of the 640,000 people working for Microsoft Partners around the world.
Tim Mangan is at the Microsoft Worldwide Partner Conference , in Toronto Canada, this week, and sent in this report on the happenings there:
I am at my first WPC this week, along with about 16,000 other of the 640,000 people working for Microsoft Partners around the world. You can catch the remaining morning keynotes and much more with live streaming from the conference here: www.digitalwpc.com.
Microsoft kicked off the event with a keynote at the packed Air Canada Center (where the Candians play hockey and Raptors play at Basketball). The morning keynote on day one, kicked off with fire breathing dancers and singers from Circque du Soleil, featured Mr. Congeniality (aka Steve Balmer, CEO of Microsoft). Let's just say I wouldn't want to the be stage hand that he chats with about the 4 Microphones he needed during that keynote! Steve was aided by a research analyst who in theory was interviewing Steve but would just occasionally throw a softball question to remind people that he was also on stage, but then quickly get out of the way for Steve to show his passion.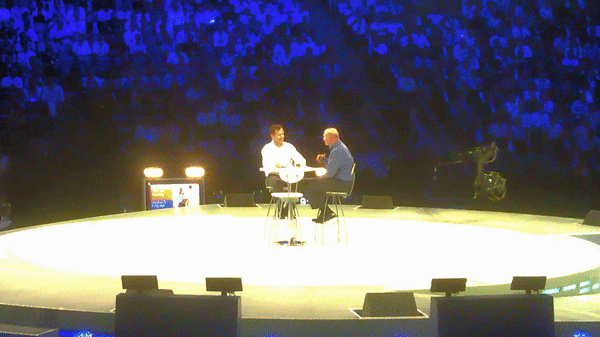 Balmer described 2012 as an "Epic Year" for Microsoft, listing only the founding, 1981 (launch of the PC), 1995 (launch of Windows 95) as the other epics in Microsoft history. He made his case that it is a great time to be a Microsoft partner, and with the new products coming out the possibilities are endless. He noted that even last year (in what I would call a "muddling economy") partner revenues grew 13%.
Unlike a Citrix keynote, where The Cloud everything, this keynote was clearly not focused on driving partners to the cloud. Oh it was there in the keynote, but only as examples of real things today and opportunities for the future. One of those examples was Lowes (a home improvement store chain) that signed on for 200,000 users of Office 365. This slow filtering in of cloud things, sometimes viral and sometimes strategic, seems more realistic to me than the "get with the cloud or perish" approach.
Steve was aided by some helpers for the keynote. First Kurt DelBene, President of the Office Division came on stage to talk about a few things. He announced that as of today, Microsoft Partners can now directly sell Office 365 through the Open program (a sales program where the partner takes the revenue for Microsoft products directly, and then pays Microsoft). This has been a sore point with partners, and has help slow down the adoption.
Kurt also talked about the Yammer acquisition. He talked about integration with Sharepoint today, and Link and Office integration down the road as key features of the collaboration tool. Having been busy playing with Podio (the Citrix acquisition in the same space), I haven't had time to play with Yammer yet, so I'm not sure how it stacks up.
Kurt and Steve made a point about what they termed "Viral Adoption", which is what we also think of as "Consumerization of IT". They described it in terms of being inevitable, but that the enterprise needs to make is "appropriately secure".
Kurt also talked about Office 15. This new version, in Tech Preview since earlier this year, he intoned would ship the same time as the server and phone products. Note that he didn't say desktop and he didn't give any dates to that. Sometimes what they don't say is important!
Steve again took center stage and talked a little about Windows 8, but he surprisingly said nothing all remarkable about it. When Rich asked about Surface, which is a touchy subject among a few of the OEM partners, Steve said that there are about 375million new PCs every year, and hinted that if Microsoft sells a few million of those devices there is still a lot of opportunity for the OEMs.
Then Steve brought out Tami Reller, CMO of the Windows and Windows Live division to show off some of the partner devices. It wasn't lost on me that the Microsoft Surface was not shown! I counted 17 devices on stage, from Acer, Asus, HP, Lenova, Samsung, Toshiba, and Qualcom (others may have been there, but those are the ones I detected). The first 8 of those devices were touch enabled devices loaded with Windows 8, and showed the various form factors that partners are making, from thin notebook design, to tablets, including one that docks into a keyboard, to a "Yoga" design that flips a full 180 degrees. One Samsung device was touch, but instead of touch screen used an oversized touchpad. The large Lenovo display boasted a 10 point multi-touch screen. I think that only one of the devices was a WinRT (but I'm not entirely sure).
The other devices were Windows 7, but Tami talked about a new program that will allow devices sold with Windows 7 today to be eligible for an upgrade to Windows 8 Pro at $14.99. That is far better than the general upgrade pricing ($49.99) announced last week.
Tami also performed a Windows-to-go demo. This is where you can put your complete windows image on a bootable flash drive and plug it into any Windows 7 PC (eh, one that has the bios set to allow you to boot from a flash device) and boot to it. The demo looks cool (not the first time I have seen it), but I am not sure how many people will really use it.
Tami did give us dates, not necessarily firm ones but probably pretty solid at this point. Technically she didn't commit to these dates, but said that they were on track for them. Windows 8 will RTM to manufacturers on the 1st week in August. Enterprise availability would be "in August", and General Availability (when any shmo with a credit card can buy it) is end of October. Again, I will note that nothing was said about release of Windows Server 2012, so I assume that comes later. If it tracks like the Windows 7/Server 2010 dates, that would mean November/December for manufactures and enterprises, and Jan/Feb for GA.
Next up, Balmer announced a new acquisition today. Microsoft acquired Perceptual Pixel. They are the folks who make those wall sized multi-touch displays you see on TV. PPI is a six year old company, and Balmer has one of these devices in his office (maybe he can do a Remmington Shaver like commercial). Jeff Hahn, from PPI demoed their largest device, an 82-inch multi-touch device. Maybe "massively multi-touch" would be appropriate as it can handle 100 simultaneous touches. Hahn showed how OneNote can instinctively understand the difference between his finger (used to pan) and a pen (used to draw), making for a more natural use as a "whiteboard". The key point that was important for the acquisition is that it is just a PC with Windows sitting behind a massively impressive input/output display device. Steve mentioned that the device shown is about $80,000 per unit today (dashed any thoughts running through my head at the time), and that they need to get volume to drive the prices down so that conference rooms can afford to get one.
I look forward to a week of great conversations with other partners this week. I will report back later this week on what else I learn.