Microsoft announces virtual desktop licensing changes for Windows 8. They're still screwing us!
From the I-swear-I'm-not-making-this-up department, yesterday Microsoft announced a new license for Windows 8 which will be known as the "Companion Device License" (CDL). This is a license for users who want to access their Windows desktops (either locally in a VM or remotely via VDI) from personal non-licensed devices at work.
From the I-swear-I'm-not-making-this-up department, yesterday Microsoft announced a new license for Windows 8 which will be known as the "Companion Device License" (CDL). This is a license for users who want to access their Windows desktops (either locally in a VM or remotely via VDI) from personal non-licensed devices at work. The CDL is something that a company will buy in addition to Software Assurance (SA).
The CDL solves a licensing problem that a lot of people don't even know exists: If a user brings his or her own personal non-licensed device into work (personal laptop, iPad, Android phone, etc.) and uses it to access a fully-licensed Windows desktop, the company is supposed to buy a VDA license for every different device the user uses. (How the company supposed to know this is beyond me?)
It's really weird because this only applies to employee-owned devices the user uses at the office. If the user has a personal device at outside the office, there's a set of rights with SA called Extended Roaming Rights (ERR) that cover it already. (So, a user can use their iPad to access a VDI desktop from home, the coffee shop, or the airport no problem, but if they bring that same iPad into work, the company is supposed to buy VDA for it?!?)
Clearly this is an asinine policy, and this is exactly what the new CDL will address. (The root of the problem, by the way, is that Microsoft licenses the Windows OS by device. That was fine in 1992 when companies had a 1-to-1 user-to-device ratio. But in today's world it's crazy. But rather than just switching Windows SA over to "per user" instead of "per device," Microsoft instead chose to create layer-upon-layer of crazy add-on hacks to their SA program.)
Again, I want to point out that the CDL is something that makes sense because it gets rid of that crazy problem of trying to figure out who's using personal devices at work, but unfortunately you have to buy CDL on top of SA!! So we're kind of right back where we started. Now you still have to track which users are using personal devices at work so you can buy a CDL add-on for them. How this is "better meeting customers' needs" is beyond me? It seems like since it's hard to track who uses which devices where, companies will want to cover themselves so they'll just buy the CDL add-on for everyone. So congratulations Microsoft, you injected a stealth price increase to SA. (It's their version of a protection racket.)
But wait, it gets better! If you use a Windows ARM tablet, you don't need CDL or VDA
I swear to God I'm not making this up, but if a user's non-licensed personal device happens to run Windows RT (which is the final name for the Windows-on-a-chip that will ship on ARM-based tablets), then the company doesn't need to buy the CDL add-on if the user happens to bring his or her tablet into the office to access their primary SA-covered desktop. In fact Windows RT tablets automatically include something called "Extended VDA" rights (which is like VDA as long as the user has a primary device that's covered by SA).
This is messed up in so many ways I don't even know where to begin.
CDL only applies to user-owned devices. So it's not like the company can say, "Oh cool, this is a benefit of buying Windows RT ARM-based tablets" because individual end users are going to make those purchases, not the company. And I can't envision an environment where rank-and-file citizens are buying Windows RT tablets.
Microsoft said this Extended VDA benefit for Windows RT tablets "will make Windows RT a great complementary tablet option for business customers." That is the exact opposite of what we (Jack Madden, Nathan Coutinho, and me) decided in our previous articles on our radio show. Remember Windows RT can't be domain-joined, can't have Group Policy applied to it, and can't run existing Windows apps, so we felt that cemented it as a consumer device, while businesses would buy x86-based tablets.
How is this policy even legal from an antitrust standpoint? So if a user buys a Microsoft-based consumer tablet, they let you connect into their business-based solutions for free? But if a user buys an iOS or Android device, the company has to buy the CDL?
And finally, so now we have another license option to track for some users some times, depending on where they use their devices and what platform they run? Ironically as the world of IT moves away from caring about the device—"just connect anywhere from anything!"—Microsoft takes a huge step backwards and makes us track even more stuff.
So if you thought that virtual desktop licensing was bad in Windows 7, here's how it's been "upgraded" for Windows 8: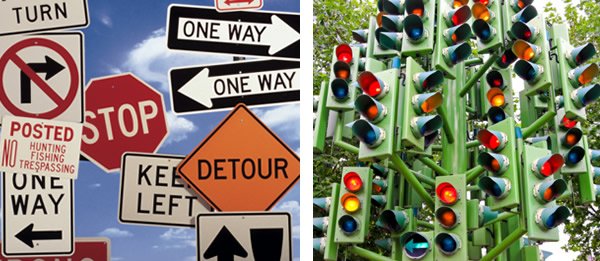 Windows 7 licensing has been updated for Windows 8
Speaking of Nathan Coutinho (the guy who works for CDW and has been our source for translating / debunking Microsoft's crazy licensing), Nathan snapped a photo of a napkin-style drawing he made to show which licenses you need for which scenarios for Windows 8: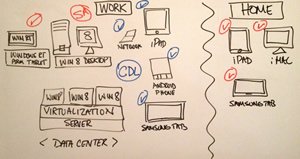 Click the image to see Nathan's blog post on Microsoft's licensing changes. Then add Nathan's blog to your RSS reader.
One more thing: Hey Microsoft! 2007 called. They want their Windows-on-a-stick back!
One of the new benefits of Windows 8 virtual desktop licensing is a specific license for "Windows To Go," which is a Windows 8 Pro desktop on a bootable external USB stick. Microsoft says, "This will allow IT organizations to support the 'Bring Your Own PC' trend and businesses can give contingent staff access to the corporate environment without compromising security."
I haven't looked into Windows To Go to much yet, but if it's a bootable USB stick versus a copy of Windows that runs in a VM, what's the point? I don't think that people want to BYOC just to boot the corporate image to their own hardware. And do you really see users just taking that stick home and freaking rebooting their home PC to fire it up? Man... no way!
This idea was all the rage five years ago (RingCube, MokaFive, VMware ACE), but now… seriously? (MokaFive is still doing this, and they're doing a fine job of it, but even they are more focused on delivering and managing Windows VMs that are loaded onto the devices versus instances booting from USB sticks. And with MokaFive you're just booting a VM—not overtaking the whole computer by booting from a stick.)
And of course, if a user wants to boot Windows To Go from a BYOC personal device in the office, then they need a CDL! :)
Speaking of Office, what about CDL for Office?
One thing that's missing from all these Windows posts is talk about Microsoft Office SA rights. Office SA has been just about the same as Windows SA, so if Microsoft doesn't create CDL for Office then that means that a user accessing Microsoft Office via VDI from a personal device at work will need Windows SA, Windows CDL, plus an Office license for the device. (Unless the user is using Windows RT which has Office built-in? Will that license transfer to the corporate x86 version of remote Office? Stay tuned!)
Speaking of staying tuned, remember that all of this is for Windows 8 which isn't even out yet, so I'm sure we'll get more details over the next few months. But so far, Microsoft's announcements have just created more questions than they've answered, and Microsoft is doing everything they can to continue to frustrate users with their supposed "benefits."