Is Oracle committed to VDI? Let's look at their current strategy.
A few weeks ago, Jack and I drove down to Oracle to visit their desktop virtualization team.
A few weeks ago, Jack and I drove down to Oracle to visit their desktop virtualization team. This meeting was a long time coming, as I'd been criticized in the past for not having a good understanding of Sun's offerings for years, and just as we were getting a meeting put together Oracle bought Sun and everything sort of fell through the cracks.
Probably a year went by without me thinking too much of Oracle, though they did exhibit at BriForum 2011 London (check out videos of their booth demo and breakout session, and Jack wrote about their desktop virtualization offerings from this year's OpenWorld.
Needless to say, the question on everyone's mind seems to be "Is Oracle committed to desktop virtualization?" After visiting them, I can say the answer is "yes."
Oracle VDI: A bigger fish in an even bigger pond
Let's look at the basics. All of the same people who did VDI for Sun are still at Oracle (including Bob Gianni, the guy who launched the Sun Ray something like ten years ago). And in fact their team has grown. They have more engineers and product managers working on desktop virtualization now than they did at Sun. (And they're hiring, if you're so inclined.) They feel that inside Oracle it's sometimes hard to see this since overall they're a smaller percentage of the company.
One of the areas Oracle knows they're strong in is the high security market. All of the Sun Ray thin clients have smart card readers built in, and some models support optical networks (important for secure environments) and are certified to access multiple networks of different security classifications from the same device. (No more data diodes!)
But more importantly, Oracle is focusing their VDI product on existing Oracle Enterprise Apps customers. (I mean is Oracle VDI ever going to win a smackdown against Citrix or VMware? I don't think so.) The folks we talked to claimed that's the real reason Oracle likes the newly-acquired desktop virtualization.
To understand why, you have to remember that the Enterprise App market is a weird space. It's not the "shoot from the hip" anything goes IT that you and I know. The people who buy enterprise apps are bitter, old, and conservative. They spend millions upon millions of dollars on huge complex systems that take years to roll out. Billion-dollar businesses run on them, and CIOs (and even CEOs) lose their jobs if things don't go right. So these people can't be fucking around with the latest beta Citrix or VMware flavor of the week.
Ironically it was Oracle's own hodge-podge balkanized approach to app delivery over the past decade that now necessitates a solution like VDI. Different Oracle product groups have spent the past decade trying to convert all their various application clients into web clients. Unfortunately as we learned in our conversation with Browsium's Matt Heller, that's easier said than done. Oracle has so many huge projects and they've acquired so many companies, it's actually an exception for the web version of an Oracle product to work with "just" a browser. We're talking about different versions of Java, plugins, security settings--it's huge mess. So for Oracle, VDI is the only way they can make a more universal Oracle Enterprise Appsclient.
In fact they shared an anecdote that at the HIMSS conference, Oracle is moving to an environment where all their demos are on Sun Rays or iPads with the Oracle VDI client. And ironically, Oracle isn't even going to HIMSS to sell Sun Rays, it's just that this the only way they can have so many demos in a single booth without driving themselves crazy over the client requirements.
Oracle also likes the fact that if using VDI for enterprise app delivery means that users get the same app regardless of what device they're connecting from. And the Oracle product groups can deliver that app to many different platforms without having to build all these different versions. (I mean as soon as Oracle started to get versions of their Siebel High Interactivity Framework working across new versions of IE, the iPad showed up. !
So in the ~18 months since the acquisition, the former Sun virtual desktop team has been running like crazy, now joined by old school Oracle folks, to get the VDI stuff integrated with the rest of Oracle. Next they plan to focus on specific industries like healthcare, CRM centers, retail, and big pharma and continue the technical integration and innovation of their products.
Speaking of Oracle's VDI products...
Oracle's VDI offering is consists of four products:
Sun Ray thin clients
Sun Ray Server
Oracle Virtual Desktop Client
Secure Global Desktop
Sun Ray
The Sun Ray has been around for ten years. They have three models, a base one (Sun Ray 3), a more advanced one (optical networking, more displays), called the 3-plus, and one with an integrated display (Sun Ray 3i). Interesting the Sun Ray 3 is the first hardware that Oracle ever delivered.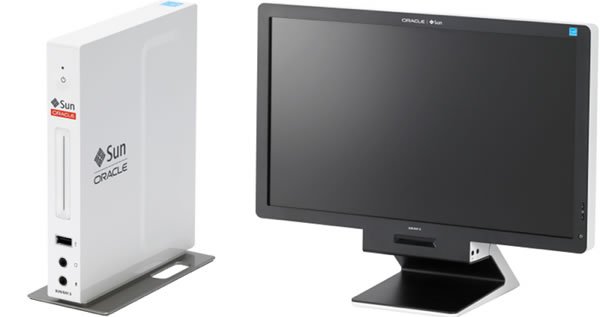 The Sun Rays still use the ALP protocol, although they can also make direct RDP connections. I've never actually used a Sun Ray and I don't have any idea what the performance is like, so we'll be testing them out in our lab in the next few months.
Oracle Virtual Desktop Client (OVDC)
This is their software. (Think of it as Oracle's version of the Citrix receiver.) The OVDC client also uses ALP. Oracle has OVDC software for Mac, Windows, Linux, and iPad. Users can also connect into their environment via RDP, so really anything that can display RDP could connect.
VirtualBox
VirtualBox is a free Type 2 hypervisor which is Oracle's preferred hypervisor for running VDI sessions. Oracle officially supports it running on Solaris or Linux although technically you could run it on Windows too.
Using a Type 2 hypervisor for your VDI host is different than what everyone else does with vSphere, XenServer, or Hyper-V, but Oracle believes this is a fine solution. First, they point out that Type 2 hypervisors have "real" OSes underneath them. Second, VIrtualBox was designed from the ground up to virtualize desktops. Third, VirtualBox is getting tons of updates now--they've moved to a rapid cycle doing 6 week iterations.
I've written in the past that I didn't think it really mattered which hypervisor you use for desktops. They all have pros and cons. So using VirtualBox, meh… whatever. I'm sure it's fine.
Secure Global Desktop
Secure Global Desktop (SGD) was the subject of the very first blog post I ever wrote for BrianMadden.com over 8 years ago. SGD is the main connection broker, session manager, protocol interface that connects the back end VMs on VirtualBox to Virtual Desktop Clients. SGD can deliver individual apps or entire desktops.
Secure Global Desktop can also act as the middle component in a "double hop" scenario, so you could load Citrix Receiver or VMware View clients on it to connect your Sun Rays or Oracle Virtual Desktop Clients using ALP to existing back end VDI and Terminal Server environments.
It doesn't seem like there's really anything special about SGD per se--it's just a needed component of the whole stack.
The Bottom Line
The twitter version of this story would be "Is Oracle serious about desktop virtualization? Yes." The team is bigger now then they were at Sun. They've released multiple versions of all four VDI components since being acquired. And they have a decent story about why they exist.
Ironically I still haven't really spent any time with the products, though Gabe, Jack, and I are planning an evaluation in our office the third week of January, so we'll see how they feel.
What do you think? Can Oracle pull it off? Is selling to their enterprise apps customers a big enough market? And what about your own experience? Has anyone worked with Oracle VDI since they bought Sun?