If Apple allows iOS apps on Apple TV, will that be the ultimate thin client for only $99?
We've all heard of the Apple TV. Some love it, some hate it, and the reasons for that are pretty well documented.
We've all heard of the Apple TV. Some love it, some hate it, and the reasons for that are pretty well documented. The thing is, most of those opinions all pertain to its ability as a home theater device and not much else. Still, it's hard to look at the Apple TV without wondering what else it could do. With some modifications, I think Apple TV could be transformed into a powerful, reliable, and inexpensive thin client. It sounds like the ramblings of a fanboy, but read on, then let me know what you think in the comments.
First, let's look at the device specs. The latest iteration, released in 2010, runs the A4 processor that was included with the first iPad and iPhone 4. While not as powerful as the dual core A5 or the rumored A6, it's no slouch. It also runs iOS, albeit a locked down variety. It's been jailbroken, though, and applications do exist that can run on it outside of Apples oversight. It has HDMI video out (720p only, though, so maybe not capable of displaying a useful, monitor-sized window) as well as bluetooth hardware. Bluetooth is not enabled by default, but it wouldn't take much effort for Apple to turn that on (it's been done by jailbreaking). It also has a real, wired ethernet port, so it doesn't have to rely on WiFi.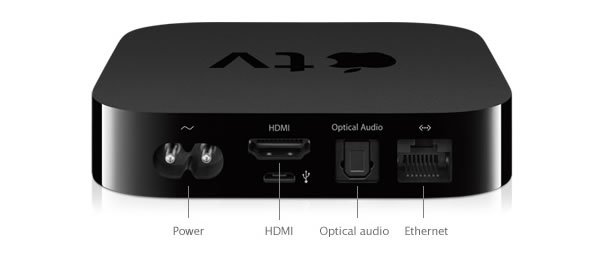 So, we can connect monitors already. If Apple opens up the hardware a bit more to allow connecting keyboards, mice, and wireless headsets, while opening up the software so that we can run regular iOS apps on the device, we could take advantage of all of the clients and applications out there to truly have a $99 thin client. Let's take a look at some of the capabilities we'd have:
Clients for just about any remote desktop
VMware, Citrix, Quest, Ericom, Virtual Bridges, Wyse -- everyone has a client that runs on the iPad, and since the hardware is similar, it stands to reason they'd run just fine on AppleTV, and with each solution's native protocol. The only thing I can think of that isn't supported right now is RemoteFX, but who's using that in a thin client environment. There are some, but not many.
Centralized Management
Mobile device management is H-U-G-E right now, and the solutions that people use today, Good, Matrix42, System Center, OK Labs, and so on (boy is that an incomplete list!) would easily work with Apple TV. They're fundamentally about managing the OS on the device, so it's not too much of a stretch to use them in this case. The device/OS can be managed, as well as the local applications that can be accessed by the users.
Corporate iOS apps
Apple actually has the ability to work with you to deliver your company's home-brewed iOS apps just to your users for local execution. If you don't want to write native apps, you can still deploy them via the browser since it could have the HTML5-compliant Safari browser built-in. Of course, companies are building and launching iOS-compatible versions of their clients all the time, so you could just deploy those, too.
You might mention that there are inexpensive solutions in the works for Citrix and RemoteFX. Citrix just announced the HDX System on Chip at Synergy in Barcelona, and Microsoft has been talking about the RemoteFX thin client for as long as they've been talking about RemoteFX. Neither is out, but prototype hardware does exist, at least. The thing is, those products, and anything else like them, are relegated to a single platform. Using Apple TV, much like our speculation around Android thin-clients, would allow orgs to work with any platform. In the case of Apple TV, though, the hardware is there, known, already being developed for, and supported by almost everyone.
It's not all about the price, and $99 might be too low for this, given that for Apple to expose the OS and the device would probably require more support and work on their side. Flexibility contributes to the overall value here, too. All of those clients, capabilities, and protocols could be supported on one device that already exists.