IT Governance; the foundation for an agile and flexible enterprise
I did a post week or so ago on Simplification, Standardization, and Integration and the Citrix Delivery Center. Now I want to lay the foundation for how those design principles are put to work.
I did a post week or so ago on Simplification, Standardization, and Integration and the Citrix Delivery Center. Now I want to lay the foundation for how those design principles are put to work. The foundation for any agile and flexible enterprise is IT governance. So what is "governance"? it is about establishing a framework to ensure that all decisions are made by the right person or persons, to put it simply. Now most of you reading this have an IT governance framework in place at your companies, so you can either read on to see what I have to say about its importance or you can stop and I'll continue on for those out there that don't have one or are looking at putting this framework in place.
In today's world, IT governance has considerable momentum, but there are varying ideas about just what IT governance is. I see IT governance as a formal process of defining the strategy of the IT organization within the context of an overarching business strategy and overseeing its execution to achieve the goals of the enterprise. So let's take a closer look at my definition. As a formal process, IT governance involves the creation of a decision rights framework and the mechanisms for enabling those decisions and managing those rights like
who is authorized to make which decisions
what processes, involving which parties, will be used to make those decisions
how the decisions will be enforced
With me so far? Ok, so when defining the IT strategy, governance should also define the IT mission, vision, goals and priorities, and key performance metrics - by which IT will be measured. It should also define the business value drivers for IT services and initiatives. Governance should also articulate ITs commitments to the business units. But I think most important of all is that it commits resources to the IT organization so that IT can deliver on its mission. As it relates to the execution of the IT strategy, governance allows the necessary alignment and synchronization of the IT organization's tactical and operational plans. Governance will also provide the critical project portfolio management and monitoring of plan execution and ensures accountability.
The one word in this last paragraph that I think is important is: synchronization. In today's world of constant change, IT governance is dynamic. So not only does it operationalize IT strategy so that everyone is aligned with the enterprise strategy, but through ongoing synchronization it also enables IT to stay aligned in the face of this change. Synchronization is a closed-loop process, at least how I've have done it in the past. There are four main stages to this process:
Planning: the IT strategy formulation stage
Driving: the stage where the strategy is driven into the IT organization and infrastructure
Validating: the stage where execution performance is evaluated against the plan
Correcting: the stage where the execution is tuned to improve performance against the plan
So as the business priorities and strategies change, governance drives those changes into the IT organization, stimulating the creation of new strategic IT plans and priorities and refining the priorities of existing plans and projects. Through this closed-loop process of assessment and synchronization the enterprise keeps IT aligned with business priorities.
So once you have business and IT aligned, keeping them that way is a very complex job. It helps to have a simple framework to highlight some of the key responsibilities and relationships. I've used this tool below for many years now for bridging the business-IT and governance-operations dimensions.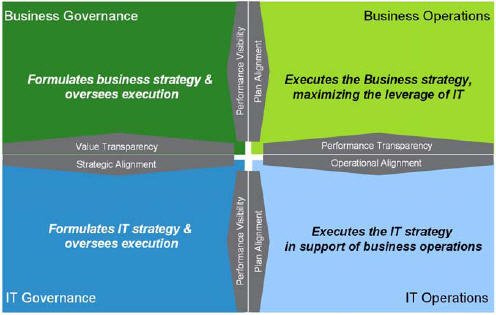 Now across these boundaries there is a need for both alignment (of strategies, operational plans, and execution) and visibility (of value and performance). When visibility crosses boundaries this is called "transparency". One thing about this little matrix is that is also provides some context for understanding some of the many possible scenarios of where change events arise and how they flow across these quadrants.
How well is your company setup for adapting to change? How closely is the business and IT aligned? Are they moving towards convergence?
With the new controls that IT governance demands - CIOs must look at running IT like a service delivery business. This isn't really a question how IT charges for its time and services or turning IT into a profit center (although this could be considered I guess). Instead, it's about running IT as that service delivery business and operating efficiently, delivering professional service, acting with the business interests at the top of your mind. It's all about responding to business needs, innovating to provide a best-on-class service, and knowing how best to provide the business units with the services they need.
There is a lot more to IT governance and one of the best resources that I have and one that I would highly recommend is IT Governance by Peter Weill and Jeanne Ross.
Cheers