How will Symantec compete against Citrix and VMware in the desktop virtualization space?
I attended Symantec Vision 2010 at the MGM Grand in Las Vegas this week. On Monday I wrote that I didn't really understand Symantec's desktop virtualization positioning and that I felt they'd lost momentum coming into 2010.
I attended Symantec Vision 2010 at the MGM Grand in Las Vegas this week. On Monday I wrote that I didn't really understand Symantec's desktop virtualization positioning and that I felt they'd lost momentum coming into 2010. I hoped that I'd be able to learn Symantec's plan this week. (Well actually to be honest, I hoped to learn that they *had* a plan!)
At the end of my fourth(!) day here, I feel like I understand how Symantec fits into the virtual desktop world of 2010+ and how they're positioned against Citrix, VMware, and traditional desktop management solutions.
I've spent the past ten-plus years with a fairly narrow focus, concentrating on the technologies that are now collectively known as desktop virtualization. So this is why Symantec wasn't really relevant to me until just recently. (It wasn't until 2008 that I considered them a major desktop virtualization vendor.) And once that happened, it's almost like I forgot that there are a lot of "traditional" desktop management issues that still apply with virtual desktops.
So prior to this week, I viewed Citrix XenDesktop and VMware View as "complete" desktop virtualization solutions (notwithstanding the fact that View is essentially VDI-only). My point is that I thought Citrix and VMware were real, and if you looked at the feature list of those two compared to Symantec, VMware or Citrix would win every time. (Even though I still think Symantec's app virtualization is the best in the market, I didn't think it was enough to push customers to skip Citrix or VMware for Symantec's whole suite.) So my feeling was that with Citrix and VMware, customers got a full solution, but with Symantec there were too many holes. So why would anyone use Symantec?
But this week I realized that Symantec's other products fill a huge desktop need that neither Citrix nor VMware fills. And I don't mean the traditional desktops that are often side-by-side along virtual desktops. I'm talking about traditional desktop management needs that also apply in virtual desktop environments—needs that neither Citrix nor VMware fulfills. For example, Symantec has products that do desktop control and lockdown, security auditing, policy control, management, data protection and backup, AV, etc. So if you're a Citrix or VMware desktop virtualization customer, you still need to "complete" your desktop virtualization solution with this stuff (whether that's from Symantec or not).
And like I eluded to before, if you're a Symantec customer you can get all this great "other" stuff in addition the Symantec Endpoint Virtualization Suite. But in this case you'll still have holes in your desktop virtualization solution that you have to fill from from another vendor (no protocol other than RDP, no hypervisor, no virtual machine management, no master disk image sharing, no SSL-VPN, no WAN acceleration, etc.)
I tried to represent my new way of thinking about this, and here's what I came up with: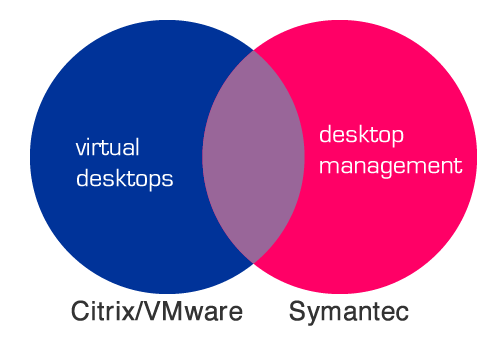 The idea that you need all of this to deliver a complete end-to-end virtual desktop stack. And in this grand scheme, Symantec doesn't have fewer pieces than Citrix or VMware, they just have different pieces. So you have to decide for yourself which pieces you want to buy from which vendors.
And that's actually an interesting challenge. I was explaining this new view of Symantec to someone at the conference party last night, and his response was, "Well sure, but are the Symantec's desktop virtualization products and other desktop management products? It's not like Symantec DLP and Symantec Workspace Streaming have anything to do with each other apart from the fact that you might want to use them both in the same virtual environment." I responded, "Well sure, but are Citrix XenDesktop's components any different?" (As we learned saw in Geek Week last month, XenDesktop is a bundle SKU for several completely unrelated products. VMware View is about a hundred times better, although complete View solutions still have the View Manager, vCenter, ThinApp, etc.)
And today's reality is that from a pricing standpoint, any one of these three vendors can get aggressive bundling "non suite" products together.
So what do you think? Do I make a good point, or did I drink too much Symantec Kool-Aid this week?