Hey Dell: While you have your checkbook open, how about buying MokaFive?
Dell's been on tear recently within our industry, having acquired both Wyse and Quest Software. One of the first things they did with Quest, by the way, was to rename the desktop virtualization product back to "vWorkspace.
Dell's been on tear recently within our industry, having acquired both Wyse and Quest Software. One of the first things they did with Quest, by the way, was to rename the desktop virtualization product back to "vWorkspace." Quest had switched the product's name to "Quest Workspace Desktop Virtualization" about a month before the Dell acquisition, but since Dell already had a product with the initials WDV, they had to change it back. (Hearing that story reminds me of Seinfeld's "sounds like he runs real tight ship" referring to the fact that George's boss Mr. Kruger wouldn't let two employees both have the name Koko. I love thinking of Michael Dell himself enforcing this policy.)

Download this free guide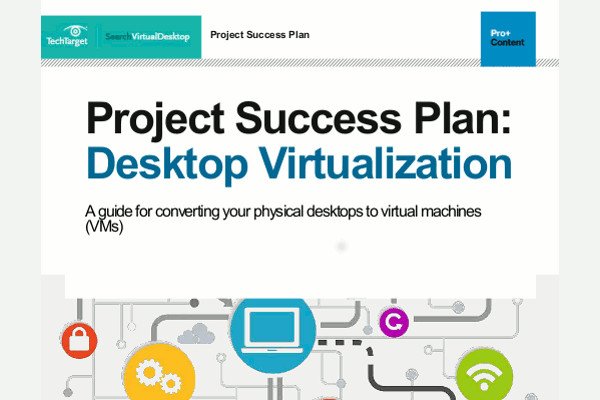 Instant Download: All-Inclusive 51-Page VDI Project Success Plan
When planning for VDI success, where do you begin? What options are available? What challenges might you run into? This expert all-inclusive VDI guide features 12 chapters to provide details on how to plan for a successful deployment, compare vendors and products, determine your ROI and much more.
By submitting your personal information, you agree that TechTarget and its partners may contact you regarding relevant content, products and special offers.
You also agree that your personal information may be transferred and processed in the United States, and that you have read and agree to the Terms of Use and the Privacy Policy.
ANYWAY, so now Dell has Quest vWorkspace and Wyse's complete hardware and software stack. They've also got a lot of other components, some desktop virtualization-related (KACE), and some just plain cool. (Sonicwall, Force10)
But one of the major pieces missing from Quest (well, and now Dell) is the ability to run, manage, package, and deliver an instance of Windows that runs locally on a laptop. Citrix added this capability by buying Virtual Computer, and VMware added it by buying Wanova. Quest Software, rather than buying this capability, instead OEM'ed it from MokaFive. (The rumor is that Quest tried to buy them, but MokaFive wanted too much money, so they went for the OEM deal instead.)
But now that Dell has their checkbook open, why not complete the trifecta and pickup MokaFive too?
Why I like MokaFive
I've always sort of grouped Virtual Computer, Wanova, and MokaFive into the same bucket. One of the really cool things about these three companies is that they all take completely different approached to the same problem—the management of Windows on laptops.
Virtual Computer—meh, it's fine. I don't *love* the idea of using a Type 1 hypervisor on a laptop, mainly because it requires the IT department to "own" (or "pwn") the laptop, so it's not a great BYO or contractor solution. It also means there's no good solution for Macs and the HCL is somewhat narrow.
Wanova—I like them a lot, and I love that they handle all the management from within Windows, so if you have Windows, you can have Wanova. Brilliant! Of course you still have to figure out how to get Windows to the laptop which can be an issue if you want to manage a different Windows instance than whatever's natively installed on the laptop. But in general, I love Wanova and think it's brilliant. I'd buy Wanova way before I bought Virtual Computer. (Which sucks because I'd buy XenDesktop way before I'd buy View. Damn you corporate consolidation!)
When it comes to MokaFive, I love them for having the perfect (well, let's call it "current best") answer to BYOD. MokaFive is ideal for the true BYOD scenario where you don't need the "benefits" (read: "expense") of VDI. (Because those who claim VDI is great for BYO, I mean yeah, but talk about killing an ant with a sledgehammer! Plus then you have to deal with all performance issues, no offline, etc, etc.
Why Dell needs MokaFive
If Dell is serious about bringing an end-to-end desktop virtualization or delivery product to the market, then they have to something for local/offline use cases. And simply OEMing a solution doesn't leave a good feeling. That makes use feel like they bought Quest for their back end management stuff and Wyse for their thin clients. Both fine moves, but if Dell wants to truly evolve their business into an enterprise solutions company, they need to embrace the Windows delivery side of things too.
Why MokaFive needs Dell
On the flipside, I would actually think that MokaFive needs Dell more than Dell needs them. (Or at least as much?) I mean what's MokaFive's other option? Picked up by Lenovo? HP couldn't really take them.. doesn't make sense, and if HP buys anyone it should be Citrix. Cisco? MokaFive certainly can't survive on their own now that all their competition is being bought up by huge companies.
At the end of the day, is there any other option for either company?