Here's the most brilliant diagram to explain the landscape of desktop virt, mobility, and devices
A few weeks ago I wrote an article about Workspot's latest release which targets Windows desktop clients in addition to mobile and web clients.
A few weeks ago I wrote an article about Workspot's latest release which targets Windows desktop clients in addition to mobile and web clients.
When I was talking to them about their product, they showed me diagram (which they call their "matrix") which illustrates the current enterprise device & application landscape. Now as someone who's spent almost 20 years in this industry and 12 years as a blogger, let me tell you—I have seen a lot of freaking vendor slides! But I can say that this presentation has the single best diagram I've ever seen, and I'm hoping that everyone can use it as they think about our industry moving forward.
(To be clear, this diagram is not just about Workspot. It covers our whole industry. So whether you like Workspot or believe in them or not, read on!)
First, they draw the landscape like this: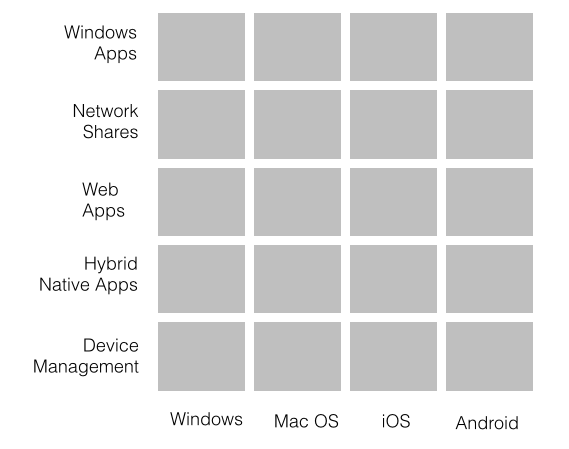 Each row represents a "thing" that a solution in our space can do—deliver Windows apps, connect to files on network shares, deliver web apps, deliver device-native apps, and manage devices. Each column represents a client device type—Windows, Mac OS X, iOS, and Android. (In your environment you could add additional devices you might support, like Blackberrys or Windows phones.)
Then as you look at your various products, technologies, and solutions, you could map them out here to see how your current coverage is. For example: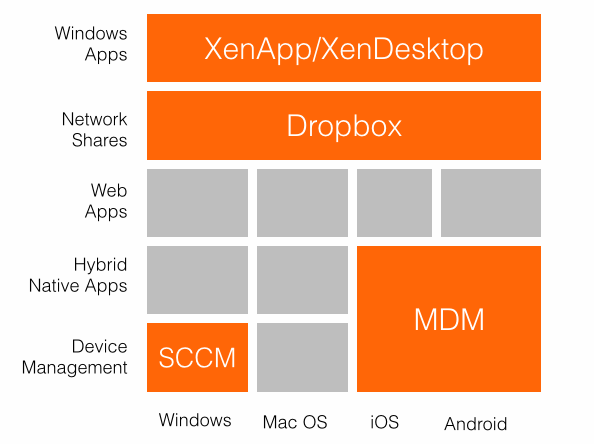 You might be using Citrix XenApp/XenDesktop to deliver Windows apps to all devices, Dropbox to provide access to file shares to all devices, SCCM to manage Windows clients, and MDM to deliver native apps and to manage iOS and Android devices.
Next you could map out each vendor's various solutions and suites. For example, here's how Citrix's current product lineup might look: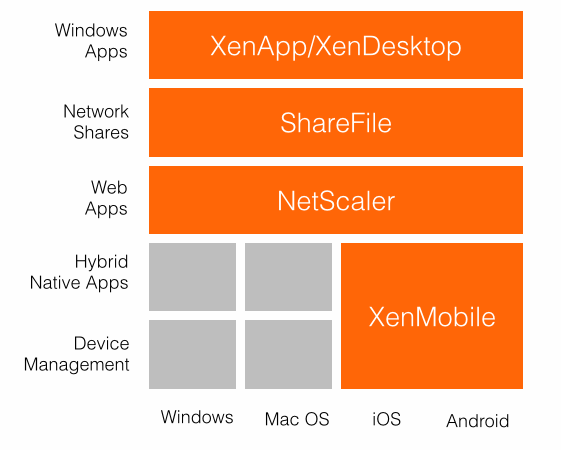 (Whether you agree with the characterization of Citrix's suite isn't the point here, rather, it's that you can map out a vendor's offerings.)
The key is that you can look at all the squares and ask yourself the question, "How am I covered here?" or "Is this square important to me?" Then you can look at your current products and potential things you might buy and see what kind of coverage they offer.
Obviously no diagram is perfect and none will cover every situation, but in terms of everything I've seen, I definitely like this one the best. I plan to start using this in future blog posts and in my presentations, and I encourage you to do the same. And if there's anything you think should change here, please share your thoughts in the comments and maybe we can evolve this.
In the meantime, thanks Workspot for creating this and for giving me the position to blatantly rip off your diagram as a basis for the way I think about the enterprise end user computing landscape!