Here's a big list of all the new enterprise features in Apple iOS 8
The next version of iOS, iOS 8, was announced this Monday at Apple's Worldwide Developer Conference.
The next version of iOS, iOS 8, was announced this Monday at Apple's Worldwide Developer Conference. This article is a full list of all the enterprise-related announcements, including anything that has to do with mobile device management, mobile app management, enterprise apps, or anything else regarding iOS 8 that could affect IT departments.
It's likely that more details will emerge over the coming weeks, but remember that we won't get all the real, in-depth information about how everything works until iOS 8 is released in the fall. For now those details are only available to members of the Apple Developer program who are (supposedly) required to stick to a non-disclosure agreement.
Anyway, without further ado here's the list of all the enterprise-related announcements, in order of their appearance in the keynote. (This is just the iOS portion of the keynote, starting about 45 minutes in if you're watching the video):
First off, Tim Cook emphasized the large number of users on the current version of iOS, as well as the relative lack of malware. Obviously this isn't a new feature, but it's a good way to set the stage. This also means when the new enterprise features come out, you'll be able to use them with almost all of your iOS users immediately.
Various enhancements to the Mail and Calendar apps mean that 3rd-party enterprise email apps will have more to compete with when going up against the built-in app.
The new Continuity feature allows tasks like phone calls or composing email to be started on one Apple device and finished on another. This is just one of several new sharing frameworks that IT pros in some environments will worry about and want to lock down. Like I said, we'll probably have to wait a few months to find out exactly how we can (or can't) lock down any of these new sharing frameworks.
You can listen to and reply to audio messages from the lock screen. Same thing here—we hope there will be a way to lock it down (for the times when it's appropriate). We shouldn't be too worried, though—over the last few years, Apple has a fairly decent track-record of introducing mobile device management controls to keep up with other new features.
iCloud Drive is essentially creating an iOS file system. Apps will be able to access documents that come from other apps. From the MDM angle, we'll want to be sure there's a way to filter how enterprise-deployed apps use this service.
At one point in the keynote (66 minutes in if you're watching the video) Craig Federighi moved on to an enterprise-specific section, emphasizing the large number enterprise features they've built into iOS over the years. (See for yourself in the screenshots at the end of this article.)
First they emphasized the Device Enrollment Program. This is old news, but it's still big news and super important. I wrote about it here and here.
Expanded data protection brings passcode protection for Calendar, Contacts, Mail, Messages, Notes, Reminders, and third-party apps. This is a significant new feature for iOS's built-in mobile app management capabilities, and a major advance in separating work and personal apps and data. This looks like it could even have the potential to password-protect corporate resources without having a password on the entire device. Of course most of us would agree that users should probably be protecting their own apps and data with a password, but for those BYOD users that still don't want to, this new expanded data protection feature could be the answer. It could also help prevent "my kid was using the phone for a game but then got into my work email"-type situations.
Per-message S/MIME This used to be a just a binary on/off setting, buried several menus deep.
VIP threads allow you to mark an email thread and then get notified when somebody responds.
Auto reply/out of office support and busy/free lookup. Finally!
Third-party document providers for iCloud will give apps more ways to interact with different types of documents.
Managed books and PDFs This should be a big hit. Presumably this will let you use MDM to push PDFs or iBooks to devices. This could replace a lot of basic file-syncing and content management apps—for example, if you're pushing collateral out to your salespeople, now you don't need a third-party app, you just need a basic MDM server.
Family sharing and the new iCloud-enabled Photos app. I won't go into details here, but again, these are more frameworks that IT will want to be able to keep data out of or lock down.
The last part of the keynote (82 minutes in) covered developer-related news. Again, I'm just writing about the enterprise-related stuff:
App bundles allow you to buy multiple apps together at a discount.
TestFlight will now be a free part of the Developer program. Testing apps on iOS is somewhat of a pain, since developers have to collect the ID of every device. TestFlight, which Apple purchased earlier this year, automates the process.
New extensibility options will give apps more powerful ways to interact with each other. Apps can offer actions and sharing to other apps, as well define third-party document providers. It won't be all wild-west, though—iOS will still have have a role in moderating how apps interact with each other. This will be huge for mobile app management vendors, who will gain new ways to make enterprise apps talk to each other. On the other hand, this is yet another new sharing option that IT might want to control, but again since the OS is involved, there will probably be MDM options for this.
Apps can now place widgets in the Notification Center. Yay! (Personally, I still want widgets on the home screen, but I'll take this for now.)
A lot of people are excited about third-party keyboards. Third-party keyboards are a potential security problem, so they will require user permission to access the internet. This is yet another reminder that with every single one of these new features, we're opening ourselves up to yet another way to leak corporate data.
Third-party apps will now be able to use the Touch ID API. This could be pretty cool, but I wonder how this will play out? Touch ID as it's currently implemented isn't really two-factor authentication, but merely an alternative to passwords. Sure it's convenient, but we still might not get real two-factor authentication.
CloudKit provides mobile back end infrastructure that's "effectively free, with limits." Like many of the other announcements at WWDC, this could be a big challenge to established vendors.
The Metal framework provides developers with more access to hardware.
Swift a new programming language intended to be faster, easier, and safer. If that translates to more enterprise iOS apps, then great!
Beyond the keynote
Besides the content of the keynote speech itself, we can also get more clues from the slides. There were a few slides that showed long lists of features, some of which seem to be new but weren't mentioned specifically in the keynote. (See the screenshots at the end of this article.) These include:
Instantaneous remote wipe
Per-app iCloud document controls
Mark external email addresses
Managed Safari downloads
New MDM queries
New device restrictions
Set device name via MDM
New device management UI
Even more clues from the iOS press release
Last, but not least, we have the iOS 8 press release. It says, "For Enterprise, iOS 8 builds on the new IT model for a mobilized workforce by improving the way users are informed of how their devices are configured, managed or restricted." This could be a way to make MDM more palatable for end users, especially for BYOD or users that are concerned about their company seeing their personal data, wiping their personal data, or simply affecting their experience in a negative way. You can see a screenshot of this at the Apple's iOS 8 in the Enterprise page.
So what do you think? Even if don't nerd out about MDM like me, there's still a lot to be excited about. What parts will be important to your company, your users, or your customers?
Screenshot of enterprise features slide (1 of 2):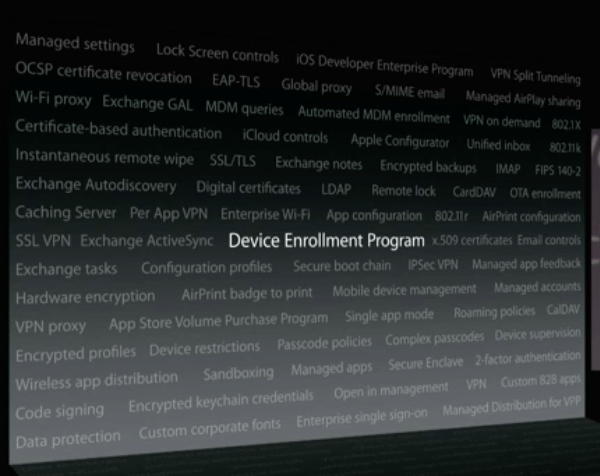 Screenshot of enterprise features slide (2 of 2):