Help us pick the "fifth vendor" in our VDI week
A five-day, five-product VDI shoot-out.
[UPDATED with Winner at the end of this article]
Last month, Gabe and I announced that we're planning on doing a five-day, five-product VDI shoot-out. There were a lot of great ideas in the conversation around the idea, and we're working out the details of exactly what we'll do and how it will work. (And we'll share more thoughts and ask for more opinions as we get a bit closer to the week, which will take place March 8-12.)
But today we have a more pressing need. In last month's article, we asked you to pick which five products we should evaluate. We got the top four loud-and-clear:
VMware View
Citrix XenDesktop
Microsoft Server 2008 R2 VDI Suite
Quest vWorkspace
Unfortunately, we had just about a three-way tie for Product #5 between Red Hat, Sun, and Symantec.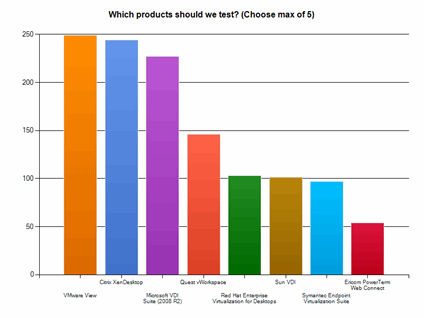 (click the image to see it full size)
We also received complaints from several vendors who weren't included in the original survey. So today we'd like to ask you to vote again among the other products to pick the fifth one for our VDI Week. Today's contenders are:
Red Hat Enterprise Virtualization for Desktops
Sun (Oracle?) VDI
Symantec Endpoint Virtualization Suite
Ericom PowerTerm Web Connect
Leostream Connection Broker
Kaviza
Pano Logic
Virtual Bridges VERDE
[UPDATE] Voting is now closed. The winner of the voting was Red Hat, which will be our fifth vendor for our VDI week. I should point out that there was quite a bit of "suspect" activity, like dozens of votes from the same IP address within a few minutes which we guess is either one voter clicking back-next-back-next-back-next or a vendor sending an email out to their company asking everyone to vote. (You know, when a vote comes through without our article as the referrer, it's a bit suspect! ;)
So anyway, Gabe analyzed the results as they were (including suspect activity). Then he also removed all the suspect activity and ran the results again, and Red Hat was the clear winner both times. (It's probably worth noting that every vendor except for Ericom had suspect votes, so it's not like we can just disqualify them.) We also considered replacing Microsoft with our second-place winner, which was VERDE, but ultimately we decided not to since Microsoft was a clear winner in last week's voting. (And after all, if people think they don't have a "real" solution, then this is exactly what we want to find out!)
A full discussion of the voting and results is in this week's Brian Madden TV.