G.ho.st is shutting down. Is this the beginning of the end for browser desktops?
Just a quick post regarding G.ho.st (now moved to Ghost.cc and simply called "Ghost")
Just a quick post regarding G.ho.st (now moved to Ghost.cc and simply called "Ghost"), a company we took a brief look at last year when looking into the upstart browser-desktop movement. According to their website, "the public Ghost service will be closing on March 15th."
Of the three browser desktops that we profiled, Ghost seemed to have the most comprehensive solution. It worked on many browsers, it had applications for just about anything (except a remote desktop client), and its interface was the easiest to use. All that aside, Ghost was the biggest fish in a nascent market trying to ride the cloud phenomenon into the home. The biggest problem with that is that home users already have desktops and browsers and such to work with, and only a small few care about the cloud.
To see if the interest in the browser desktop is falling off before they even got a good footing, let's take a look at the other two solutions that we profiled: icloud and eyeos.

I really want to like icloud. They've updated it since the last article to an Aero-like interface, and overall it looks and feels really familiar. You can still take it offline, which is something no other browser desktop can do, but Firefox support is still only in alpha (no Safari support, either). In Firefox, it's painfully slow to load. The menu doesn't behave like it should, especially while it's still loading (and there's no indication of how far along it is). I'm pretty sure I can boot a Win7 box faster than I can boot this browser desktop, so it's a no-go for me as a Mac user. In IE, however, it loads pretty quickly and is quite usable.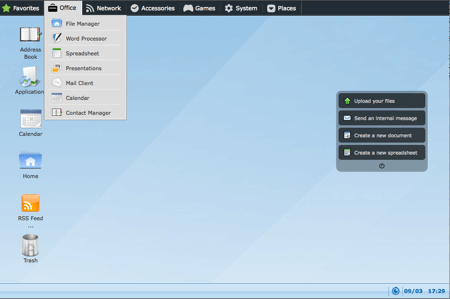 eyeos really hasn't changed since I last wrote about it, so in case you didn't see the previous article, here's what I wrote:
eyeos is an open-source browser desktop with a host of "local" applications (in that they run natively in eyeos and not from a cloud). I thought this might mean that they would work offline similar to iCloud, but that's not the case. It appears the applications and other components are sent down to the client on demand. eyeos has the distinction of being the only BD that allows the server to be installed in your enterprise and accessed without touching the internet.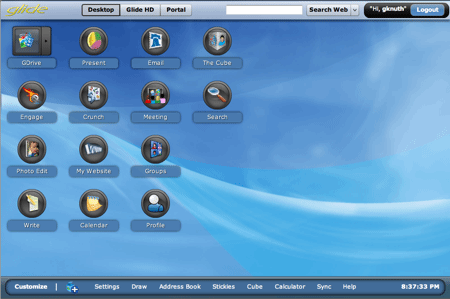 Glide OS is new to me, and it looks to be a pretty standard browser desktop. Nothing too fancy, but it gets you a desktop-like interface to various web apps. It just doesn't appear to be an enterprise solution.
So that's the latest update on the browser desktop space. What do you think? Was Ghost shutting down inevitable, or is it a big loss for the browser desktop cause?