 BACKGROUND IMAGE: iSTOCK/GETTY IMAGES
Our thoughts on VMware EUC news from Dell EMC World 2017
As expected since the EMC acquisition, Dell and VMware are bundling and integrating more products; VMware also touched on Chromebooks and IoT.
Normally, we expect VMware to keep the competitive conversation going by make a few announcements right before Citrix Synergy. As it turns out, the Dell EMC World mega-event is running this week, and VMware made several announcements. For today, we're going to run down the EUC-related ones and offer our initial takes. We (Gabe and Jack) wrote this article jointly, and it represents our combined opinions.
Chromebook partnership
Basically, VMware and Google made a joint announcement saying that Chromebooks can be good for the enterprise, especially if you use VMware to deliver Windows apps via Horizon, and Workspace One to handle all your web and SaaS apps. (Press release | VMware blog post | Google blog post) They made a very similar announcement about Horizon DaaS and Chromebooks back in 2014; this is essentially the updated version.
We're still waiting to see exactly how big Chromebooks get in the enterprise, since on the ground, we mostly just see them in education. Google noted that "IDC estimates that by 2018, 25% of Fortune 500 companies will have IT-supported Chromebooks deployed in their organization." Maybe this finally the right time? We'll see.
However, right now there's another wrinkle because Microsoft just announced Windows 10 S. This certainly puts Google's messaging here in a new light, and it's going to be an interesting battle. You'd think than Microsoft might have a leg up since they already have the install base. If we're talking the about the same basic use case, Windows 10 S could be the more natural choice.
On a related note, Android apps are coming to Chromebooks, too. There weren't many new details this week, but between AirWatch and all the work Google has been putting into Android's enterprise capabilities, there's no doubt that they'll get the management figured out.
AirWatch and Dell PC BIOS
AirWatch can now reach down to the BIOS on Dell PCs, thanks to integration with Dell Client Command, so chalk up another PC management feature for AirWatch. This is promising, because as cool as UEM is as a concept, a lot of work remains to catch the interest of the average enterprise that's been doing traditional PC management for 20+ years. The thing is, this announcement only applies to Dell PCs, which is great for them, but it's not going to hit home with anyone else. Still, baby steps are better than no steps at all.
IoT efforts
VMware also announced an effort called VMware Pulse IoT Center. AirWatch already has a history with IoT, with their management of Coca-Cola Freestyle soda fountain machines as a big reference, but this appears to be a bigger step. Pulse IoT center ingrates AirWatch with VMware vRealize Operations, and is being called "the first solution in a new family of VMware IoT offerings."
From our standpoint, IoT is worth keeping an eye on, but you're not going to see articles about "How to Manage the ESP8266 WiFi-enabled Arduino Clone with AirWatch MDM" just yet. It's still an evolving use case within the enterprise, so we'll watch and see what companies like VMware, Citrix, and others do with it that might apply to the EUC space. If these companies have some big references on hand over the summer conference season, then that would help all of us get a better idea of how to think about IoT.
Dell hardware, bundled with VMware Horizon, for "VDI Complete"
"VDI Complete" is a new set of Dell hardware and VMware Horizon bundles, with add-ons for thin clients. Here's VMware's matrix of options, which as you can see start at $8/user/per month.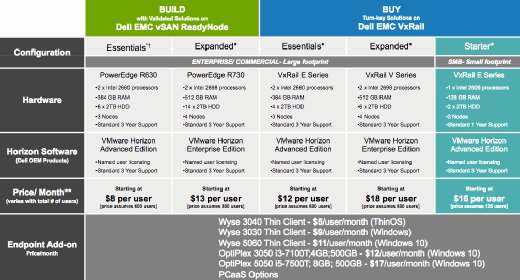 Dell has a long history of bundling together appliances to enable turnkey VDI infrastructures. Traditionally, they've partnered with both Citrix and VMware (in addition to their own vWorkspace back when they still sold that). There doesn't appear to be a Citrix appliance available anymore, which isn't all that surprising. It will be interesting to see what kind of presence Dell EMC has at Synergy, and whether or not they'll be selling more than just thin clients.
No more Tanium partnership
It wasn't an official announcement, but on Monday CRN broke news that VMware and Tanium ended their partnership. Tanium was the OEM partner behind VMware TrustPoint. (Here's more on Tanium's technology.)
Back when the Tanium partnership / TrustPoint were first announced, we still didn't have all the details on how AirWatch was planning to fill out its Windows 10 management capabilities. We thought that TrustPoint might be a central component, but as it turned out, AirWatch built other new functionality and Microsoft added more features to Windows 10 MDM, and TrustPoint became just a separate security add-on. As a result, it's easy to understand that if there were some back room disputes and technical challenges (as reported by CRN), VMware was in a position to walk away, since TrustPoint didn't end up being strategic for them.
VMware and Tanium say they're still working together to support joint customers, and the VMware TrustPoint page is still up, but the big question is what happens next? Does the product go away completely, or does VMware build or buy their own replacement? It would take some digging, but certainly there are other companies that could step in with similar technologies that were A) cheaper, and B) easier to integrate and mold into what VMware needs to enable full Unified Endpoint Management.
Dig Deeper on VMware Desktop Virtualization and Mobility