Friday Notebook, September 14: Get ready for iOS 12 and new iPhones
Also: The major US carriers announce a consumer IdP initiative; BlackBerry Security Summit; workflow apps as SaaS security; 4G for your office; and Workspace One Intelligence and Trust Network.
This is our weekly log of desktop virtualization, enterprise mobility, and end user computing news.
Our blog posts
Jack: "Workflow" apps are a way to do mobile app security for SaaS. MDM isn't always an option for securing apps, and sometimes, SDKs and app wrapping aren't possible, either. This is a case where workflow apps could provide the security hooks you need.

Download this free guide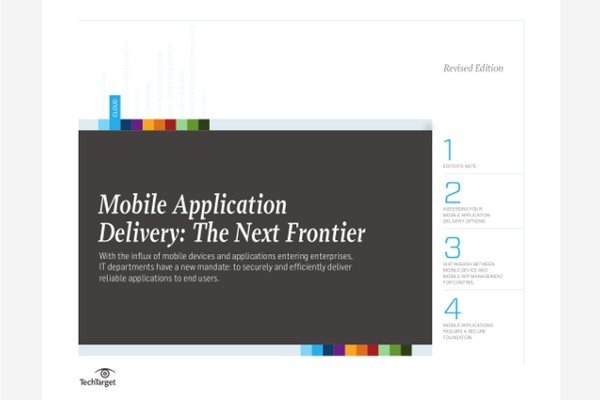 Download: Our 17-Page Mobile Application Management Report
Inside this exclusive report, industry experts reveal commonly overlooked best practices for mobile application delivery and management to help you tackle the influx of mobile devices, new applications and data security demands in your enterprise.
Jo: 4G LTE or 5G could be your branch office backup internet connection. Companies need more than one plan in place when it comes to internet connection for remote and branch jobsites. One option is to use 4G LTE (and eventually 5G).
Kyle: What's new with Workspace ONE Intelligence & Trust Network? VMware announced new features for Workspace ONE Intelligence, as well as more security vendors for their Trust Network, at VMworld 2018.
Industry news
What's the enterprise angle on the iPhone launch? I'm working on a full article for Monday, but here are a few notes for now:
BlackBerry held their annual Security Summit in London this week. (They'll have another one in New York in a October.) I wrote quite a bit about their evolving strategy after their 2018 analyst day. At this event, they announced new branding for their "Enterprise of Things" platform, now called Spark (there were lots of puns). In addition, there's a new partnership with Check Point (for mobile threat defense); and other momentum and partnership press releases. I wasn't at the Summit, but on first glance, it lines up with everything we heard back at the analyst day, and it looks like they're moving along quite well. We'll get a deep dive schedule soon.
In the identity and access management space, mobile carriers have been getting a lot of flack recently, since they're a weak point in SMS-based multi-factor authentication (hackers can social engineer their way into stealing your phone number). But now, as detailed by Krebs on Security, they're making a pitch to be identity providers, in something called Project Verify. It encompasses an IdP (i.e., an identity source that other apps can federate with), authentication, SSO, and even filling out contact forms. This news just came out on Wednesday, so I'll be interested to see what the identity space says about it. The telcos obviously don't have the best record here, and the press release doesn't mention what standards it would use, though it does mention blockchain. (That could be legitimate, but the buzzword factor makes the needle on my BS meter twitch a bit.) However, they do have a privileged position on the device and some collective clout... so we'll see? We'll have to do some more digging on the tech behind this one.
Citrix Cloud on Azure Government Cloud is GA. Also on the Citrix front, CTP applications are open through October.