Fluff piece about Citrix
I'm in LA this week attending Citrix Synergy 2014. This year's conference bittersweet in many ways.
I'm in LA this week attending Citrix Synergy 2014. This year's conference bittersweet in many ways. Citrix recently celebrated their 25th anniversary, and Citrix's longtime CEO Mark Templeton is retiring soon. We also lost the "father" of Citrix Ed Iacobucci this past year.
As I was thinking about the transitions within the Citrix community and what's new and what's old, I started to realize that I'm not the young kid anymore. I officially entered the workforce in May of 1995, which means I now have 19 years of IT under my belt. I did my first Citrix installation 17 years ago. I met Gabe 15 years ago. I wrote my first book about Citrix 12 years ago. I quit my day job to become a full-time blogger 11 years ago. BriForum is celebrating its 10th year. Heck, even TechTarget buying us was 6 years ago already!
Last week I had lunch with Rakesh Narasimhan, Citrix's new Group VP for desktop virtualization. (So he's the guy who owns XenApp and XenDesktop.) We started talking about how different the IT world is nowadays with the cloud and consumerization and mobility and tablets and everything, but as we reminisced about how things were in the "old days," I started to realize that things actually hadn't changed that much.
I mean if you look at that WinFrame Server environment I stood up in 1997, what was it about? We had a stupidly fat client-server Windows desktop application that we wanted to deliver with consistent performance over slow networks. We had to deal with printing, we had the ICA protocol, we had ICA clients, we had load balancing, we thought about session performance—I mean really how different is that than what we're doing today with XenApp and XenDesktop?
Even if you look back at what Citrix did over all the years—both what they were successful at and where they failed—really almost everything we're seeing in the industry today is stuff we've seen before from Citrix. Remember Citrix Project Vertigo (or Project "Where'd-it-go," as it's now called)? How different is that really than all these new mobile app transformation products? Remember Citrix's "Access Infrastructure" message from 2003? How different is that from today's SaaS and cloud apps? Or Citrix NFuse? That was the original app store and IT self-service.
And, frankly, even if you look at Citrix's current challenges. They need a new leader. They have increased competition. They're pissing off customers. They have gaps in their products . . . All that is stuff that they've been through before too. How many articles have I written about how this or that company was going to kill Citrix? Or about how their relationship with Microsoft might blow up? (Seriously, my first article about how Microsoft was working on a "Citrix-killer" was 11 years ago!)
Despite all that, in 1997 Citrix did just over $100 million in revenue. In 2013 they did close to $3 billion. So say what you want about Citrix, their products, or their leadership, but clearly they're doing something right.
The Citrix Community
Much of Citrix's success in the early days can be traced back to the strength of the community. In the nineties, Citrix fans had a "we're all in this together" type of mentality. We were the ones who thought it made sense to run a bastardized version of Windows in our server room to host desktop apps for people. We were the ones who explained what "change user /install" meant and what exactly a "shadow key time stamping problem" was. The community has been broadened and strengthened over the past 20 years, and a big part of that today is the Citrix CTP program.
Even though I left the CTP program last year, I've got a special place in my heart for it. This year's pre-Synergy CTP meeting is especially poignant for the reasons I mentioned already, and Perrine Crampton (Citrix's Community Programs Manager) asked me to fly to LA a few days early so I could have breakfast with the CTPs since they were presenting Mark Templeton with an "Honorary CTP for Life" award (and, even better, with an original 2006 CTP shirt).
By the way, for those of you who never thought I would be at a loss for words, it happened yesterday. I was standing in the back of the room when Mark was invited to the front to say a few words. He wanted to show the group some things he had brought, so he said, "Brian, can you grab my bag and bring it up here?" I did, and when I got to the front, he announced to the group, "This is the first time Brian Madden has done exactly what we asked him to!" :)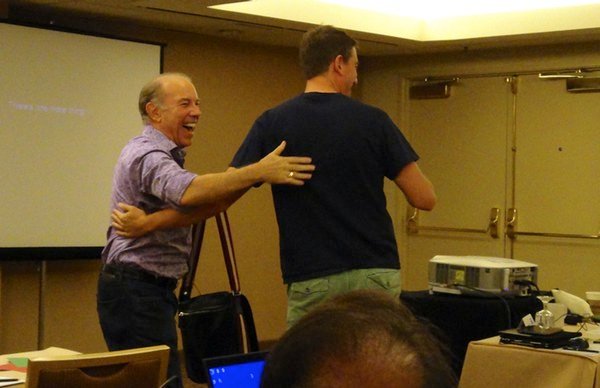 Figure 1. Who says Brian never helped Citrix?
As part of our retrospective and general nostalgia about the program, Perrine posted an interview she did with me about how the CTP program got started. I dug out some old photos and found this one from the first official CTP meeting in Ft. Lauderdale in 2006. (Note that Rick D. is somehow only 16 years old in this photo. And also note that yes, my "tips" are "frosted.")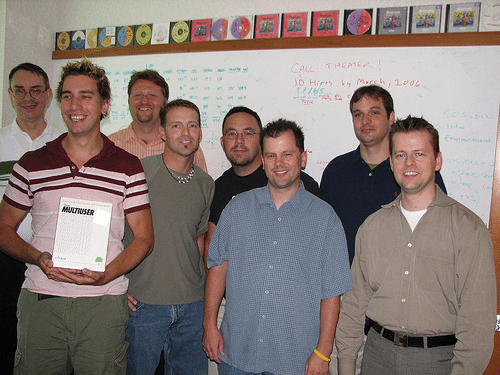 CTPs from the first meeting at Ft. Lauderdale in July 2006. (L to R) Rick Mack, Brian Madden, Jeroen van de Kamp, Rick Dehlinger, Ron Oglesby, Jeff Pitsch, Doug Brown, and Shawn Bass.
Those of us from the original group of CTPs from 2006 who are also at Synergy this week posed for a follow up shot: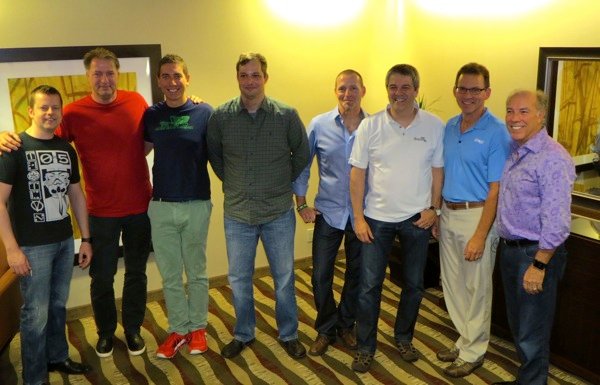 (L to R) Shawn Bass, Thomas Koetzing, Brian Madden, Doug Brown, Rick Dehlinger, Benny Tritsch, Brad Nunn and Mark Templeton
More interesting than that though is that there are currently 48 CTPs worldwide, and 45 of them are here at Synergy this week: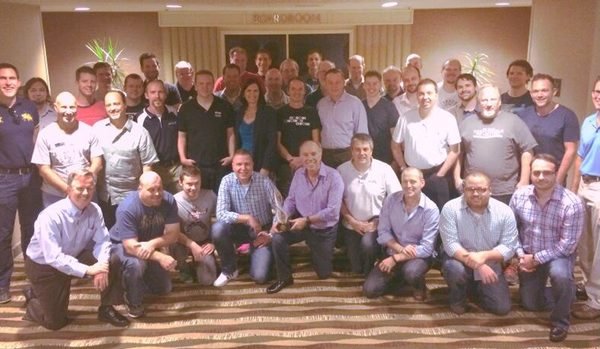 Too many to name. Here's the current list of CTPs. (Sorry Brad that you're half missing.)
So yeah I've been hard on Citrix over the years. I've given them a lot of shit. But I love them. I don't know how many of you are in the same position as me, but I can say with absolute certainty that without Citrix, I would not be in the position that I'm in today. There would be no BrianMadden.com. There would be no books. There would be no BriForum. I would probably be an Exchange admin at a mortgage company in Ohio if it weren't for Citrix. So thanks to all the current and former employees of Citrix over all the years for saving me from that.
Now get back to work. You have to be ready for my Thursday story about how Microsoft is plotting to run you out of business . . .