FUIT: Take control of your corporate PC--reformat it!
The situation: Dennis is set to receive a new laptop, and when he walks by the IT guy's cubicle he can see it sitting there, taunting him.
[Canvas:FUITNote:99ff99]
I'll grant you that this FUIT concept is taking the assumptions of the end users to a new level, but bear with me. My motto is "it only takes one," and by that I mean that it only takes one person who knows what they're doing to give everyone the ability to FUIT (is it a verb now? I'm making it one).
The situation:
Dennis is set to receive a new laptop, and when he walks by the IT guy's cubicle he can see it sitting there, taunting him.
"You have to wait," say The Powers, "because we have to join it to the domain and install apps."
To Dennis, this is unnecessary. The ONLY reason he's in the office is to pick up his new laptop, otherwise he's never there, never on the network, and never needs to have his machine joined to the domain. He may not know that, but he does know that he doesn't use most of the apps that are installed as part of the standard laptop image, and that fingerprint authentication BS that The Powers make him use means his wife can't just pick up his laptop and use it to look up something.
Even though Dennis is on his own most of the time, he doesn't have all the rights he needs on the laptop to do the things that he needs to do to be self sufficient out in the field. The Powers own his PC, of course, and they've locked him out of many features that he would find useful as a member of the new, enlightened workforce. He can't access the command prompt, he'd like to edit the registry because he knows he can delete half of the things that are configured to start up automatically that he doesn't use.
During downtime, he'd like to be able to screw around on the laptop, but controls put in place by The Powers have negated all but solitaire, and that only works when he's online because The Powers stripped out all the games from the master image.
Requests he makes fall on deaf ears or are met with some official excuse from The Powers, such as:
"In compliance with the mandated corporate policy enacted by The Powers in 2008 as part of our regulatory duty, it is against the corporate policy to install personal applications of any kind or to make any changes to your system that have not been sanctioned by The Powers."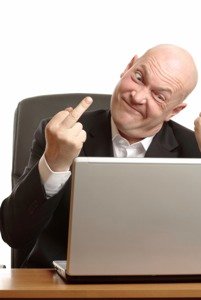 The FUIT
What that official excuse really means, at least to Dennis, is:
"We, The Powers, believe that you do not know what it takes to do your job as well as your managers, the IT department, and the other members of The Powers do."
Dennis, valuing both his job and his sanity, decides to take matters into his own hands by simply reformatting his laptop. He has a copy of Windows and Office from his home computer, and since most of the apps he uses are browser-based anyway, he won't be missing much, if anything from his corporate image. Installing Windows and Office are easy, and Google can answer almost any question he has.
Sure, there's risk involved breaking apps or getting in too deep, but Dennis is pissed off by now, so what the hell? If he fails, he just says his computer stopped working. He gets a new one from IT, and the cycle repeats. He could even crack open the case and put in a new hard drive so that he could fall back to the old one. The bottom line is that nothing IT does can physically stop him from doing it.
The Powers Should…
The Powers in any organization are pretty helpless to prevent this, actually. They rely on the fact that the users view this as complex process, but it's not exactly difficult to install anything anymore. Hell, I'd bet if I sat my 3 year old son down in front of a computer, put in the Windows 7 disc, showed him a picture of the Next button, and waited an hour, he'd have Windows 7 installed just by clicking the buttons (if I could capture his attention for that long).
The other way The Powers try to prevent this is by incorporating it into a policy, which serves as a deterrent, if the user even knows the policy.
In this case The Powers should be more receptive to what the users are trying to do while also educating the users as to why things are done the way they are. If one user figures out how to reformat their laptop and get the apps to work (RoH for Outlook, for example, but that's another FUIT article), he or she can tell the other users.