FIGHT: Appsense, Citrix, Immidio, Liquidware Labs, Microsoft, Quest, RES, Scense, Tricerat
Are you looking for an independent overview of the User Environment Management solutions and curious about the different features and functions each vendor is offering!
[NOTE: This article (and white paper) were just updated after originally being published in June 2011.] Are you looking for an independent overview of the User Environment Management solutions and curious about the different features and functions each vendor is offering!? This is the whitepaper you definitely must read! In the current market there is an increasing demand for unbiased information about User Environment Management solutions. The whitepaper is focused on solutions that are anticipated to have an important role in Desktop deployments. An overview of available features of each solution is created to better understand each solutions capability
The overall goal of this whitepaper is to share information about:
What is User Environment Management?!
Explain the pros and cons of User Environment Management
Describe the strategic questions and functionality of UEM solutions
User Environment Management functionality and solutions overview
Describe the different UEM vendors and solutions
Compare the functionality and features of various UEM solutions.

User Centric Computing
More and more customers are designing, building and maintaining hybrid-style, flexible Application and Desktop Delivery Solutions. Customers are using a mix of traditional desktops and laptops, Server Hosted Desktops using VDI and Remote Desktop Services, Web applications and Application Installation and Virtualization in a mixed Operating System environment. The devices are managed and, in a Bring Your Own Computer Scenario, un-managed. User Environment Management delivers and maintains the User Workspace in a clear, visible, predicatable, and profound way independent of the Application and Desktop Delivery concept and understands the context of the user Access Scenario. Having a clear view of the access scenarios, also known as personas, is essential and crucial for a complete Application and Desktop Delivery solutions. The focus on the user context:
Who: users, groups, personas
Which: Device: capability's managed and un-managed
Where: Location: Online, Offline, offsite and onsite
What: Applications: IT and end-user driven, services, resources, data content
When: 24x7, specific times
This is essential and needs to be unified in a User Environment Management solution. Concentrate on the users Environment means User Centric Computing.
At the end of the day customer will have a hybrid Application and Desktop Delivery infrastructure. For the end-user, the business consumer, application access needs to be transperant. To create a transparent application,- and desktop delivery, and management, infrastructure it's key to have a complete overview of the various "Access Scenarios". These scenario's should contain:
User/Role/Persona
Applications/Services
Devices
Location
Context Awareness
Access scenarios need to be clear, profound and are part of the overall Application and Desk-top Delivery Design process.
The essence of User Environment Management (UEM).
Traditionally the endpoint is maintained with Client Management, or PC-life cycle management, solutions such as Altiris Deployment Solution, IBM BigFix, Microsoft SCCM, Novell Zen-Works and others. The key functionality of these kinds of products is: OS deployment, application deployment, asset management, inventory, integration with CMDB and remote control. The primary focus of the Client Management solutions is the client device and not primarily the end-user's workspace.
Handling the User Environment, or User Workspace, isn't in scope of the traditional approach of most of the Client Management Solutions. Large software vendors are so focused on the management and maintenance of ICT systems that they tend to forget the other important half, focus on the user side, of this management.
Users' needs to have a simple, uniform, fast and reliable workspace environment. Administrators would like to be able to manage this (Windows) workspace centrally, regardless of whether it is a physical or virtual workplace, implemented locally or centrally and whether the (Windows) applications are installed, streamed or virtualized. In many organizations the term 'User Environment Management' is still relatively unknown.
"User Environment Management (UEM) is a software solution that facilitates the management of the user environment and creates a dynamic, cost effective and for the business-consumer a transparent working environment . The focus is primarily on the end-user and his environment and not on the end user's device".
Our experience is when the organization understands the meaning of user workspace management and sees the opportunities and benefits this provides to the users and the IT organization, the customer is often surprised that this solution has not been applied earlier.
Why UEM
In conversations with customers and during workshop sessions we regularly receive the question: "What are the primary reasons for implementing User Environment Management Solutions?"
Increase user experience, consistency across different platforms, VDI, SBC and local Laptops and Desktops.
Create a transparent User Environment independent of the various delivery solutions and empowers a smooth Desktop Transformation.
Improves end-user mobility, access personalized applications and settings from any machine, any Windows Operating System. Roaming users.
It stabilizes Windows user profiles.
Gain control over user profiles and truly manage them.
Accelerated and consistent logon times.
Makes migration from old to new Operating Systems and Application Delivery solutions easier. Even rollback scenario's from a new Operating System back to an old system is possible.
Replace custom (legacy) scripts.
Central,- and uniform management of the User Environment is key and will result in happy administrators,- and users and lower Total Cost of Ownership (TCO). Delegation of control is essential in such a management solution.
Provide better and granular support of user and application preference. Never delete or restore complete user profiles.
It controls, facilitates and enforces user access to applications, file types, (removable) devices, network and data resources. Applications can be Windows based and web-architected. The Windows Applications can be installed, Virtualized or Remote Executed via server-hosted VDI or Remote Desktop Services (Terminal Services).
Based on user location, device and custom settings, access to applications, data, net-work resources, devices and preferences is dynamically facilitated and from a security perspective enforced. User centric computing gains context awareness.
It facilitates Resource Management to control and optimize usage of CPU, Memory resources with focus on applications and (Virtual) Desktops.
End-user is able to install applications on his (virtual) desktop even without Administrator Rights. User Installed applications with Dynamic Privileges, ideal for BYOD (Bring Your Own Device) and scenarios where dynamic application delivery in a static, - controlled desktop environment is needed.
It gives administrators and managers insights and reporting capabilities in Windows,- and Web applications, (virtual) desktop and license usage. It enforces license compliancy to various licensing models. Application licensing can be measured, tracked and enforced, or controlled, where needed.
Delivers detailed information on changes inside the User Environment Management environment that are needed as requirement for compliancy and certification standards such as Persona Information Acts (HIPAA), ISO 27001, SOX and NEN 7510

UEM Functionality
In a User Environment Management solution user personalization, applications and data need to be portable and context aware. The focus of UEM Solutions is the dynamic composition of the Users' Environment. The environment, or workspace, is dynamically composed where the solution handles:
User Personalization, Application and Desktop Management; Application settings and configuration preferences, User Personalization such as printer settings.
Application and Access Control, Security Management; enforce access to applications, persona and context aware.
Resource Management; Application performance optimization and management.
User Profile Management; Manage Windows User profiles; local, roaming, hybrid, mandatory.
License Management; insights, reporting and enforcing the use of licenses.
Application Delivery: User centric Application Installation with Dynamic Privileges, User Installed Applications.
Monitoring, Auditing and Reporting facilities on various levels with focus on the user environment.
User support; facilitating user support
This functionality needs to be independent of:
Operating System version (e.g. Windows XP, Windows 7, Windows Server 2008)
Processor architecture/platform (Intel 32,- and 64 bits)
Application Deployment (e.g. MSI, Application Virtualization, web-architected applications and Remote Delivery via VDI or Remote Desktop Services – and across any combination)
User Profile (e.g. local, mandatory, roaming)
Client Device (e.g. managed, un-managed)
User Context (e.g. online, offline, offsite, onsite scenario's using Laptops, Desktop, Remote Desktop Services and VDI solutions with trusted and untrusted devices).

UEM Solutions Overview
There are quite some vendors in the "User Environment Management space". The diagram below gives an overview of the focus of the various User Environment Management (UEM) software vendors. This diagram has nothing to do with the (possible) discussion which vendor provides the most and the best functionality and features. A complete overview of the features and functionality is available in the UEM Smackdown whitepaper – Feature Overview.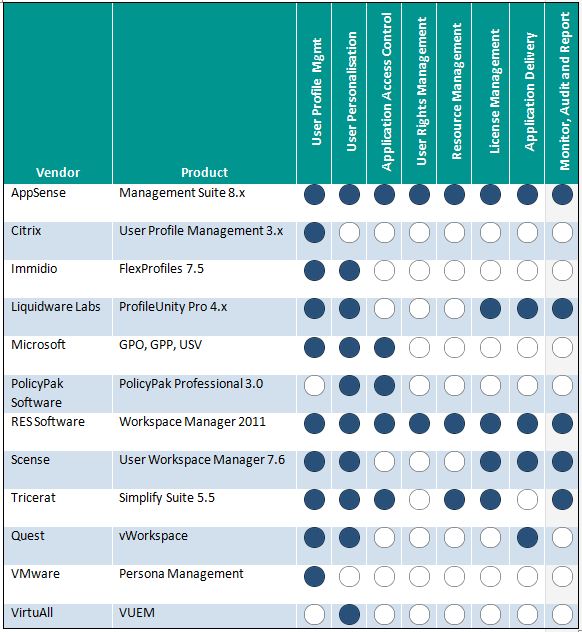 Get a head start! Download our complete, in-depth, and independent whitepaper "User Environment Management Smackdown: Head-to-head analysis of Appsense, Citrix, Immidio, Liquidware Labs, Microsoft, PolicyPak, Quest, RES, Scense, Tricerat, Unidesk and VUEM" (more than 100 pages). It's a lot of work to create this (free) whitepaper, please fill-in the contact information before downloading the whitepaper here. (thanks)
We did our best to be truthful, clear, complete and accurate in investigating and writing-down the different solutions. If you have any comments, corrections, or suggestions for improvements of this document, we want to hear from you. We appreciate your feedback. Follow Ruben on twitter or send him an email
Note from the author: I want to thank my fellow App-V MVP Aaron Parker (@stealthpuppy), various community members and PQR colleagues for their effort and support in reviewing this whitepaper!