Elliott cost cutting just cut one of the most innovative groups in Citrix
Last week while everyone (myself included) was focusing on Citrix Summit 2016, the company quietly laid off their enter Sydney-based Citrix Labs group. The team in Syndey was made up of some very experienced people.
Last week while everyone (myself included) was focusing on Citrix Summit 2016, the company quietly laid off their enter Sydney-based Citrix Labs group.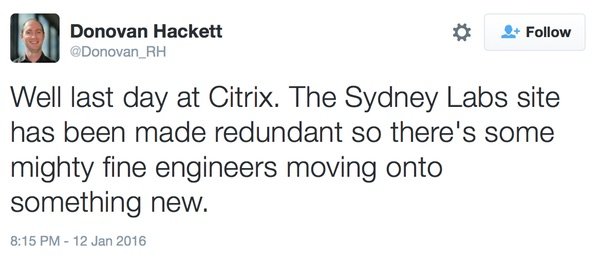 The team in Syndey was made up of some very experienced people. The core group had an average tenure of 15 years at Citrix and was responsible for over 30 patents. Here's a photo tweeted by Jeff Muir of his early days at Citrix. He first started at the company in 1993. Think about that. Ninety-freaking-three!!!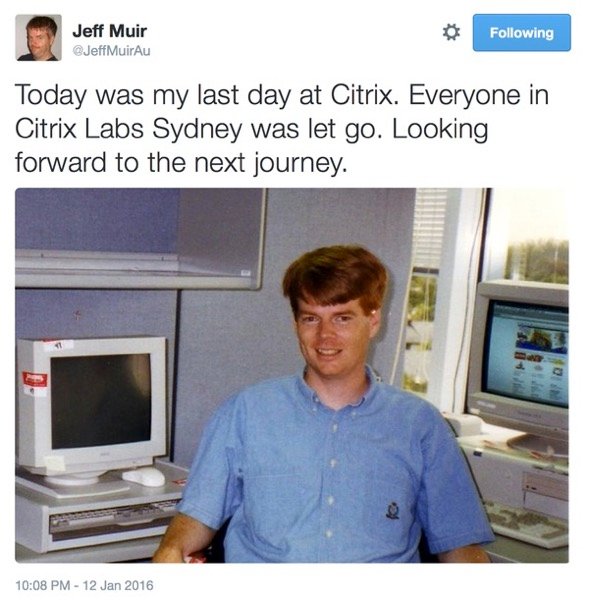 That group was lead by Martin Duursma, a guy who literally worked at the company longer than the company existed! (Martin was director of engineering at Datapac where he started in 1988. Datapac OEM'ed Citrix products and was behind the development of seamless windows, ultimately leading Citrix to acquire them in 1997.
In 2006, Martin wrote about the Australian Research Center: "The Centre, which employs 30 engineers, is considered to be the innovation engine of Citrix's product range. Its mission is to investigate technologies that are two to three years ahead of the current engineering cycle. This entails but is not limited to the investigation and examination of emerging concepts and technologies and also involves monitoring and providing input into industry standards bodies. The Centre's mission is to develop the sophistication and value of Citrix's product range and, in turn, deliver an enhanced experience for our customers."
I spoke to several (now former?) members of the group. One of them wrote, "The key mandate of Citrix Labs was to focus on innovation. I am grateful to the other teams in Citrix Dev engineering that over the years gave us the freedom to pursue this focus. We could not have achieved our past successes without their support. My respect for the engineers in Citrix remains paramount."
This team was responsible for so many innovations and advanced technologies that ultimately made their way into Citrix products, including:
Seamless windows
"Reverse" seamless windows
The original "Desktop Server" product (which ultimately became XenDesktop)
Application Isolation Environments (precursor to today's virtualized app products)
The Linux VDA (XenDesktop for Linux desktops)
Mobile SDK for Windows Apps
Most of the SpeedScreen technologies
Secure Gateway
Dynamic USB drive support
Many of the HDX mobility features
Clients for many platforms
Session recording (SmartAuditor / Project Iris)
Everyone I spoke to said they loved their time and Citrix and that it was a great company to work for. (Actually, literally everyone said that, almost word-for-word identically. It was kind of weird.) But when pressed, it's clear that this move was unexpected, that they feel this was a short-sighted cost-cutting measure, and that this never would have happened if Mark was still around.
As one of the laid-off members wrote, "This team is one of the core innovation engines in the company but has been let go due to a spreadsheet exercise in cost cutting—IMHO a most short sighted decision whose deep impact will become self evident."
The group's current projects will be transitioned to other teams within the company, including the team in Nanjing, China. (Which, by the way, has 10 software engineering positions posted if anyone wants to move and take a pay cut.)
Another person wrote, "So, if I understand this correctly, the Citrix message is something like, 'We are going to focus back on core.' And I'm thinking, 'Hey look, all these Australian blokes know the core better than anyone and actually invented parts of the core.' Now, I'm left scratching my head."
And another: "It's a company that hired the best software developers around the world in the past. This move to consolidate to major existing development geos is an interesting strategy and only time will tell how it works out."
Of course this doesn't mean that there's no more R&D at Citrix, as another person explained, "Let me add that Citrix still has many brilliant innovators in their major dev centers in the US, UK, and Bangalore . . . Many of these folks are my personal friends and past collaborators."
So while these 20-30 engineers are packing up their personal belongings last week, this was happening in Vegas: (Not to pick on Dane, but this photo is on the first page of Twitter results for the Citrix Summit 2016's hashtag, #CitrixPartnerLove. :)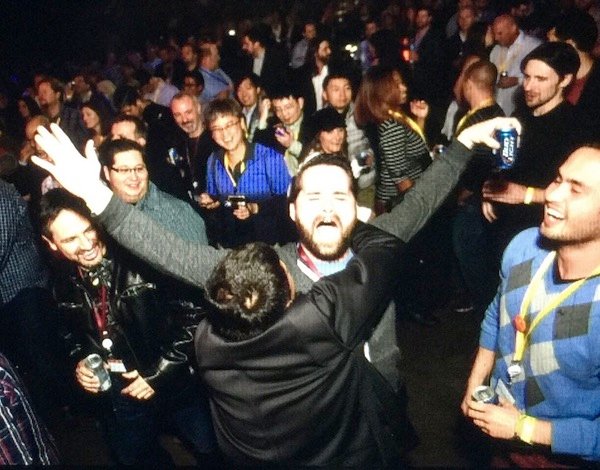 There's a saying about how someone else's pork is your just cause, so it's somewhat odd for me to support Citrix refocusing on their core (which will inevitably lead to cuts) while getting bent out of shape about 30 guys half a world away. But it really seems to me that the Sydney Citrix Labs team was a critical part of that core, and this doesn't seem like it was a good move.
On a slightly more positive now, there's now a crack team of innovators available in Sydney if someone wants to pick them up. Seriously, if I were VMware I'd hire the entire team. They can probably get a good deal on a sublease too. :)