Desktop Virtualization Year in Review: 2016 was anything but boring!
So much happened with regards to desktop virtualization in 2016 that we just had to get it all in one place!
This year I wanted to go through all of the desktop virtualization-related content on BrianMadden.com and highlight the important things that happened throughout the 2016. Jack already did this (although in a different way) with his "Curated list of our best Enterprise Mobility Articles and Resources," so if you're keen to check out what's gone on there, head over to that article.

Download this free guide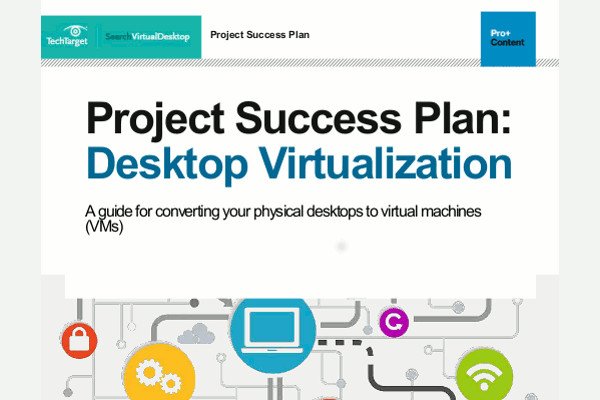 Demystifying desktop virtualization technology
In this guide we tackle some of the biggest head-scratchers facing VDI admins to help you get things straight. Save this PDF for tips and tricks for each phase of the virtual desktop migration process.
Here we go!
January
Brian–remember that guy? He was famous for predictions–wrote in My 2016 wishes and predictions article that he hoped Microsoft would finally fix Windows OS client licensing. He specifically said he wanted SPLA, and though we haven't seen that, we did Microsoft to officially announce that they will allow you to run Windows client OSes on Azure. Brian stopped short of making it a prediction because he didn't actually think it would happen, and in a way he was kind of right. Microsoft has yet to release this licensing change, though we expect it in January 2017. The next big question is whether or not it will be Azure-only…
In the same article, Brian also wrote that App Transformation was exciting and that he hoped Citrix and VMware would acquire on of the companies (back then there were a few more companies, but Star Mobile was acquired, Reddo Mobility shut down, and HopTo is barely keeping their head above water). PowWow and Capriza are left, and while I don't want to speculate about which company should buy PowWow (they're the only one that works with Win32 apps), I do think that it sort of completes both Citrix and VMware's "any device, any connection, any application" messaging.
Also in January, Citrix hired Kirill Tatarinov as their CEO. Tatarinov replaced Mark Templeton, the longtime Citrix CEO, and entered his role amidst some pretty radical streamlining. Some of this was expected, like cutting languishing or non-core products, while other changes were out of the blue. Citrix Labs, for example, was shut down in early January. If you're familiar with those guys, you'll know they were a talented group of geeks that came up with a lot of technology that Citrix making billions off of today. Hopefully 2016 has been good to them and they've all landed better jobs.
February
In early February, VMware announced Workspace One, Horizon Air Hybrid Mode, Horizon 7, and AppVolumes 3.0. The most notable release in that group is Horizon Air Hybrid Mode because it was VMware's answer to Citrix Workspace Cloud. Formerly Project Enzo, Hybrid Mode deviated a bit from CWC's focus and is intended as a cloud management plane for desktops delivered via vSAN-ready nodes and HCI appliances–basically Horizon Air. It does not work with on-premises, traditional VDI like Horizon View, though at VMworld we were told that a connector was in the works.
March
VMware adding their CWC competitor also introduced a bit a price war. Prior to the release of Hybrid Mode, Citrix could sell CWC for whatever price they came up with. Hybrid Mode entered the market priced at $18/user/month, while Citrix Workspace Cloud was $35. Shortly after Hybrid Mode was announced, Citrix reduced their pricing for CWC to $22.50/user/month, but it's worth mentioning that when you do the comparison it's still cheaper to buy XenDesktop Enterprise by about $12.50/user/month.
One of the first big changes to happen after Kirill Tatarinov was hired as Citrix CEO was the rather silent shutting down of Citrix Melio and the WorkspacePOD products. Even when Citrix acquired Sanbolic in early 2015 many people around the industry breathed a collective "Why?" Sanbolic was well known among PVS users, but that hardly seems like a reason to acquire them. It appeared to more of a knee-jerk reaction to VMware releasing vSAN and EVO:RACK than anything else. Shutting down both products was anything but surprising.
LANDESK moved into the EUC world by acquiring AppSense. Though we kind of knew AppSense was up for sale, LANDESK wasn't really on our radar as a potential acquirer, but the move totally makes sense. It gives AppSense some much needed closure on the tumultous few years they had circa 2012, and it fills a gap in LANDESK's product line. This move is good for everyone involved, and we're looking forward to seeing how everything goes in the future.
The very last article I wrote in March was a reintroduction to the product that was formerly 2X Remote Application Server. 2X was acquired by Parallels in 2015, and since that time Parallels has put a lot of work into making it more of a mainstream product as opposed to the "#1 desktop virtualization platform that isn't VMware, Citrix, or vWorkspace…or Ericom, actually, too." I think they've done a good job, and while it's not going to steal any customers away from Citrix or VMware, it still has value to a number of companies. (I also caught up with connection broker Leostream later in the year to hear about their one-broker-for-all-your-protocols platform.)
April
LoginVSI demonstrated a set of tweaks implemented by the VMware OS Optimization Tool (which I love) that let's you squeeze 44% more Windows 10 desktops on to a VDI host. This isn't the kind of thing that normally makes it into these kinds of articles, but Windows 10 is large topic this year, and many are thinking about using it with VDI. Out of the box, you actually get a lower VM density than you do with Windows 7, so things like this make deploying Windows 10 via VDI much more palatable.
On April 14th, Dell ended development on vWorkspace, a move that makes me legitimately sad. vWorkspace occupied the number three spot in the desktop virtualization space, and while it would never catch up to Citrix and VMware, it was head-and-shoulders above the rest of the competition. The problem, and ultimately why Dell shut them down, was that Dell had more profitable relationships with Citrix and VMware, so they couldn't market vWorkspace in the way it deserved without pissing off Citrix and VMware. Add to that the impending acquisition of EMC (and therefore a portion of VMware) and there were just too many plates spinning to maintain vWorkspace.
(Oddly enough, Dell eventually spun off Dell Software, but vWorkspace was already mothballed. It won't be returning.)
May
Citrix Synergy was the coming out party for Kirill Tatarinov, and overall their messaging was pretty aggressive. They attacked VMware (somewhat shadily), which Brian argued was needed because Citrix had sat silently for so long while VMware not only stole the buzz but also closed the gap. You can read our live blog of the keynote, or listen to our post-keynote podcast if you care to reminisce.
In terms of announcements at Synergy, this is where we finally caught wind that Microsoft would allow the use of Windows 10 Enterprise in the public cloud. Brad Anderson announced it on stage, and though we still have seen it yet, I've heard the change will be released in January. We also learned that Citrix is working on XenDesktop desktops delivered from Azure, and that Citrix is working more closely with Microsoft on EMS, Intune, and XenMobile than ever before.
June
On June 29th, Brian Madden, the so-called "idiot with a blog," "presentation princess," "muckraker," and "gossipy bitch," announced that he was leaving TechTarget and the blog that he created way back in 2004. The middle of a year-in-review article is hardly the place to pay tribute to a guy that has been there for me the majority of my career, but I can say it isn't the same here without him. Fortunately, we continue to work together on our side project, The Mission Pinball Framework, where (so far) the above, uh, accolades have yet to appear.
July
We floored our 20th and final BriForum conference, after which Brian was officially unofficially "retired." It was a fantastic show, and I'll never forget the standing ovation at the end and the shouts from the attendees to "Don't let this end." We will NOT let it end, and we'll have more information on what's happening in 2017 in the next few weeks.
Jack interviewed Brian in a podcast about VDI, EUC, and Brian's career.
August
I speculated in early August that Microsoft would be doing away with Azure RemoteApp, and as it turns out, they did! (Hey, when you get the prediction right, you've gotta call attention to it. When you get them wrong, everyone else calls attention to it!) Of course, I speculated that Microsoft would replace it with a full-on DaaS platform, but instead they farmed out the entire operation to Citrix, who announced at the same time that they'd be hosting XenApp and XenDesktop from the cloud as well as an Azure RemoteApp replacement called XenApp Essentials Service.
This isn't huge news, but it's a soapbox issue for me so it's going into this article. I wrote about how the demise of Windows is much slower than we're often led to believe, and that in 2015 more Windows machines were sold than in 2005. I suspect there will be jobs that have "Windows management" in their description for many years to come because we have so many apps out there that require Windows. We may get to a point in the next 5-10 years where we don't run Windows on every desktop, but as long as we have Windows apps, we'll need Windows.
At the tail end of August was VMworld, and Jack and I learned a lot about VMware's partnership with Tanium and how that fit into the strong messaging around Unified Endpoint Management. VMware is at the forefront of UEM (yeah, I know we already have a UEM), but others are quickly coming on board, especially MobileIron. Of course, the gap between what we can do with MDM management and more traditional PC management is significant, so don't expect this to sweep the world soon. Still, in the next few years, I expect to see a lot of growth here.
September
At VMworld, we also learned about VMware's Cross Cloud Architecture, which aims to let you run any VMware-oriented workload on any cloud. This is awesome because flexibility and lock-in are two dings against the VMware platform. Still, there was some confusion around the messaging as it related to desktop virtualization (namely, when they say you can run a VMware-based "application" in the any cloud, what does that mean?). The answer, as explained in this article, is that we're not talking about desktop workloads, but the infrastructure that supports VDI and Airwatch and all the other things we care about can run anywhere.
October
Jack and I kicked off a new event series called BrianMadden.com After Hours. Instead of doing events at hotels, we decided to change things up and do evening events with beers and food. We've done two of them now, and they have gone really well. It's fun to get together with people in an informal setting. We'll be doing several next year, so stay tuned to events.techtarget.com for more information.
At Microsoft Ignite (which technically happened in September but I wrote the article in October), Microsoft announced Azure-based, GPU-enabled VMs based on NVIDIA's Tesla line of cards. This is their first foray into cloud-based GPU desktops, and it promises to be a popular product since it removes the complexity around using NVIDIA GPUs. Your subscription cost removes the need to worry about building the hardware and managing the relatively complex NVIDIA licensing.
VMware followed through on their Cross Cloud Architecture by announcing a partnership with AWS at VMworld Europe. The service, called VMware Cloud on AWS, will eventually debut in mid-2017 and will allow you to run VMware-based workloads natively on the AWS cloud with full VM compatibility. Essentially, AWS is now VMware's go-to partner for all things public cloud.
Jack took a look at what Tanium has to offer in an effort to help understand all that goes in behind VMware's TrustPoint. VMware OEM'd their software and is using it as a security add-on, something that will be increasingly important if/when we move away from domain-based resources. TrustPoint plugs in nicely to Unified Endpoint Management, and could be one of they keys to bridging the gap between UEM and traditional PC management.
November
We didn't get much in the way of big announcements in November, but I did take some time to examine the state of the DaaS industry. In two parts, I talked about the challenges of DaaS today and how the use cases and technology matured. As it turned out, this series set us up nicely for December, when there was some more activity around DaaS.
December
In early December, Workspot announced that they were getting into the DaaS space with their DaaS 2.0 product. Based on Azure, Workspot aims to hide some of the Azureness of hosting your own desktops while letting you manage both on-premises and cloud-based desktops from the same management console. They're even planning on helping with some management tasks that most other DaaS providers don't do. In general, we like Workspot's platform because of the desktop virtualization and the secure mobile environment that they provide. We even awarded them the Best of VMworld Award for Desktop Virtualization and Enterprise Mobility.
DaaS was big for us in December. I caught up with dinCloud to learn what they've been up to. We talked a lot when Brian and I wrote our 2014 book Desktops as a Service, so it was cool to find out how they were doing and what kind of use cases they were seeing. As it turns out, there has been steady growth in adoption, but many of the technical challenges remain. The good news is that fewer people are resistant to the cloud, so once the questions around the non-desktop infrastructure are answered, DaaS adoption could start to pick up steam.
We also met another DaaS provider called Nerdio that is offering fully-managed IT as a service. DaaS is at the center, but they're really selling a fully automated IaaS platform that includes desktops, security, application servers, file storage, AD, and more. Like I said, December was a big month for DaaS!
So that catches us up to today, and barring any earth-shattering announcements this week, this should be a relatively complete list. We'll have more thoughts on what to look for in 2017 soon, but as you can see there are a lot of things to build on as we move forward.