Could ThinApp Factory enable Bring Your Own (Thin)Apps?
A few weeks ago, Jeroen van de Kamp posted about a Login Consultants solution they've called BYOApp.
A few weeks ago (last week maybe? They all run together…), Jeroen van de Kamp posted about a Login Consultants solution they've called BYOApp. BYOApp is a solution that allows for automatic sequencing of applications as a sort of User Installed Applications solution. The benefit of BYOApp is that the applications run in an isolated environment rather than being physically installed on a device.
That got me thinking about VMware's ThinApp Factory, which they announced at VMworld earlier this month. ThinApp Factory is basically a virtual appliance that, when pointed to a software installer or repository full of installers, will automatically package the apps and integrate them into VMware Horizon (don't call it an App Store, unless you want to accurately describe it). ThinApp Factory keeps track of the applications in a centralized location, which makes updating, patching, provisioning (and de-provisioning), and customizing them a lot easier than if they were installed here and there around the organization. (Check out Sven Huisman's VMware ThinApp Factory, Technical Preview for a good writeup with screenshots)
Currently, the "user" of ThinApp Factory is the admin, but it seems to me that with a few tweaks to the workflow, ThinApp Factory could be used to enable Bring Your Own Applications (I didn't want to use the name BYOApp, since that's Login's name. I'll use BYOA to refer to the trend now). We've all seen the intricacies of User Installed Apps, and how even the best implementations aren't perfect. Most of them require a virtual environment and complex layering, and while we should continue reaching for the stars, the fact remains that not THAT many organizations want to let their people bring all their own stuff in, even if they leave management of those apps up to the user.
BYOA could allow users to bring their apps to IT in an automated, centrally controlled way (although I picture a line of users outside the IT manager's office, each holding a software package that they want to add to the company).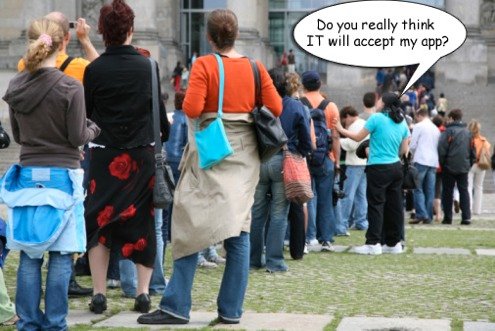 If a user has an application that they need to do their job, but isn't corporate-owned, something like ThinApp Factory could really come in handy. It could package and catalog the app, making sure only that user had access to it. It could maintain, tweak, and provision the app. Through Horizon and Horizon Mobile, it cold even deliver the application to any device the user needed to access it from. All the user would have to do is bring the app to IT.
Sure, that could mean 20 different Goldmine packages (is that still around?) if there were many users in the organization that used it, but IT doesn't have to own or maintain those licenses if it makes each package specific to a specific user. It adds some complexity to the backend, but perhaps not as much as a full-on User Installed Apps solution would. Even so, the tradeoff could net more manageability, so it might be worthwhile there, too.
With Login's BYOApp supporting App-V, and some tweaks to ThinApp Factory that put the power in the users' hands, maybe we're on to a trend here. Perhaps UIA isn't the answer, as long as we can still manage the applications (and offer the ability to deliver them ANYWHERE). If BYOC can work…maybe BYOA can, too.