Cool vendor demos and conversations from the VMworld 2009 exhibit hall
Yesterday I wrote about my thoughts of VMware at VMworld. Today I want to write about the other vendors who were there.
Yesterday I wrote about my thoughts of VMware at VMworld. Today I want to write about the other vendors who were there. Like previous VMworlds, there were a crazy amount (>100) of companies exhibiting. Luckily not all of them are involved in the desktop space, so I only had to (err, had the privilege to) talk to about 30 companies.
Since VMworld is one of the later conferences in the year I decided to focus on my time vendors who had specific new things to discuss. So my summary here is not of every desktop vendor from VMworld but rather those who I spoke with who (1) had stuff worth writing about and (2) I haven't written about yet.
So let's jump right in, in alphabetical order:
AMD
AMD had a huge booth. There wasn't anything earth-shattering in the desktop space, although my friends there kept on talking about something huge that I would love that they'll brief me on soon. (I still don't know what it is, though.) That aside, AMD did show GPU and I/O pass-through support for ESX 4 as well as had some servers running their 12-core "Magny-Cours" CPUs (due out next year).
Citrix & Microsoft
By now everyone's aware of the fact that VMware limited "non-partners" to 10x10 booths which had the practical effect of preventing Citrix and Microsoft from having any meaningful presence at the show. VMware also prevented non-partners from demoing products that were competitive to any VMware product. And finally, they specified that if any exhibitor had a demo in their booth, attendees watching the must be completely contained within the booth boundaries. (i.e. No attendees spilling out into the aisle.) So even if Citrix or Microsoft wanted to have booth demos, they would only be able to show about four people at once.
So whatever. No real presence from competitors like Citrix and Microsoft. Fine. But wait! What's this? Red Hat has a gigantic booth?!?! Isn't their KVM hypervisor a direct competitor to ESX? And isn't their enterprise desktop solution a direct competitor to VMware View?
I asked some VMware folks about this, and they said it was more about partnerships. Only VMware partners can buy big booths, and Microsoft and Citrix are not partners. Okay, that seems fair too. Except Red Hat isn't a partner either. So there's definitely some shady shenanigans going on here.
This shouldn't be an issue next year though. When asked about the anti-competitive behavior towards Citrix and Microsoft, VMware's COO made it very clear, saying (paraphrased) "I think there's been some misconceptions about this. VMworld is not an industry show, it's a VMware customer show. And as such we don't want our competitors coming in and stealing our customers." That's certainly fair, and I'm glad to hear it. Of course that's not at all how VMworld has been positioned in the past. (Certainly that's not how Diane envisioned the event.) In any way, you can bet that there won't be any confusion about VMworld next year.
NetApp
NetApp was the only vendor with a presentation at BriForum who stepped up to my challenge to them to make their entire BriForum presentation with no PowerPoint. And true to my word, I wore a custom shirt with the NetApp logo on it at VMware. Here I am in the NetApp booth with Mike Slisinger, the guy who actually did the PowerPointless presentation at BriForum: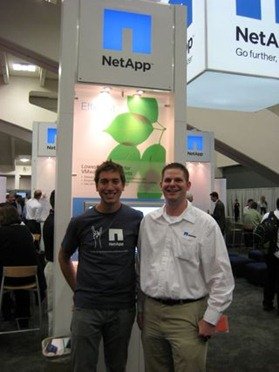 It's funny because Mike told me that he wasn't aware of my challenge. Instead one of his marketing people called him a few days before the show and said, "Umm.. yeah, so how would you feel about no PowerPoint for your super technical presentation to a tough crowd in three days?"
It actually turned out to be a pretty great presentation and it was cool to wear their shirt. (Although a lot of people thought that maybe I was working for NetApp, or they thought the drawing of the hand with the "rock on" gesture was actually some alternate version of me flipping NetApp the bird.)
RES Software
RES Software is one of these user environment management companies that just keeps plugging along, year after year. There's nothing sexy about what they do, but they're used all over the world, especially now that people are starting to combine TS and VDI environments. We talked about some cool things that they've got coming up, but I left my notes at the office, so I'll have to update this space tomorrow. ;)
10ZiG
Yeah, seriously, that's their name. 10ZiG is the new name of the thin client maker formerly known as BASaNOVA. Can you imagine how that boardroom meeting went?
Grey Suit #1: "Guys? I got it.. I got it! Ready? ..... 10ZiG!"
Grey Suit #2: Tenzig?
Grey Suit #1: "No, 10ZiG. That way we can keep the weird capitalization."
Gray Suit #2: [cracking a smile] "Bob you brilliant S.O.B.! You've done it again! Huzzah!"
Teradici
We covered Teradici in last week's Brian Madden TV, so watch the show for the details and demos. Needless to say it was a big show for them. Software PC-over-IP. Wyse making client devices. Samsung making client devices. New optimizations for the WAN. Good stuff! I'm really excited about VMware's software PC-over-IP. I think it's going to be pretty great.
3PAR
3PAR is a storage company that I never heard of before VMworld. I kind of get the sense that they're like a NetApp, except their whole thing is that the system handles the hard work for you. So you just sort of combine all the storage hardware you have and turn some dials as to how well you want your volumes to perform and how redundant you want them to be, and they take care of all the rest. So figuring out RAID, what data is on which physical spindles, where each volume needs to be physically relative to the speed—it's all worked out automatically.
I think these folks have potential to let our desktops be the second class citizens that we want them to be... Cool stuff that I'll definitely be learning more about.
Tranxition
Another new company (to me anyway), Tranxition has been in the business of migrating users from one platform to another for years. Now they're playing in the profile / user environment management space, with the specific difference being that they'll map settings back-and-forth between OS versions and app versions. So you can have a user who logs into Windows 7 with Office 2010 sometimes and Windows XP with Office 2003 other times and Tranxition will make sure the settings are recorded and restored to their proper locations.
I don't see this ever growing outside of this niche, because if you don't need this specific capability then you'd probably go for one of the more mainstream profile management vendors. But if simultaneous multi-version or multi-platform is your challenge, then these are the folks to address it.
Virtual Storm
Virtual Storm gets the award for the most confusing product / company name. I ~think~ I figured out that Virtual Storm is the product name created by a company called DinamiQs. (Seriously, what's with these names people?) They're distributed in the US by a third company, and they were at VMworld in the booth of a fourth company, GreenPages, which is a consulting company that supposedly has expertise on their products.
Phew! So what is Virtual Storm? It took me an hour to get to the bottom of what they actually do, but when you get their PR woman out of the way and boil of the BS, you get a few interesting pieces of IP.
First, they have written a replacement manager for the Windows page file that really changes how the page file is stored on disk and helps make it cacheable when multiple VMs are running on the same system at the same time. So in their environment, they built Windows XP VMs with only 384mb of RAM that performed well. (The "catch" was that they each had a 1gb page file that was stored on a SAN with 128gb of cache.) Their booth demo showed something like 90 VMs running on a single blade, but most of the VMs were idle so that wasn't necessarily a suggestion of how awesome their stuff was.
Second, VirtualStorm licensed Symantec's app virtualization technology (previously called SVS but now called Workspace Virtualization). Then they created a way to have one sort of super-volume that contains all your packages for your whole enterprise that's shared by all your VMs. So you individual VMs can be tiny (like 1gb) and they all share this same volume (not quite a mount, more like a UNIX hard link) so the apps are available to the VM. (And each layer can be enabled or disabled as needed.) To get the VM image down to a single gigabyte, they even stripped all of the essential elements of Windows out into their own SVS layer. Nice. Then they put this huge repository with all the apps the enterprise needs on SSD disks that are shared by everyone. Also nice.
Honestly these guys might be onto something brilliant, but there was so much marketing in the way at the show that it was hard to break through. Definitely on my list to investigate more though.
Wyse
I have a new mini crush on this company. I mean Wyse just had so much cool stuff at VMworld. They were showing the C-class terminals that are tiny and cheap with the dedicated streaming media processors. They had the new P-class devices which include the hardware PC-over-IP chips. They had their PocketCloud RDP / VMware View iPhone client. They introduced us to a new thing called Project Borg which has something to do with them taking over the world, one legacy PC at a time. (Seriously, Borg turns a PC into a Wyse managed thin client.) Oh, and they also had VDA, that software for extending RDP and ICA over long-haul WAN links.
So yeah, really cool stuff. (I think there's a joke in here somewhere. Like "How do you make a thin client company sexy?" "Get them to stop focusing on thin clients!" :)
But damn they're hot.
Vendors who were there that we've covered in the past
There were dozens of other exhibitors at VMworld that I didn't mention here since we'd written about them recently, included them on Brian Madden TV, or they recorded videos from the DEMO Lab at BriForum. So the following vendors were present too. Search for them in the upper right corner search box of BrianMadden.com for details.
Atlantis Computing
AppSense
Chip PC
Computer Labs International
Expand
InstallFree
KACE
Lakeside Software
Leostream
Liquidware Labs
NComputing
Neocleus
Pano Logic
Quest Software
RingCube
Riverbed
RTO Software
Scapa Technologies
Symantec
ThinPrint
triCerat
UniPrint
Virtual Computer
Wanova