Confirmed: VMware will introduce a new "vSphere Desktop" license for vSphere 5. Should you use it?
As you know, on Tuesday VMware announced the details of vSphere 5, complete with a new license model.
As you know, on Tuesday VMware announced the details of vSphere 5, complete with a new license model. Yesterday we shared our full analysis of what the new licensing meant for VDI users, with the general feeling that vSphere 5 would be much more expensive than previous versions. In fact vSphere 5 looked like it would be so expensive for VDI that we wondered whether they would release a special lower-priced license for that use case.
And in fact they did! After we published the story yesterday, VMware announced that they would create a specially-priced version of vSphere that you can use to host VDI desktops. Called "vSphere Desktop," this package will be functionality identical to vSphere, but you'll only be allowed to use it to run VMs running desktop OSes.
Unlike regular vSphere 5 licenses which are based on the total number of physical processors and allocated memory across your entire vSphere environment, the VMware Desktop license is much, much simpler: You pay $6500 per 100 concurrent desktops running on your vSphere. You can have as many processors, cores, memory, and physical servers as you want.
So this got a lot of people thinking. Is this new vSphere Desktop actually going to be cheaper than running your desktop VMs on vSphere with regular licenses? That's what I decided to find out.
Before we get into the analysis, let's first take a look at a few important aspects of vSphere Desktop.
First, VMware has always bundled something like vSphere Desktop into their VMware View product. (In other words, if you buy 100 seats of VMware View, you're allowed to use vSphere for those 100 View seats.) So technically you could say that this vSphere Desktop license isn't new, but what's new is that you can buy it standalone outside of View. This is important for customers who use other VDI products (like Citrix XenDesktop or Quest vWorkspace) who prefer to use vSphere for the hypervisor instead of XenServer or Hyper-V. It also means that this whole conversation about "Is vSphere Desktop worth it?" does NOT apply to VMware View customers.
Second, this new vSphere Desktop standalone license is for new licenses only. If you have existing vSphere 4 Standard, Enterprise, or Enterprise Plus processor licenses, you can only upgrade them to the equivalent regular vSphere 5 license. You can NOT convert them to vSphere Desktop licenses. (Again, this doesn't apply to View customers since they have existing vSphere Desktop licenses.)
Finally, remember from yesterday that the vSphere Desktop product has the same functionality of vSphere Enterprise Plus (the highest edition). So instead of saying you're buying vSphere Desktop, you could say that you get a special price of $6500 per 100 VMs for vSphere 5 Enterprise Plus as long as your VMs run desktop OSes.
So now that you understand the basics, let's dig into the data. Yesterday I published an Excel-based cost calculator that you can use to calculate the vSphere pricing for various VDI scenarios. I used it to look at pricing for VDI desktops running with 1GB, 1.5GB, and 2GB of memory each.
VDI desktops with 1GB of memory each
The chart below shows four different scenarios based on different combinations of users and total processors in your VDI environment. In this particular chart, every scenario is based on the desktop VMs each having 1GB of RAM. The "Total vSphere" section of the chart shows the overall vSphere license cost for that particular scenario, and the "Per desktop" price shows the vSphere licensing costs per desktop.
With 1GB of RAM per desktop VM, we see that vSphere 5 is more expensive across the board.
This chart shows a few different scenarios all with 1GB of RAM. We can see that if you're using the Standard Edition of vSphere, moving from 4 to 5 is going to be more expensive no matter how you slice it. But if you want to use the Enterprise or Enterprise Plus edition of vSphere, it looks like you'd be better off just going for the Desktop edition.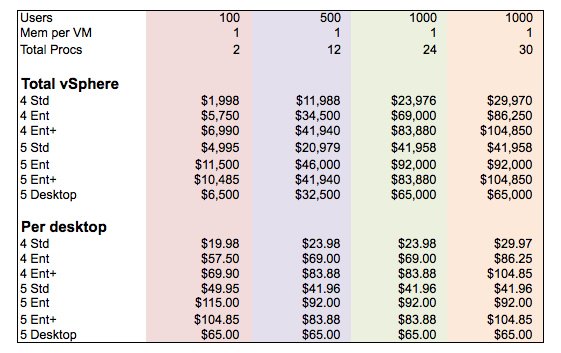 VDI desktops with 1.5GB of memory each
Now let's move up to 1.5GB of memory per desktop VM. Since vSphere 5 licensing is so heavily memory-based, adding 50% more memory per desktop versus the previous chart means that even the vSphere 5 Standard edition pricing is just about on-par with the desktop pricing. So if you're in this scenario, you might as well buy the vSphere Desktop so you can get the Enterprise Plus features and the predictable pricing.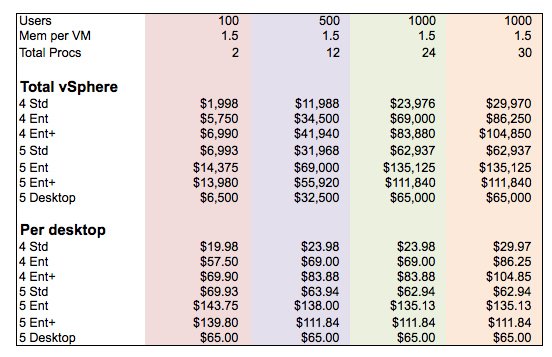 VDI desktops with 2GB of memory each
Once we get up to 2GB (or more) of RAM per desktop VM, we see that no matter how you slice it, you're better off just buying the vSphere Desktop.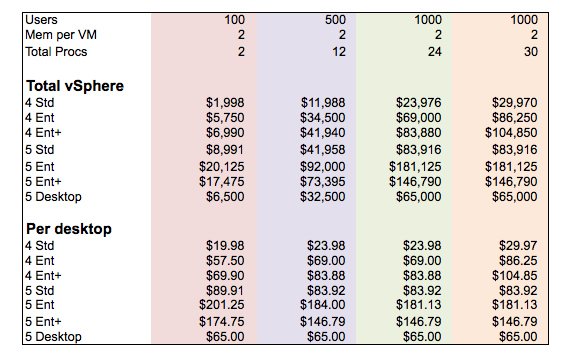 So it comes down to memory. If you have extra small desktop VMs (1GB RAM each) and you want to use the Standard Edition of vSphere, you might get away with buying the regular Standard Edition. But for every other scenario, it looks like vSphere Desktop is the way to go.
Therefore I feel pretty good making my official recommendation, "Yes, if you want to run your non-View VDI product on vSphere, you should buy the vSphere Desktop edition."
What about existing customers?
It appears that existing VDI customers might not be so happy. Remember that the vSphere Desktop license is only available for new licenses purchased. (I'll bet you're glad you didn't rush to VDI now, eh?) If you have existing vSphere licenses, you can only convert them to the equivalent regular vSphere license. This might be a problem, though, because the old licenses were just based on processor while the new licenses are based on processor and memory.
For example, imagine you have a dual-processor server with 192GB RAM to serve 100 VDI sessions. In vSphere 4, you needed two processor licenses. But in vSphere 5, you also need to ensure that you have enough licenses to entitle you to use all that memory. So even if you bought the Enterprise Plus licenses which give you rights to 48GB RAM each, you need four of those now instead of two. In other words, your cost would double.
In this case it would be much cheaper to move to the vSphere Desktop, but of course you can't do that. Soo...????
The bottom line
The vSphere Desktop license is great, and it will certainly be cheaper in almost every case for desktops versus buying the traditional vSphere licenses. But I can't figure out VMware's decision to prevent upgrades? Maybe it's because they don't have an easy model? (How to you translate processors to memory?)
I guess any customers who actually bought vSphere for their XenDesktop environment can just use their existing desktop vSphere licenses to offset some of the cost increase of moving the rest of their VMs to vSphere 5. Then they can buy new vSphere Desktop licenses for their VDI environment. :)