Citrix's product line as of 2009 (Now with cool, colorful, historical chart!)
As we reach the end of 2009, I wanted to take a look at the Citrix product landscape as it sits today.
As we reach the end of 2009, I wanted to take a look at the Citrix product landscape as it sits today. We receive many requests to outline what Citrix is up to, as well as for some sort of correlation between the current product names and their historical names. In June of 2007, we published our first rundown, which also explained the many internal Citrix product groups and the products they are responsible for. Those internal groups have gotten even more confusing as time has gone by (and therefore less useful to us as consumers), so in Spring, 2008, we published an article detailing Citrix's products and external product groups as the were re-aligned after the XenSource acquisition's dust had settled.
Eighteen months later, a look at the landscape shows that things haven't changed as drastically, but are different enough to warrant another look into Citrix's product line up. This time, however, we've also put together a chart that shows the lineage of all the current Citrix products, which currently takes us back to the release of MetaFrame 1.0 in 1998.
Product Groups
Citrix has divided their products into two groups: Citrix Delivery Center and Collaboration Products. The Citrix Delivery Center group contains most of the stuff that we deal with every day, while the Collaboration Products group contains what used to be Citrix Online Services.
Citrix Delivery Center
The Citrix Delivery Center group is broken down into three sub-groups: Desktop Products, Network Products, and Server Products. Let's take a look at the products under each group.
Desktop Products
XenDesktop (Desktop Virtualization, including Citrix Provisioning Server and XenApp. Flagship product)

XenApp (Application Virtualization, Server-Based Computing)

Citrix Receiver & Citrix Dazzle (Client-side desktop and application access software)
Server Products
XenServer (Free Type 1 Hypervisor based on open source Xen hypervisor)

Essentials for XenServer (Advanced, enterprise-oriented management utilities for XenServer)

Essentials for Hyper-V (Advanced, enterprise-oriented management utilities for Microsoft's Hyper-V hypervisor)
Network Products
Access Gateway (SSL VPN, tightly integrated with Citrix solutions for secure application and desktop access)

NetScaler (Web-based application optimization. Outside the scope of what most of us do)

Branch Repeater (WAN optimization and service extension for branch offices)
Collaboration Group
The collaboration group consists of all of Citrix's online products, including the things you see commercials for on TV now. Because of the ads, many non-IT people come up to me now and say "Isn't that 'Go To-something' what you do?" Until today, the easiest thing to do is say "Yes." Now you can just hand them this article!
GoToMeeting

GoToWebinar
HiDef Conferencing
GoToMyPC
GoToAssist
GoView
Product Editions
Once upon a time, the product editions were simple - you either had Enterprise, Advanced, and Standard. Then, Citrix introduced Platinum and got rid of Advanced. Now, some products have Standard, and some have another low-end edition. It's like going to the movies...extra large, large, and medium sodas. I'll spare the Seinfeld routine, but it ends with lots of head shaking.
So, what we need to do is take a look at each product and see how its editions break down (links go to the product edition breakdown for each product):
Platinum

- fully-loaded version, Platinum contains every XenDesktop feature that's offered, including all the features of XenApp Platinum and XenClient when it comes out.


Enterprise

- everything Platinum has except Edgesight monitoring, single sign-on, Advanced Access Control, SmartAuditor, and IntelliCache. XenApp features are that of XenApp Enterprise, not XenApp Platinum.


VDI

- consists of only core XenDesktop features, provisioning services, and profile management. No XenApp or XenClient features will be available.

Platinum

- fully-loaded version, contains all features of XenApp


Enterprise

- contains most of the Platinum features, except Server Image Managment, WAN optimzation, some security features, and some infrastructure features (see feature matrix for complete list)


Advanced

- contains most of the Enterprise features, except Unix application support, profile management, load testing, CPU and memory optimzation, and server monitoring/alerts


Fundamentals

- Only the most basic features, but usually adequate for SMB's. Lacks many important features like app streaming and isolation, profile management, and monitoring
Standard

- Simple SSL VPN appliance that can replace Citrix Secure Gateway software SSL gateway and give you access to your entire network


Advanced

- Adds many features including tight integration with XenApp so that applications can be provisioned based on policies

Enterprise

- This thing does pretty much anything, and competes directly with the other SSL VPN solutions on the market today. If you're a server person getting this, your network team would like a word with you.
Citrix Branch Repeater

- Formerly the Citrix WANScaler hardware appliance, this device is used to shape traffic between two locations connected via a WAN or Internet VPN connection


Citrix Repeater Plug-in

- The software version of the WANScaler hardware appliance, this is installed on remote client devices such as traveling users with direct connections to the internet


Citrix Branch Repeater

with Windows Server - Same as Branch Repeater, but built on Windows. Allows you to host Windows services at branch locations, such as AD, DNS, DHCP, etc...

NetScaler comes in three editions; Platinum, Enterprise, and Standard; as well as a virtual appliance (NetScaler VPX), but since it's mostly out of the scope of desktop and application virtualization, I'll just refer you to the feature comparison.
XenServer

- XenServer is a free Type-1 hypervisor with basic management tools and functionality

Essentials for XenServer, Platinum Edition

- Contains all features of Essentials for XenServer, built on the free XenServer package


Essentials for XenServer, Enterprise Edition

- Contains most of the features of Platinum, except dynamic provisioning of physical machines, automated lab management, and stage management
Citrix Product Lineage
Here's the colorful, bar-graphical representation of Citrix's current product line. I left off products that are now (or will be) exclusively bundled, such as Citrix Provisioning Server, and products that no longer exist (like WinFrame). So, even though this only goes back to 1998, I'm fully aware that Citrix had WinFrame and MultiUser before then, going all the way back to 1989. I only have about 400 pixels width-wise, so I needed to cut some things :)
It was surprisingly hard to find some of the dates these things happened, especially the name changes, so I took a few guesses. If I'm way off, let me know, but I figure as long as I get the line in the right half of the year, I'm be happy. Click on the image for a much larger, easier to read one.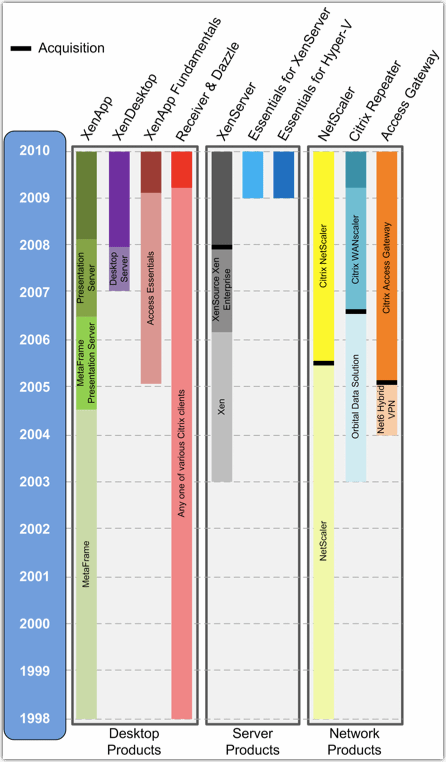 If you're feeling nostalgic or in the mood to laugh, check out Brian's article about the Net6 acquisition, hilariously entitled "Citrix Dives into Voice over IP Space, also Acquires SSL VPN," in which you'll find gems like this:
"While [an SSL VPN is] most likely what Citrix went shopping for initially, I think the VoIP and application transformation stuff has the greatest potential to shape Citrix's future."
and
"As I said, I think Net6's work in the IP Telephony space really shows how Citrix is thinking about the future. Citrix is making it clear that they view voice and data in the same way. To them, voice is just another part of the 'any' access."
It's all funny in hindsight (and it was Brian's suggestion to bring that up), but does anyone know if Citrix EasyCall has anything at all to do with the VOIP Gateway that they acquired from Net6?
Last, as I was writing this, it occurred to me that there's been a lot of changes from all the big vendors over the past year or two. With that in mind, I think it's time we did one of these for each of the big vendors in our space. In the future, look for product rundowns for VMware, Microsoft, Quest, and Symantec (that one will be fun).