Citrix silently shuts down Melio as part of ongoing restructuring
Mucking about in the nether-regions of twitter this week, I ran across a few tweets about how Citrix Melio has been shut down.
Mucking about in the nether-regions of twitter this week, I ran across a few tweets about how Citrix Melio has been shut down. Visiting Citrix's product lifecycle matrix shows that it was placed into the End of Sale state on January 15 of this year, with both End of Maintenance and End of Life happening on June 30, 2016.

Well that was fast.
The announcement came at Citrix Summit (which is an NDA event, but leaks happen when you have 2,000 people with twitter machines in their pockets), coincidentally almost a year to the day after Citrix announced that they'd acquired Sanbolic. Frankly, the writing was on the wall with this move, and it happened for what is likely a number of reasons. From the beginning, the acquisition itself was sort of strange. Citrix users liked Melio for a specific use case surrounding Provisioning Server, but there wasn't any other direct tie between the two companies.
As soon as the acquisition was announced, we started hearing about how Melio was one of the technologies behind WorkspacePOD, which was primarily a collaboration between Citrix and HP leveraging Moonshot hardware to create a converged appliance for desktop delivery (there was also a reference architecture for other vendors to create their own appliances). This never took off, and frankly it kind of felt like a halfhearted attempt to keep their name in the conversation with VMware's vSAN and EVO:RACK, both of which were generating a lot of buzz at the time.
Still, the hope was that Citrix would take the technology and grow it into something useful, not necessarily to compete with VMware (whose products go beyond supporting desktop virtualization), but to make storage optimization, management, and virtualization a part of the Citrix platform. Customers, faced with the prospect of having to immediately go out and find a third party solution, would have responded to that.
The final sentence for Melio was probably written in mid-2015 when Citrix started parting itself out at the behest of Elliott Management. In November, they specifically mentioned WorkspacePOD as a "non-core" product, and it (along with Podio and Startup Accelerator) would be "wound down" (not sold or spun off, just…gone). Since Melio is one of the underlying technologies in WorkspacePOD, it stands to reason that Melio wasn't far behind.
So what's a company to do?
Fortunately, there is no shortage of products in the storage virtualization space. Here's a slide I use when talking about it during our Modern End User Computing event series: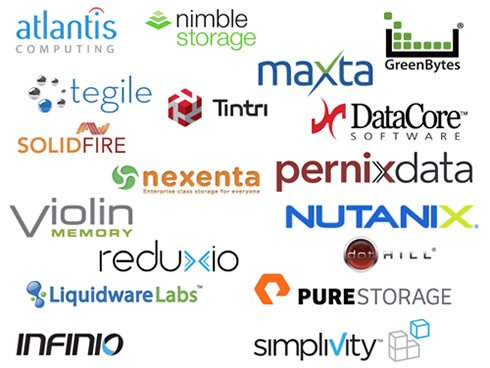 (I count 18, but I'm sure I left someone out)

No two of these vendors have identical approaches, even if the hardware they sell happens to be the same. The secret sauce in the software, and so there will likely never be a shortage of options for optimizing storage for desktop virtualization workloads. (I realize the irony of that, given the fact that three or four years ago this kind of thing was unthinkable.)
If you were a Melio customer, I feel bad that you have to go on a search for a new platform just a year after Citrix acquired Sanbolic. That said, I do think this is the right move for Citrix. Why divert resources to building/maintaining/selling a product that has so much competition outside of Citrix's core competency when those resources would be better off used to bolster core components like XenApp, XenDesktop, and XenServer. In fact, though Melio may be gone, some of the tech could find its way into these other products, and that's fine by me.