Citrix launches the Citrix Technology Professional program, their version of the Microsoft MVP
Better late than never, right? It's been years in the making, but last week Citrix officially launched the "Citrix Technology Professional" (CTP) program.
Better late than never, right? It's been years in the making, but last week Citrix officially launched the "Citrix Technology Professional" (CTP) program. In doing so, Citrix is formalizing their relationship with several technical people whose names are well known in the community. The purpose of this program is for the Citrix product groups to engage with the CTP members.
The inaugural group of CTP members includes:
Shawn Bass (USA)
Douglas Brown (USA)
Rick Dehlinger (USA)
Jeroen van de Kamp (The Netherlands)
Thomas Koetzing (Germany)
Rick Mack (Australia)
Brian Madden (USA)
Ron Oglesby (USA)
Jeff Pitsch (USA)
Bernhard Tritsch (Germany)
Stefan Vermeulen (The Netherlands)
Of the eleven CTPs, eight of us spent a few days last week at Citrix's headquarters in Ft. Lauderdale meeting with the product and support groups. (Three CTPs were not able to attend.)
Background
Let's face it. Citrix doesn't exactly have a stellar reputation when it comes to openness and engaging with the community. This is something that Ron Oglesby and I wrote about over two years ago after we attended our first Microsoft MVP conference. Frankly we were blown away by how open Microsoft was and by how closed Citrix was. We immediately called for Citrix to create their own MVP program. After several false starts with a program called the "CVP," Citrix officially killed it before it was ever launched.
Fast forward to our BriForum conference in Washington DC this past April. Having skipped the conference in 2005, Citrix was very keen to be involved in BriForum for 2006. Sumit Dhawan and Bill Caravano both gave presentations, and several other Citrix folks attended to get a pulse on the event and the community.
Not wanting to waste an opportunity, Citrix's Sumit Dhawan organized a private dinner between the various Citrix employees at the conference and several of the community leaders. In a nutshell, the purpose of the dinner was to open a dialog where Citrix could ask, "What do you, the community, need from us?" In return, we were able to ask the same question of Citrix.
We had a great dinner and hung out for several hours, and everyone agreed that we needed to continue the conversation. We decided to meet in Ft. Lauderdale at some point in the future, and that lead to our meetings last week.
Here's a shot of the CTPs who attended. From Left to Right they are Rick Mack, Brian Madden, Jeroen van de Kamp, Rick Dehlinger, Ron Oglesby, Jeff Pitsch, Douglas Brown, and Shawn Bass. (Rick D. has posted many more photos of the event to Flickr if you want to check them out.)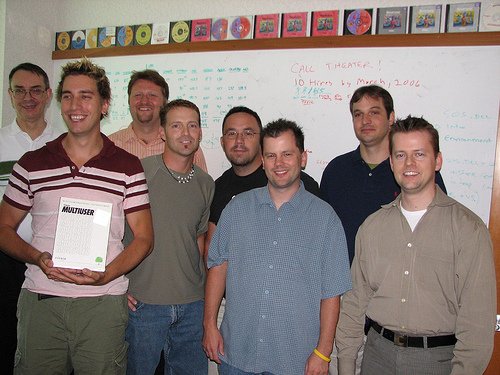 The box I'm holding in my hand is a genuine copy of "Citrix Multiuser"—Citrix's first official shipping product.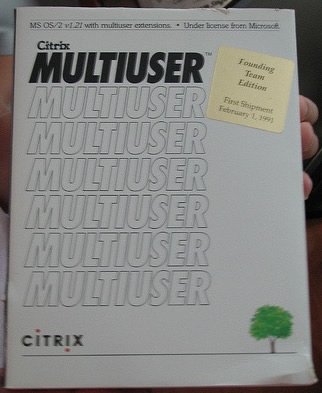 It shipped on February 1, 1991. It was a multiuser edition of Microsoft OS/2 v1.21. (This was back when Microsoft and IBM were still working together on OS/2, and Citrix licensed the OS/2 code from Microsoft.) This product was all text-based, and like WinFrame, it was a complete install of OS/2 along with the multi-user extensions.
Check out the Citrix logo in the lower left. Apart from a slight font change, the official Citrix corporate logo hasn't changed in 15 years. That's awesome!
We got this box from Brad Pedersen, the architect of Presentation Server. He's been at the company for 16 years, and his employee number is "7." He's a super cool dude and someone that we'll be talking to a lot more in the future.
I think that everyone agrees that going to Florida was time well spent for the eight CTPs. The real question will be whether this program has legs and continues to move forward, or whether it dies like so many other efforts have. The one saving grace is that this time around we're working with the right group within Citrix. The people we met with last week were primarily from the Presentation Server product group, i.e. the people who write Presentation Server itself. This means that we can have the best influence on the thinkers who create the products, and we can get access to the "real" information when we have questions that need to be answered.
Moving Forward
Citrix plans on growing the CTP community. This is not something that will explode overnight, and there are not specific requirements for becoming a CTP. In general, Citrix is looking for people who are out in the community helping others on a daily basis; the people who write the books and articles, who speak at conferences, and who post in forums and newsgroups. If you would like to nominate yourself or someone you know to be a CTP, you can send an email to Citrix's Brad Nunn.